1993-2012
Weddings and Great-Grandchildren
Now Mom became the matriarch of the Collins clan.
Soon the grandchildren were to be married.
Then the great-grandchildren came in a flood.
Sean found the love of his life when he met Chris Espiritu
<![if !vml]>
<![endif]> <![if !vml]>
<![endif]>
Mom joined the Shannon and Espiritu clans in Guam for the Wedding, January 29, 1994.
A few months later Erin beat Sean and Chris for the honor of delivering the first great granddaughter
when she gave birth to Veronica on June 7, 1994.
<![if !vml]>
<![endif]> <![if !vml]>
<![endif]>
Veronica with Great Grandma, Mom, and Grandma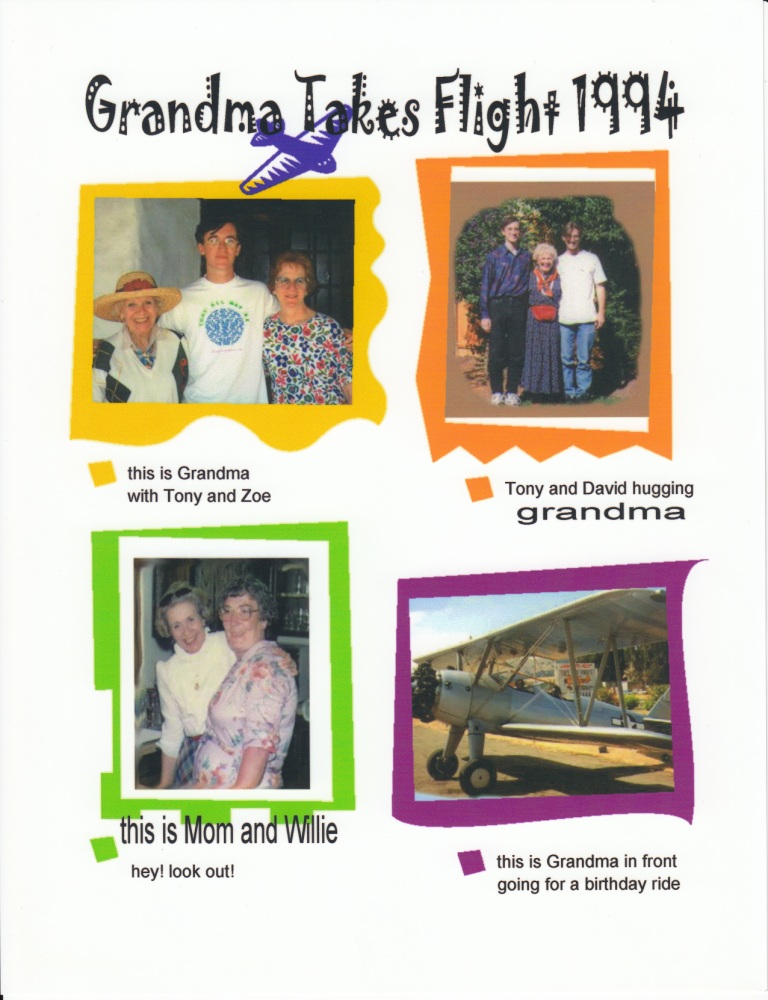 Sean and Chris were not far behind when their first daughter, Caitlin, was born on March 5, 1995,
another great granddaughter, and special friend for Veronica.
<![if !vml]>
<![endif]> <![if !vml]>
<![endif]>
<![if !vml]>
<![endif]>
The rejoicing in all this new life was replaced with sadness in 1996 when Mom's brother,
James Scherer, my Uncle Jim, passed on to join Dad, Grandpa, and Grandma.
<![if !vml]>
<![endif]>
<![if !vml]>
<![endif]> <![if !vml]>
<![endif]> <![if !vml]>
<![endif]>
Uncle Jim with Mom 1931, in Long Beach 1935, in high school picture 1948
Soon new life sprung forth again with Sean and Chris's first son, Mom's first great-grandson, Jack Arthur (June 19, 1998)
<![if !vml]>
<![endif]> <![if !vml]>
<![endif]>
Then came Tony's daughter, Samantha, on July 8.
Now it was time for weddings.
On November 13, 1998, Tony Lighty married the beautiful Heather Crum in Norfolk Virginia.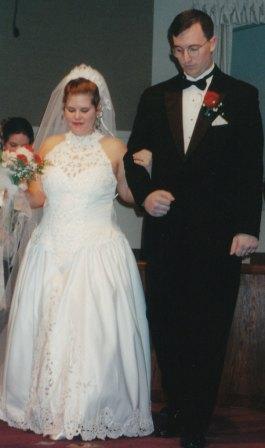 Exactly one year later, on November 13, 1999, Jennifer Collins married her dynamic co-worker from DiTech, Steve Sidler
<![if !vml]>
<![endif]>
A few months earlier we celebrated Grandma Helen's 80th Birthday.
Click the cake below to see the pictures and story:
Then Maureen Shannon married her prince charming, Salesi Vakalahi, on January 22, 2000.
<![if !vml]>
<![endif]>
Steve and Jennifer's first son, Wyatt, arrived on March 22, 2000..
<![if !vml]>
<![endif]> <![if !vml]>
<![endif]>
Wyatt at three months and one year old.
…followed a few days later on March 24 by Tony and Heather's first son, Hunter
<![if !vml]>
<![endif]> <![if !vml]>
<![endif]>
Hunter at birth and a year later.
The year 2000 family celebrations came to and end with another wedding when Jeff Collins married
the beautiful and talented fellow CPA, Shane O'Farrell, on October 8.
<![if !vml]>
<![endif]> <![if !vml]>
<![endif]>
Salesi and Maureen started the 2001 celebrations with the birth of their son, Lava on February 3.
<![if !vml]>
<![endif]>
Grandma Mike, Lava, Maureen, and Great-Grandma Helen
2001 ended with the wedding vows of the star crossed lovers,
David Lighty and Marla Gerein, on October 22…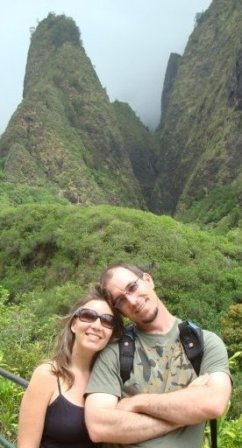 ..and the birth of Helena Sidler, Steve and Jennifer's first daughter (November 30).
<![if !vml]>
<![endif]> <![if !vml]>
<![endif]>
Helena with Jennifer and with Grandpa Jim who shares the same birthday
The highlights for 2002 were another wedding:
On July 20th Maggie Collins wed a fellow teacher and football coach, Jason Neiber…
<![if !vml]>
<![endif]>
…then on September 16th, Tony and Heather along with their son, Hunter, welcomed Aislynne into this world.
<![if !vml]>
<![endif]>
Christmas 2002
Jeff and Shane celebrated 2003 with the birth of their first daughter, Mikayla, on May 8th.
<![if !vml]>
<![endif]> <![if !vml]>
<![endif]>
A month later on June 14th came another wedding. Ellen Collins married her fellow Chico State grad, Arnie Acevedo.
<![if !vml]>
<![endif]> <![if !vml]>
<![endif]>
The wedding was not too far from Long Beach where Mom was born.
She enjoyed the trip south, the wedding, and some time holding Mikayla.
A month later on July 30th, Sean and Chris welcomed another daughter, Siobhan, into the Shannon clan.
<![if !vml]>
<![endif]> <![if !vml]>
<![endif]>
In 2004, Mom added two more great-grandkids.
On April 5, Maureen and Salesi celebrated the birth of their daughter, Loviana.
Our annual beach birthday parties for Mom began in 2004.
She loved the beach from her childhood days in Long Beach.
Most of all, she loved to have all the family together once a year on her birthday: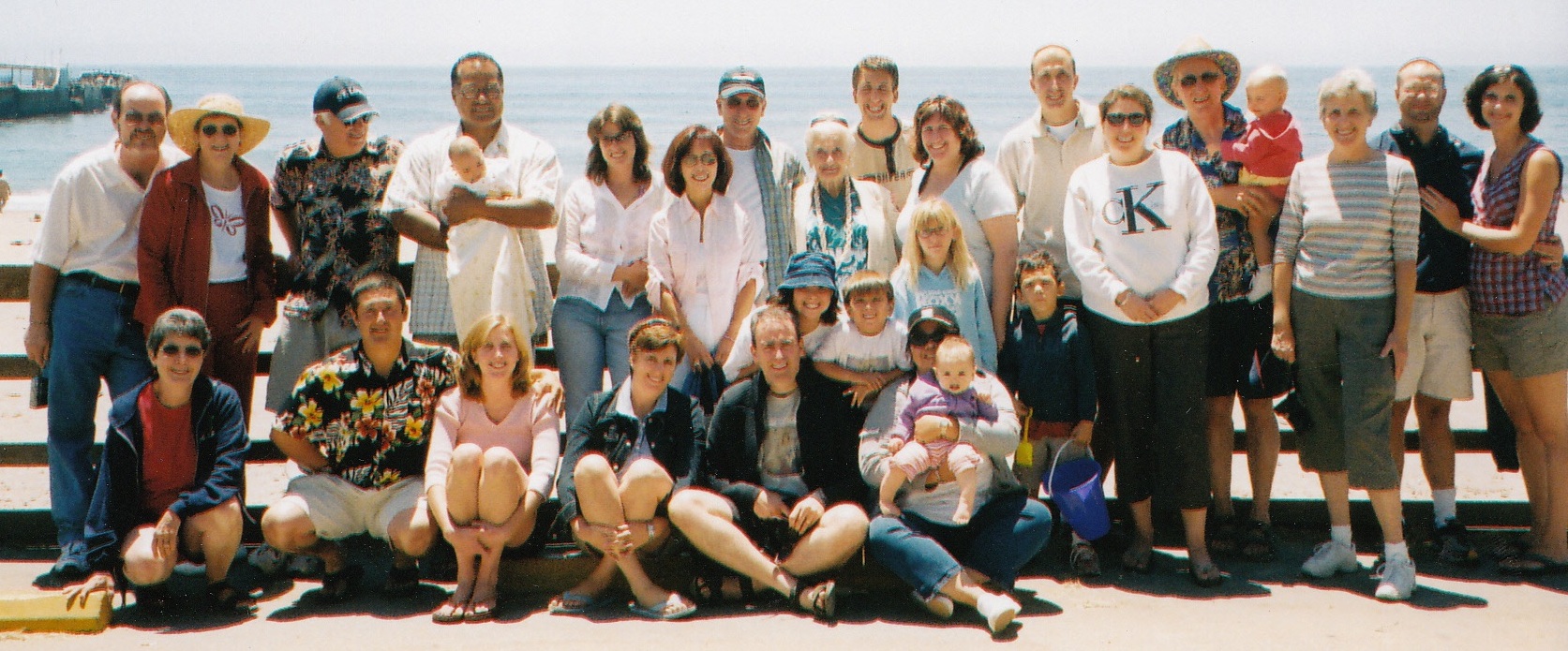 Mom welcomes Loviana to Seacliff beach for her 85th birthday party.
Then Maggie and Jason squeaked the birth of their son, Carson, into 2004 on December 30th, a late Christmas present.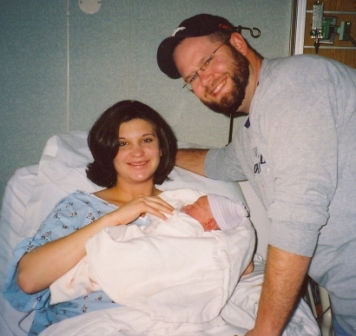 Carson at birth and one Christmas later.
Tony and Heather stole the show in 2005 with the only great grandkid,
their second son, Parker, who arrived on June 13.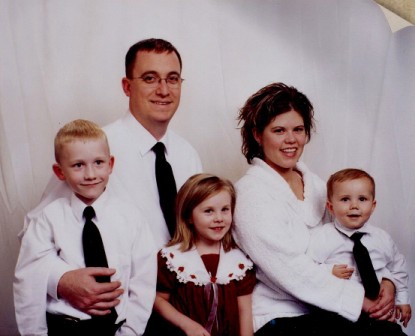 In July we celebrated Mom's 86th Birthday once again at the beach:
Then two new great grandkids shared the spotlight in 2006.
Jeff and Shane welcomed a second daughter, Victoria, into their family on May 27.
Then on July 18th, Ellen and Arnie celebrated the birth of their son, Austin.
Barbara and I missed Mom's beach party while we waited on the beach in Ventura for Austin to arrive.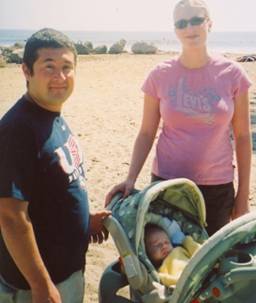 In 2007 Sienna Sidler soloed as the only great grandkid of the year.
On March 7 she joined the Sidler clan as Steve and Jennifer's second daughter.
Jennifer and Steve, proud parents; Helena holding her baby sister.
That summer we celebrated Mom's 88th birthday at the beach.
2008 was to be a triple header for great grandkids. First came Reese Lighty on June 20…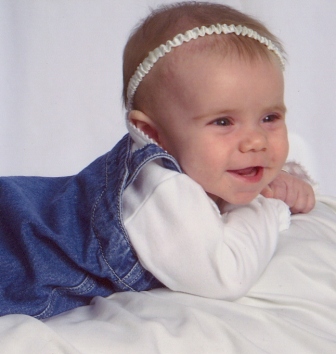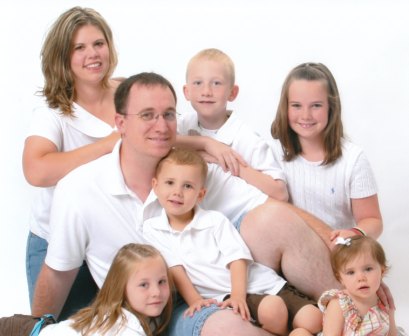 …followed by Taryn Shannon on July 8, almost the same as Mom's birthday.
We celebrated her 89th Birthday at the beach.
A few months later Barbara and I took Mom on a
trip to EWTN in Alabama to celebrate her 50th year of
volunteer service at the Carmelite Monastery in Santa Clara.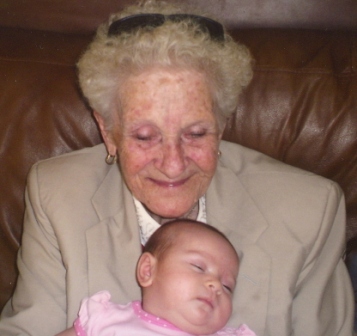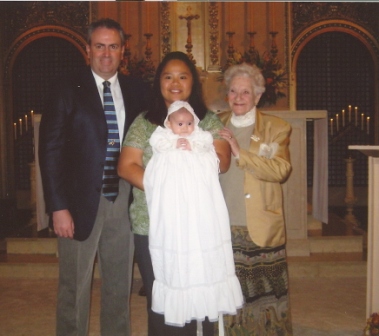 It was another great day at the monastery for Taryn's baptism.
Then on October 6 Arnie and Ellen brought home a little sister, Ashley, for Austin.
On July 12, 2009, Shortly after we celebrated Mom's 90th Birthday in San Jose,
Madeline Helen Lighty arrived....
All of us celebrated three birthdays (Mom's 91st, Madeline's 1st, and Taryn's 2nd) in July 2010 at Brentwood...
...followed a few months later by the birth of George Michael Shannon on November 23, 2010: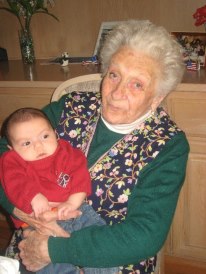 We celebrated Mom's 92nd birthday at Pajaro Dunes in July of 2011 and
Alexander James Acevedo's birth on October 12, 2011: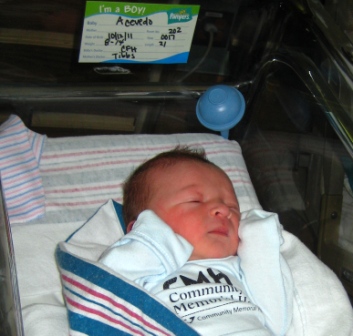 In July of 2012 we returned to Seacliff Beach to celebrate Mom's 93rd Birthday.
On August 27, 2012, we celebrated the arrival of Emma Harper Sidler: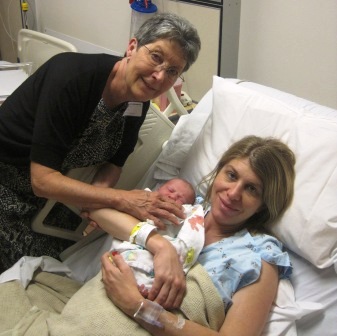 Emma was to be Mom's final great grandchild.
The final count:
3 Children
Zoe, Joyce, and Jim Collins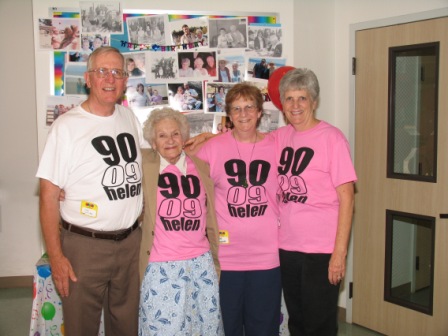 Zoe and Mike and the Lighty Clan: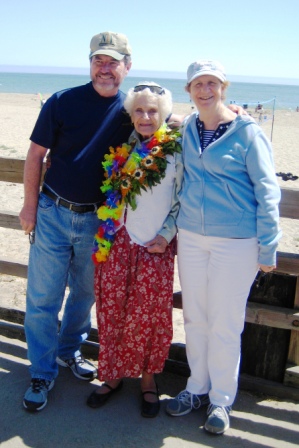 Joyce and Mike and the Shannon Clan: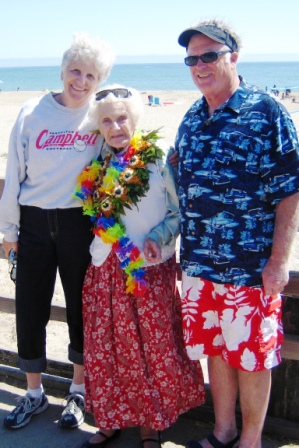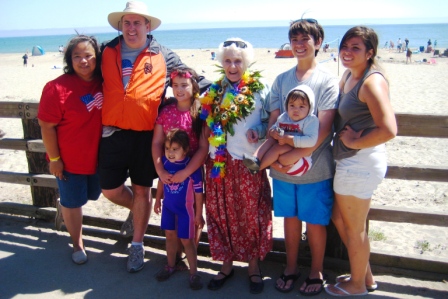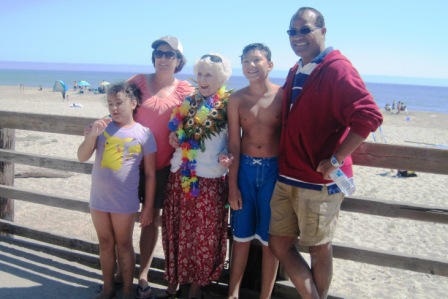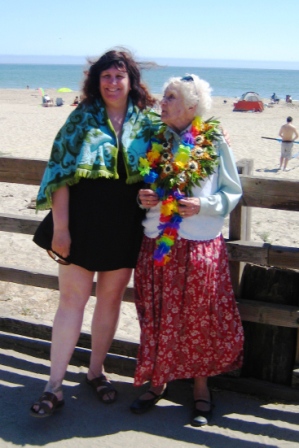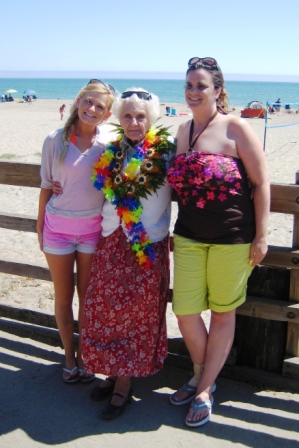 Jim and Barbara and the Collins clan: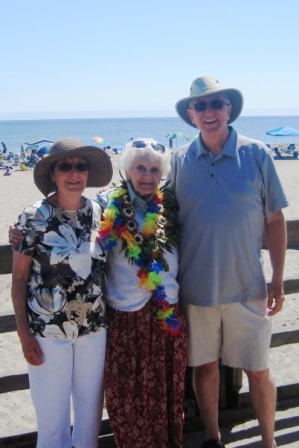 13 Grandchildren
David and Tony Lighty
Sean, Maureen, Colleen, and Erin Shannon
Jennifer, Rachel, Jeff, Maggie, Ellen, Joe, John Arthur Collins
24 Great Grandchildren
Madeline Lighty
Hunter, Aislynne, Parker, and Reese Lighty, Samantha Schwartz
Caitlin, Jack, Siobhan, Taryn, George Shannon
Lava and Loviana Vakalahi
Veronica Peterson
Wyatt, Helena, Sienna, and Emma Sidler
Mikayla and Victoria Collins
Carson Neiber
Austin, Ashley, and Alexander Acevedo
Grandchildren and Great Grandchildren:
On September 5, 2012, after a short battle with pneumonia, Helen Marie Collins left us to join her husband, Arthur Bernard Collins, in heaven.
The entire family and many friends paid tribute to her in a fond farewell.