9. Alabama to North Carolina
The journey from Birmingham to Arden, North Carolina would take us east from Alabama on I-20 into Atlanta, Georgia where we would go northeast on Highway 85 into South Carolina. There we would head north up Highway 11 into the mountains to Highway 178 that would take us into North Carolina past Sassafras Mountain, its highest peak (3,560 ft.). Turning northeast on Highway 64 we would continue to Arden, south of Asheville, to visit my cousin, Dan and his wife, Carol.
The views from the mountain tops, the winding roads and rocky tunnels, the leisurely pace through quaint towns, the distant vistas of mountains, lakes, rivers, and streams were a welcome relief from Interstates walled with trees -- a great way to reach the eastern most point of our trip and a wonderful start for a visit with Dan and Carol.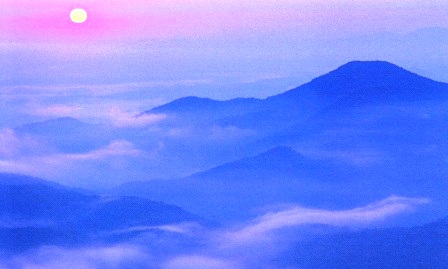 Late that afternoon we drove up the hill to Dan and Carol's. We decided to celebrate our journey with a trip to a somewhat familiar venue, the Sierra Nevada Brewery in nearby Mills River.
The brewery offered a spectacular setting and unique menu and beer selection superior to that in the California counterpart in Chico. Barbara and I didn't recognize some of the offerings from the Taproom beer list, and the Taproom menu featured distinctive local North Carolina offerings. After a delicious dinner and a few beers we were ready for our first pictures and a tour of Asheville on the way back to Arden. Our bedroom at Dan and Carol's was a vast improvement over our Best Western Motel rooms. We slept soundly after an action-packed day.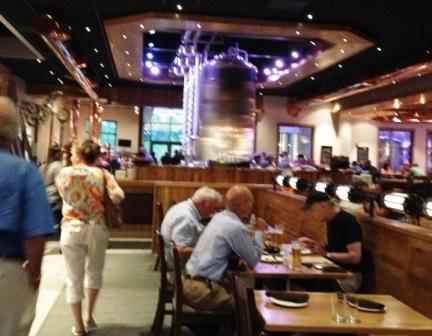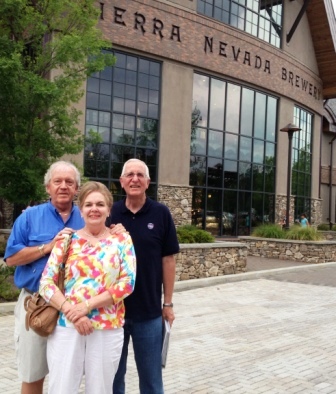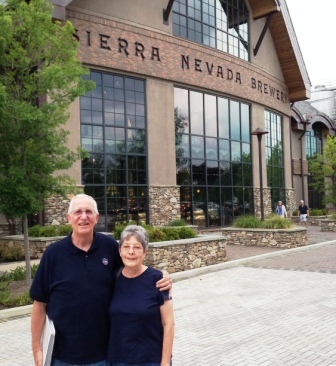 Next: Day 10: Mountain Breakfast and Biltmore
Back to: North Carolina and Back