1958-1963: Teenagers
A new job which paid less, an older home which needed lots of work, and three teenagersómany challenges were ahead. I rocked the boat first that summer by asking Mom and Dad for permission to attend the Salesian Junior Seminary in the fall. Mom was delighted to have a potential priest in family. Dad wasn't so sure I was mature enough to make such a big decision. After some negotiation with the Salesians' vocation director, they decided to drop me off at the Seminary in Richmond in September. I think they both cried on the way back to Santa Clara. Mom (above) posed on the seminary grounds with me at one of the monthly visits. We were allowed visitors one Sunday each month.
Now Mom and Dad only had two teenagers to deal with. Things couldn't have been too rough. They even found time to play in the snow. And Mom was happy volunteering at the Carmelite Monastery only a few blocks away. Dad wasnít too excited about Momís involvement at the monastery but tolerated it as long as dinner was on the table precisely at 5:30 and the house was clean. Mom encouraged us to be involved in the Church. Dad attended Mass with the family every Sunday and belonged to the Knights of Columbus and the Holy Name Society but wasnít ready to volunteer at the monastery.
Then it was time for Zoe to rock the boat. After graduating from Santa Clara High in 1960,
she decided to enter the convent. Soon Mom, Dad, and Joyce were visiting her
on special Sundays at the convent in Watsonville.
A few years later we got together at Lone Mountain in San Francisco where Zoe was taking classes. Now Dad & Mom and the rest of the family wouldn't see me for several years. I was headed for the Salesians' college in Newton, New Jersey.
Meanwhile, Joyce graduated from San Jose City College where she met a great guy at the Newman Club. Soon she too would be leaving home. Mom and Dad would have an empty nest and would become grandparents, many times over. But before the big wedding, Dad was ready for the longest drive of his life when he and Mom together with Joyce decided to travel to New Jersey to see me. Along the way they stopped to see some of his family that he had not seen since 1936.
Dad poses with his stepmother and half sisters, then snaps a picture of his stepmother
with Joyce, Mom, and nephews Tim and Patrick.
Later in Newton, New Jersey, my classmates from California envied me for having family visitors. None of them had been with family for a few years. I gave Dad, Mom, and Joyce a tour of the seminary grounds and got behind the wheel of Dadís new Mercury, one of his favorite cars. The next day they headed back towards California. The seminary routine didnít allow much time for visitors.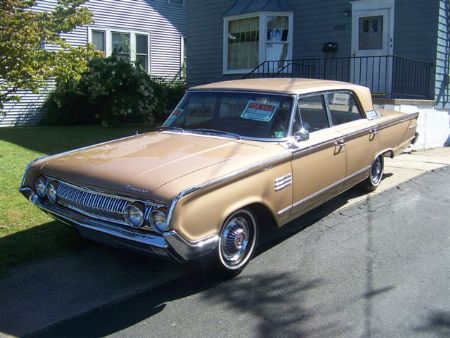 Mom & Dad 1963
Next: 1964-1985: Weddings, Losses, and Grandchildren