1964 to 1985
Weddings, Losses, and Grandchildren
<![if !vml]>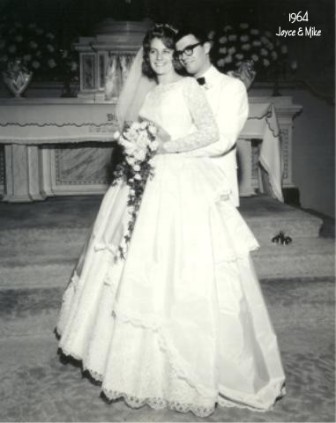 <![endif]>
Mom and Dad were sad to lose a daughter but elated to have a wonderful first son-in-law, Mike Shannon. This November 28, 1964 wedding began a new era for the Collins family.
<![if !vml]>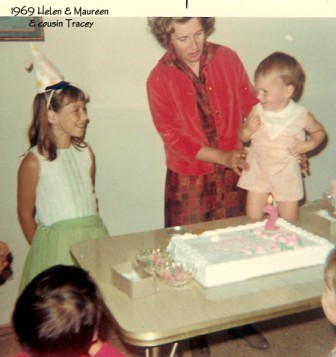 <![endif]>
The Grandkid years officially began with Sean on November 15, 1965, then Maureen on June 10, 1967, followed by Colleen on July 29, 1969.
Dad with Mike & Sean, then Maureen and Mom years later
<![if !vml]>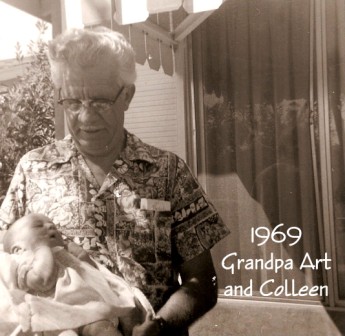 <![endif]>
As the grandkids kept coming, Dad found time to have some fun with his friends. He had won trophies for bowling in Long Beach, kept playing in Fresno, and continued in Santa Clara. In the picture below he had joined his buddies in the Green Horns part of the FMC Bowling League in 1968.
Impressed by Joyce and Mike's and other happy families and unimpressed by all the turmoil in the Catholic Church I decided to choose family life over the priesthood.
<![if !vml]>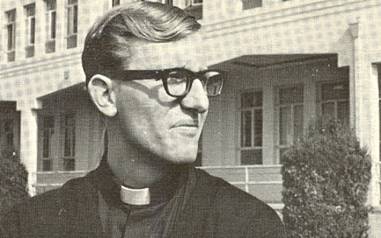 <![endif]>
After serving for three years as a teaching brother, I took a librarian's job at Wheatland High School and prayed to meet the right girl. The Good Lord soon brought Barbara LaPlante and me together for a second wedding celebration for the Collins family.
<![if !vml]>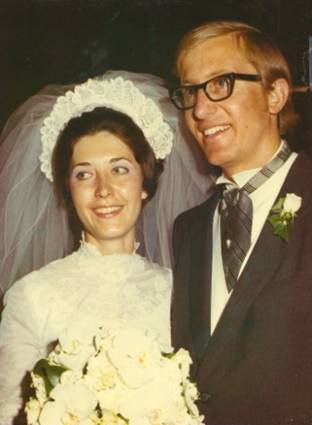 <![endif]> <![if !vml]>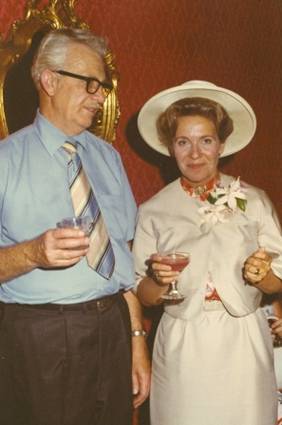 <![endif]>
The August 7, 1971 wedding was soon followed by the birth of another beautiful Shannon girl, Erin (September 23, 1971). Barbara and I were the proud godparents.
<![if !vml]>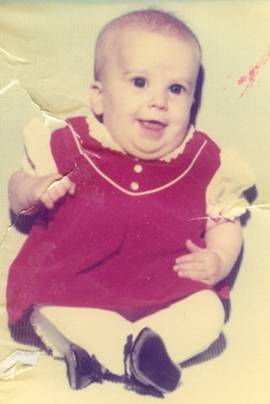 <![endif]>
Dad with toddler, Erin
In the midst of wedding celebrations and new grandchildren, Dad received the tragic news in February (1971) that his brother, Victor, had died in Aberdeen, South Dakota. He decided not to fly back for the funeral saying that it was too late to see his brother alive. He also wanted to help Victor's wife, Lucille, by sending financial assistance rather than spending money on the trip back to South Dakota. Over the years he continued to stand behind Lucille and her children, Dan, Colleen, Patrick, and Tim.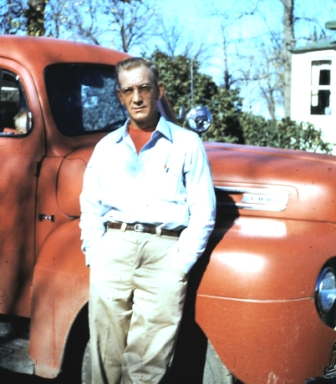 Victor Collins 1916-1971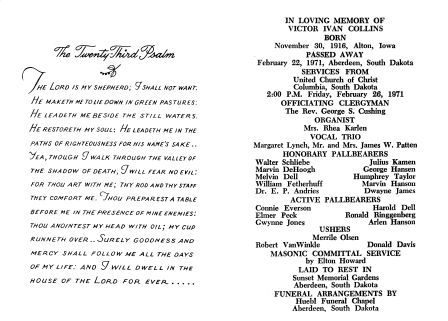 New life followed the tragedy of Uncle Vic's passing. Mom and Dad were already enjoying four grandchildren. Joyce and Mike had spoiled them with a grandchild every two years for eight years. What planning. Barbara and I were not as talented. We broke the two year cycle with our first daughter Jennifer on June 29, 1972.
<![if !vml]>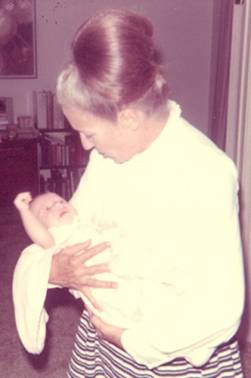 <![endif]>
Mom holds granddaughter number four. Dad entertains Jennifer and cousins
about a year later. Meanwhile, another wedding is brewing.
Zoe has met the man of her dreams, Mike Lighty.
<![if !vml]>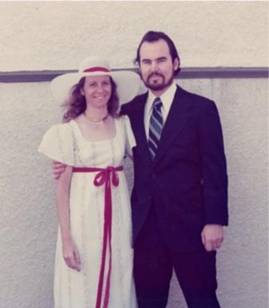 <![endif]>
1973 saw their wedding celebration on June 16
followed by our daughter Rachel's birth on September 30.
<![if !vml]>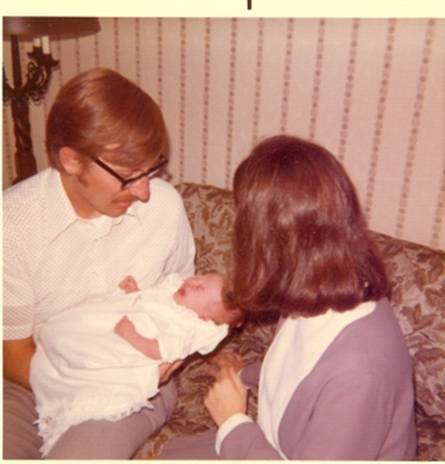 <![endif]>
Rachel's homecoming; Teenager Rachel harvesting Grandpa's cherries
Now Dad had five granddaughters and one grandson. He and Mom must have been praying for a few more grandsons to keep Sean company. Their prayers were heard when Zoe and Mike were blessed with their first son, David, on January 19, 1975.
<![if !vml]>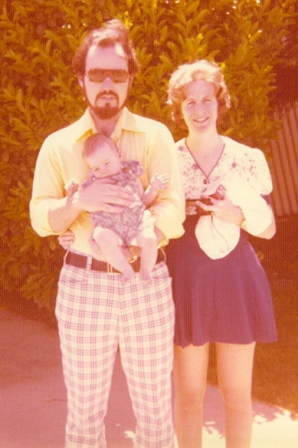 <![endif]> <![if !vml]>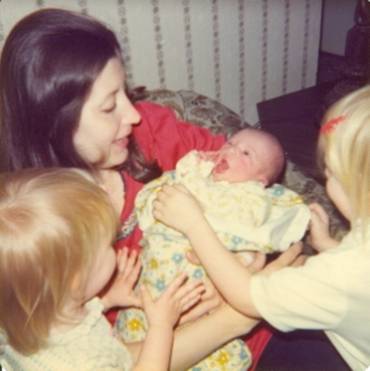 <![endif]>
Dave with Dad ten years later
Dave put together the first biography of my Dad. In his school report he wrote: "Some of the hobbies my Grandpa Art had are: garden, crossword puzzles, bowling, fishing… His values and goals are hard work, honesty, family, church (religion), and being a good provider."
Barbara and I joined Mom and Dad in praying for a boy too. We were blessed on April 13, 1975 with our first son, Jeffrey.
<![if !vml]>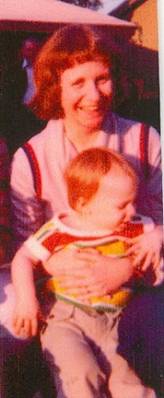 <![endif]>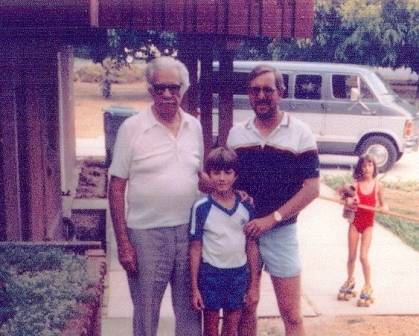 Jeff with sisters and Mom. Dad, Jeff, me, and Maggie
Surrounded with girls, Jeff would be praying for a little brother, but he might have to wait a few years. Mike and Zoe soon came to the rescue on April 14, 1976 with another boy, (Jeff's cousin) Tony.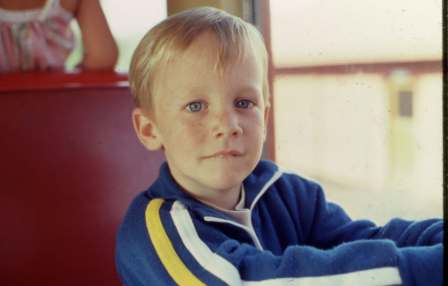 <![if !vml]>
<![endif]>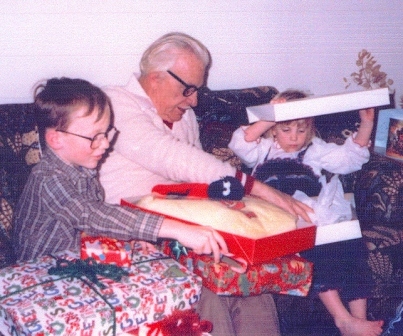 Tony, Dad, and Ellen Tony, Dad, and David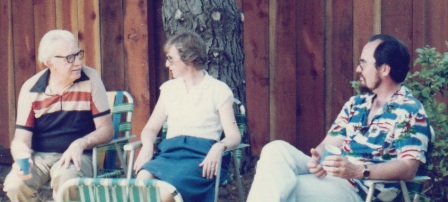 Dad with Zoe and Mike
After three grandsons in a row, it was time for more granddaughters. Barbara and I helped out
with Margaret (Maggie) on February 22, 1977, and Ellen on September 6, 1979.
<![if !vml]>
<![endif]> <![if !vml]>
<![endif]>
Ellen, Dad, and Maggie a few years later
Dad officially retired from FMC in 1977 at age 65 but was promptly rehired to do the same job by another agency. FMC has happy to have a most dependable worker. Dad was delighted with a substantial raise which would set up a nest egg for his final retirement in 1987 at age 75. He wore a new suit for retirement number one.
<![if !vml]>
<![endif]>
Mom and Dad with Ellen 1979
The long progression of grandchildren came to an end with two more boys to join the Collins clan, Joseph, on May 11, 1983, and John Arthur, who tragically died at birth on November 11, 1985.
<![if !vml]>
<![endif]>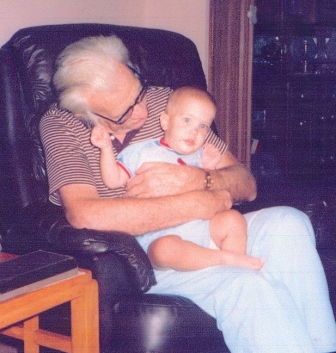 Joe at six months; Dad with Joe
An era of weddings, losses, and grandchildren had ended.
Mom celebrated each Christmas making knitted caps.
Dad gave everyone a generous Christmas check.
The grandkids posed for a picture on the stairs at the Lighty's home.
<![if !vml]>
<![endif]>
My, how they've grown.