1986-1992
Happy Golden Years
<![if !vml]>
<![endif]>
Here Mom and Dad celebrate Erinís 8th grade graduation.
The Happy Golden Years had begun.
<![if !vml]>
<![endif]>
By 1987, Dad had retired from FMC. Mom and Dad now had time to enjoy all the grandchildren, to do volunteer work at Kaiser Permanente in Santa Clara and at the Carmelite Monastery, to work in the garden, and to travel especially to South Dakota where Dad had grown up.
<![if !vml]>
<![endif]>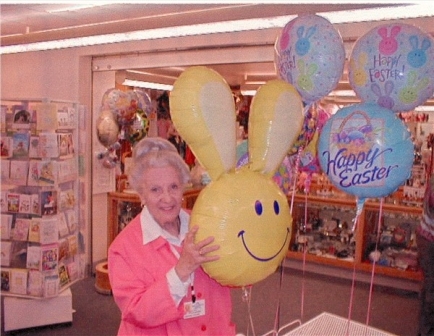 Both Mom and Dad served more than 500 hours as volunteers at Kaiser and each have a named brick along the walkway between the Hospital and Medical office Building. See location below:
| | |
| --- | --- |
| LastName: | COLLINS |
| FirstName: | ARTHUR |
| Section: | 10 |
| Location: | E5 |

| | |
| --- | --- |
| LastName: | COLLINS |
| FirstName: | HELEN |
| Section: | 11 |
| Location: | D26 |
<![if !vml]>
<![endif]>
Mom and Dad in a rare pose on a volunteer day at the monastery. Dad used to needle Mom about spending so many volunteer hours at the monastery. But soon after he retired he joined her in running errands. Most of all, he enjoyed serving Mass in the mornings (see below).
1987 provided a bumper crop of cherries. Dad shared the abundance with family and friends who returned annually for more. When he wasnít harvesting cherries, he was working in the garden or planting more trees.
Then there was the annual trek back to South Dakota with scenic stops along the way.
A few years earlier in 1982 at Zita's home in Keystone, South Dakota, most of the Collins family gathered with Grandma Elizabeth:
Marilyn, "Lizzie", Marcella, Zita, Dad, Fidelis
(Evelyn and Vic missing)
Even after Dadís surgery for prostate cancer Mom would care for his needs as they traveled.
They continued to visit all of us until Dad couldnít travel anymore.
Every trip had to start with a shiny car.
Washing the car was a Saturday tradition
which followed mowing the lawn.
<![if !vml]>
<![endif]>
Dadís favorite pastime in South Dakota was checking out
the vintage farm equipment that he had used as a young man.
Steve Denison and Dad gather apples in South Dakota
There were ďshorterĒ trips too, spontaneous drives across the mountains.
Mom & Dadís favorite was along Highway 395 on the east side of the Sierras.
There were longer trips, too. On the road to Yakima, Washington,
Dad poses with his sister, Evelyn (1914-1994).
Dadís condition worsened. But first there were celebrations for his 80th birthday
and Mom and Dad's Golden Wedding Anniversary
<![if !vml]>
<![endif]> <![if !vml]>
<![endif]>
When Dad entered the hospice program, many came to see him in his final months. His niece, Joan Walcott, came to visit (see below):
When Dadís nephew, Dan, visited, he still found time for cards. He remained
a tough competitor in Hearts, Rummy, Canasta, Cribbage to mention a few.
Dave and Dan try to compete.
Mom's brother, Jim, visiting Dad
In all the visits, Dad passed on words of wisdom to all of us.
Dad spends time with granddaughter Maureen and daughters, Zoe and Joyce...
...and offers sage advice to me and Mike Lighty.
Dad and Mom visit the Collins clan about 1990.
Dad with Tony, Sean, and Dave.
Dad with all the granddaughters
Once the celebrations and visits were over, Mom worked with the hospice nurses to provide the best care for Dad. She was with him at home until the very end and treasures the memory of his passing when he made a gigantic sign of the cross then returned in peace to his Maker.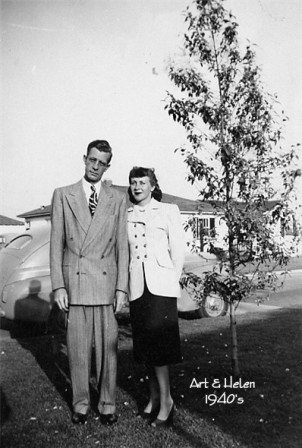 Over 50 years of wonderful companionship had come to an end. Dad entrusted the kids and their spouses, the grandkids, and the great grandkids to Mom. She would carry on his legacy of love and generosity as the years continued on.
Dad enjoyed sitting at the head of the long banquet table viewing the whole tribe together. He was the wonderful patriarch, loving and caring for all. We miss his presence at our Thanksgiving celebrations but we thank the Good Lord for the time we had with him.
Arthur Bernard Collins
May 21, 1912 - May 27, 1992
EULOGY
I was honored to share these remarks at the services for my Dad:
I
I would like to thank all of you for coming this evening. Our family appreciates your prayers and support. Before finishing up here tonight, I would like to present a short eulogy.
Literally, eulogy means good words. I offer here a few good words about my Dad.
I think all personalities are many faceted, like a diamond; my Dad was no exception to this. Each of you remembers a few facets from your acquaintance with my Dad. I want to share only three this evening which particularly fascinate me and which may be new to some of you. I am fascinated by these facets because of their beauty and I am amazed how each of these facets was polished to a maximum as my Dad reached his final days.
The first facet I offer is forgiveness. In the late 1930ís when Dad migrated to California from the Midwest, he was bitter and angry with some strained family relationships which had been caused by his family being torn apart by the untimely deaths of his father and mother and the hardships of growing up in the Midwest during the Great Depression. Not until the mid 1960ís did Dad return to the Midwest. But when Dad did, his anger had been replaced with understanding and forgiveness. The forgiveness was a form of total love and acceptance that formed a brilliant facet of his personality: bright, shining forgiveness.
Facet number two is perseverance: In the late 1950ís my Dad lost his job in the aircraft industry. In his mid 40ís he was out of work. After receiving rejection upon rejection related to his age, he finally found a job, but one which paid substantially less and offered considerably less prestige than what he was accustomed to. For months he lived in a boarding house in San Jose and commuted on weekends back to Fresno to be with the family. His perseverance allowed him to move the family to Santa Clara in 1958. This perseverance took him through two heart attacks and the ravages of cancer to the ripe old age of 80. He beat everybodyís odds with his longevity. This perseverance facet shines brightly in Dadís life.
The final facet I offer is brotherly love. After retiring several times well into his 70ís, Dad became restless. He couldnít just sit around the house. So he decided to volunteer at Kaiser Hospital. While other healthy, capable senior citizens were being victimized by our societyís fixation with self-indulgence, Dad helped at the hospital. After the heart attacks and a cancer related operation that complicated his life by requiring him to war a hag for elimination of fluids, he still carried on. He volunteered until the cancer got to his legs and he couldnít volunteer any more. What a bright and beautiful facet this brotherly love is.
Iím going to share some more facets at Dadís funeral tomorrow. These three are enough for now. If Dad were here, though, I am sure he would want to say something. He liked to give advice. I think he would say to work on your own facets to be the best diamond you can be to give glory to God and peace to your neighbor. I also think he would tell us to appreciate one anotherís facets and not focus on one or two rough areas of those who are close to us lest we miss the beauty of the other facets.
Once again, I want to thank each of you for being with us. We grieve with you at losing the physical presence of this many-faceted, wonderful man from among us. Please come share other facets with us when time allows and celebrate with us the passing of this brilliant jewel of a man, my Father, into eternal life.
II
Thank you for coming to this Mass for my Dad. Before we go to the cemetery, I want to share a few things with you about my Dad. Last night at the rosary I shared several facets of my Dadís personality: his forgiveness, his perseverance, and his brotherly love. Today, I would like to tell you a little more about him and how todayís scripture readings relate to him.
Shortly after my Dad died, my Mom, my sisters, and I gathered together. We were about as lost as the disciples after the Lordís Ascension. I recall thinking as I drove from Yuba City to Santa Clara: Where did you go, Dad? Where are you? Up in the sky somewhere? In heaven? Where? As I sat and talked with Mom and my sisters, it became undeniably clear to all of us. Dad was with the Lord. He had made the journey to the Promised Land. While reflecting on Dadís life here and on his passage into the life hereafter, we came up with todayís readings which reveal a few more facets about my Dad.
The first reading from Isaiah (55:1-13) speaks of coming to the water and being renewed, inheriting the great things promised to David. If you had met my Dad thirty years ago, you would have met a man who dutifully went to church each Sunday. You would also have met a man who was baffled by his wifeís daily trek to Mass and her regular dedication to the needs of the local Carmelite monastery. A few months ago, you would have seen my Dad in the final stages of cancer limping around the altar serving Mass at the Carmelite monastery, attending daily Mass with my Mother. It was during his final years that Dad learned to drink deeply of the peace of the Lord of which Isaiah spoke. He had found what the Lord had promised and was moving closer to the Promised Land.
The second reading from Romans (12:9-21) speaks of brotherly love. When Dadís brother died about 25 years ago, Dad adopted his sister-in-law and his brotherís family. I spoke with my cousin, Dan, recently who revealed to me the generosity of my Dad to an extent that I had never known. On another front, I am reminded by patients and fellow Kaiser Hospital volunteers of Dadís kindness when he worked as a volunteer there. Then, thereís the grandkids. All of his grandkids attest to his generosity on birthdays and special occasions. I am convinced that Dad did what St. Paul said. With his generosity and love he ďconquered evil with good.Ē
The Gospel reading from St. John (6:35-40) speaks of the bread of life. Fr. Fitch, our celebrant today, told my sisters and me that my Dad had received the Eucharist the day before he died. We were consoled at this thought.
I am even more consoled when I read the words of this Gospel. Jesus seems to be discouraged in saying that ďthough you have seen me, you still do not believe.Ē Unfortunately, this is how it is for most of us. God reveals himself over and over, but we fail to take Him seriously. My Dad lived near exceptionally strong faith many years but wasnít convinced. Later in the Gospel it states, ďno one who comes will I ever reject.Ē At different points in his life, my Dad came to Jesus: as a young boy in parochial school in Nebraska, as a young man as he courted the lovely Helen Scherer, as an old man as he served Mass at the monastery.
Dadís last act on earth was to make two gigantic signs of the cross. Then he took three short breaths and died peacefully. I am convinced that Jesus had kept his promise ďthat everyone who looks upon the Son and believes in Him shall have eternal life.Ē Thank you, Jesus, for keeping your word and taking my Dad to eternal life.
Dad, you have soared to heaven on eagleís wings. All of us miss you but we trust in the love of Jesus that despite our human failings that if we come to you, you will not only not reject us, but you will bring us home with you to join Art Collins, my Dad, and all of our loved ones in your heavenly kingdom.
Back to the beginning: Arthur B. Collins