RUTH MARIE YEOMAN
The early years 1919 to 1940
(This is an article from Ruth's sister, Ramona Yeoman Smith)
Ruth Yeoman was born January 11, 1919 on a farm near Kaw City, Oklahoma.
She was the 3rd child of Lee and Gladys Yeoman.
Lee & Gladys
Bill, Ruth, Florence, Frank
Ruth grew up on a farm/ranch near Kaw City, going to school at a one room schoolhouse during her grade school years. She was a beautiful young girl, with natural curly, auburn colored hair, clear blue eyes, a beautiful complexion and outgoing personality.
Ruth
Needless to say, she was very popular with both the boys and girls. At that time there was no television, few radio program choices, and the movies were no bargain. Young people enjoyed coming to her home as her mother would let them roll up the rug and dance or play games. In general, just have fun. Her folks had a windup phonograph with lots of records and a player piano with lots of rolls of music to play on it. Someone, many times one of her younger sisters, would pump the pedals or wind up the Victrola, and they would have music.
Ruth's sister, Ramona (author of article)
Ruth enjoyed reading and loved poetry. In the summer time, when the family would move to the ranch in Kansas, she liked reading books, movie magazines, and poetry. She also liked to try her hand at writing poetry. Usually the poetry would be inspired by some incident that had happened. She enjoyed bringing her friends to the ranch--one friend especially, Dorothy, from whom she was inseparable during the school year.
Ruth and Dorothy with Poochie Ruth playing in a tire
Two of her cousins would also spend a good portion the summer at the ranch. During the daytime they all had to do their share of work, just like any of the family, but the evenings were fun times. Riding horses, swimming in the creek where her dad had scooped out a deep place for a swimming pool, and of course dates with some of the local young men. They went to the barn dances, movies, and someone was always having a party.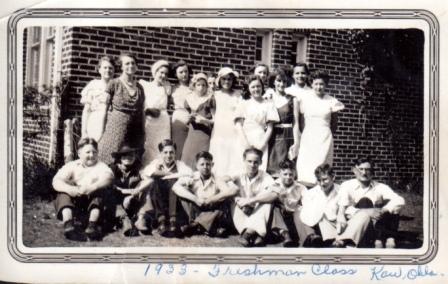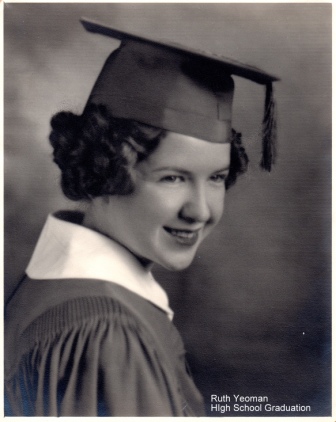 Ruth's High School Graduation
Ruth in middle of second row
Ruth went to Northwestern State College in Alva, Oklahoma, lacking one year of getting her degree, when she married Gedeon LaPlante. They reared 4 children, one boy and three girls. She died in 1977.