Ruth Marie Yeoman La Plante
Auburn Years 1940 to 1968
By Barbara Ruth LaPlante Collins
Mom spent her time between the ranch in Kaw City and the ranch in Kansas while growing up but then went to college at Northwestern State majoring in life science with a minor in English.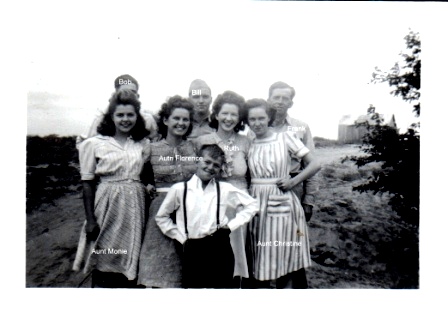 While in college at Northwestern State she met Gedeon LaPlante. She worked in a candy store in a hotel and Ged worked with her brother Bill as porters to make extra money for school. She married Gedeon Anthony LaPlante August 28, 1940 in the Sacred Heart Rectory in Alva, Oklahoma.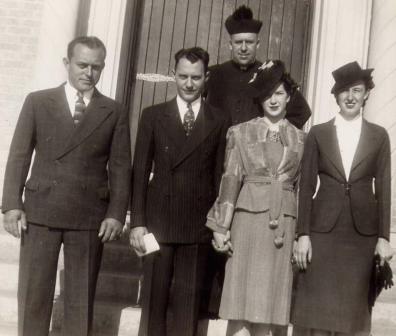 Ged and Ruth LaPlante wedding pictures
They began their married years in Mesa, Colorado.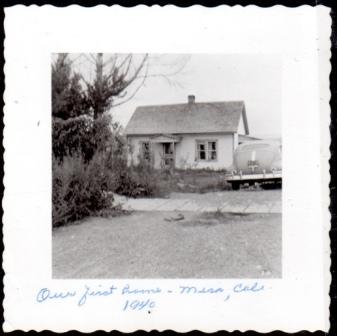 Dad began as a high school Spanish teacher. He made $91.66 dollars per month. In Colborn, Colorado, Mom and Dad had their first child, a handsome son, William Joseph LaPlante, born on August 3, 1941. The next year a beautiful daughter Beverly Ann LaPlante was born on November 25, 1942.
Mom holding baby, Beverly, and toddler, Bill Grandma Gladys, Bev, and Mom
William Joseph LaPlante Beverly Ann LaPlante
Back home in Kansas Momís brother Frank married Verna Louise Smith on October 13, 1943.
Frank & Louise Frank Jr., Shirley, Louise, Betty, Frank, Buddy
In 1945 Mom and Dad moved the family to Alamosa Colorado where Ged was to teach Spanish.
Shortly after, a third child was born on January 28, 1945, Barbara Ruth LaPlante.
Barbara Ruth LaPlante Laplante's in Alamosa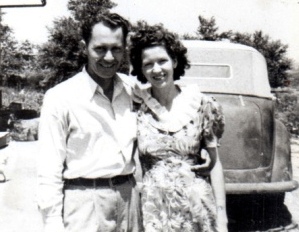 The beginning years were tough. Mom did some subbing at the schools but was busy keeping up with the kids and trying to feed the family on their tight budget. She told us a story
of trying to make one package of hot dogs last for a weekís worth of meals. I still remember her creamed wieners on toast. There were probably not too many wieners in one package in those days. Another story Mom and Dad told was when they had a couple over for dinner and had nothing to offer. Dad must have found a pig, and thatís what they had for dinner. Later on Mom and Dad had some chickens and someone had stolen them. This couple they had for dinner had them over and they had fried chicken for dinner. They all had a laugh over it because it must have been their pig Dad found.
Meanwhile, back in Alva, Oklahoma, on September 6, 1946, Ramona married Dale ďDeakĒ Smith who had returned from World War II after a three year tour.
Deak & Monie
With the low wages to raise a family on and the terrible winters where most of the kids got pneumonia, Mom and Dad moved the family to Auburn, California in 1948 when Dad got an offer to teach Spanish at Placer Union High School.
Auburn was a little town about 50 miles north of Sacramento in the foothills just below the Sierra Nevada Mountains. Mom loved the beautiful pine and oak trees. When we moved to Auburn we lived in a little cabin north of town, then later in Ophir a little south of town. Neither were very suitable quarters for a new little family. Finally Mom and Dad found a nice little house at 420 Finley Street and settled down and raised their children.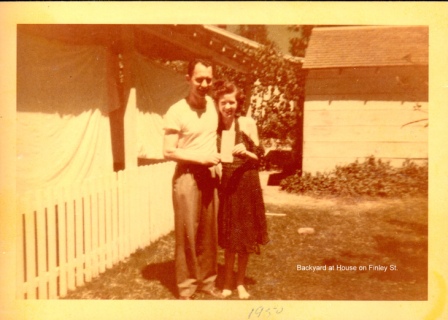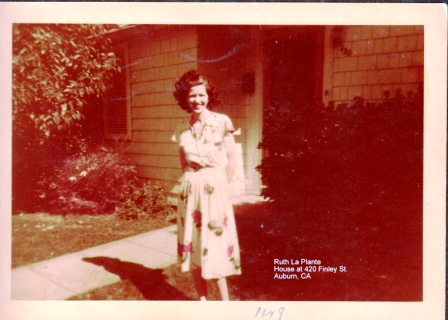 In Auburn Dad was busy working his way up to better wages in teaching. He began as a Spanish teacher, and then became a Dean of Boys, then a Principal, and then Superintendent. On July 5, 1949 another beautiful baby girl was born, Colette Marie LaPlante.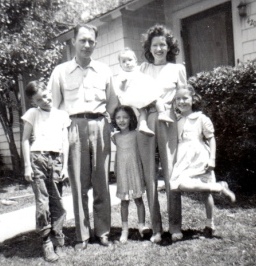 It was a difficult delivery where Mom and baby almost didnít make it. Ruth kept busy sewing clothes for the kids, keeping the cleanest house in the neighborhood. She prided herself on her beautiful waxed hardwood floors. For the 4th of July parades she always made costumes for the kids to wear.
Bev, Colette, Barbara Barbara, Bill, Bev
Ruth & Bill
Barbara, Colette, Bev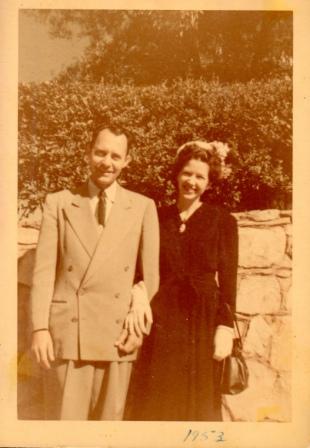 Ruth loved to sing, and joined a group called the Coraleers. She had a beautiful voice and starred in Finneganís Rainbow when in college. Ruth would often take Colette and me with her to her choral practice, or to the library where she worked part time for a year. She would always help out with St. Josephís St. Patrickís Day Dinner Dance, making decorations, preparing food, etc. The kids at home remember making paper flowers with her or setting up decorations in the hall. She had an exceptional talent with entertaining Dadís school board members. She had the most wonderful dinners for them. One of her best recipes was her BBQ spareribs, with baked beans, and potato salad; another, her Asian themed dinner of sweet and sour pork with rice and fruit salad. It was great sitting out under the two big cherry trees on a summerís evening with tables all set up to entertain. The board members loved it. Mom started up an SRA reading lab for St. Joseph school. It was a successful program and helped many students. In the summer she liked to garden and can the fruit Dad would bring home from working in the fruit sheds during the summer vacation time. She made the best fresh cherry, peach, and green pear pies. Bev, Colette, and I spent time playing together or with the neighbors. Bill ran around with his friends on his bike. He also had a paper route.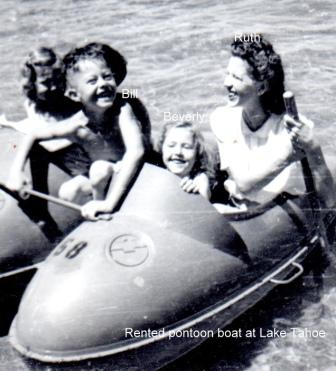 Most Sundays the family would go on a drive somewhere, many times to a fishing spot, or blackberry picking. Mom knew all the names of the wild flowers as we went on our way. Sometimes we would sing On Top of Old Smokey or other songs as we drove along.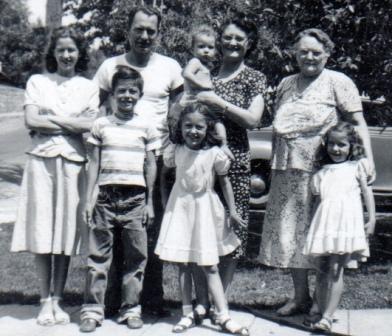 On June 2, 1951, Momís brother Bill was married to Nora Jean Murray. He was in the Air Force and met and married her in Japan.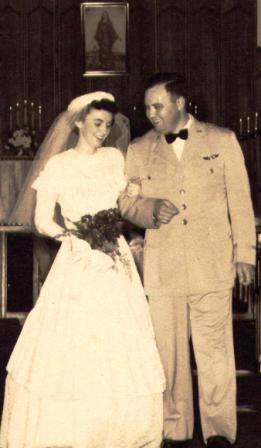 Bill & Nora Yeoman
A few months later Ruthís brother J. Lew married Irma Rosedna Maxwell
on September 30, 1951.
J. Lew & Irma Yeoman
Mom missed her family being so far away so Dad promised her they would save and would take a trip back to Kansas to see family every other year. We kids would tell Dad to be careful and not pick out a shack motel on the way. The neon lights as we pulled in late at night made it hard to tell what shape the establishment was in. One time Dad drove straight through. Everyone always had a great time seeing all the relatives experiencing the city with the LaPlante side and the country with the Yeoman side. Grandpa Yeoman would always have a horse for the kids to ride. We always had a nice picnic with fried chicken, beans, and macaroni or potato salad in the park with our uncles, aunts, and cousins. Dad would always show he could still do his back flip on these occasions. Later when the sun went down, the cousins would chase fireflies and try not to get bit by chiggers.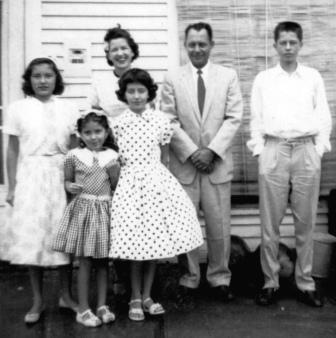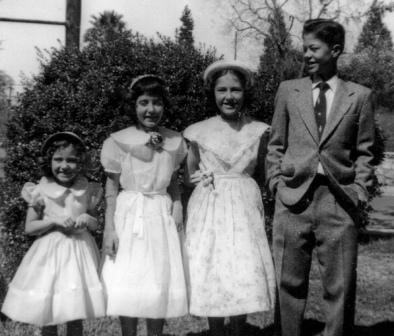 When we werenít going to Kansas, we would sometimes go to the ocean in the summer. Twice we went on a camping trip and that was enough for everyone. Once we went to Silver Lake where Bill got twisted upside-down in his sleeping bag, and once to Webber Lake where we stayed in a rustic cabin with springs on the bed and gaps in the walls that let the freezing wind through. On July 14, 1954, Ruthís sister, Christine, married Clair Eugene Woodard.
Christine & Clair Woodard
On August 28, 1965, Mom & Dad celebrated their 25th Anniversary: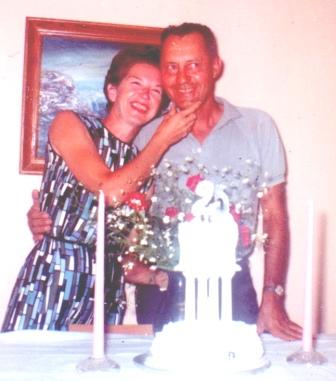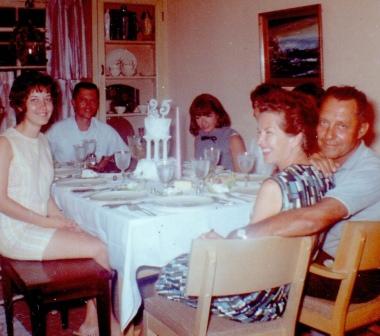 As the years went by, Bill played basketball, and football for Placer High School and then went on to the University of San Francisco for College. He also played football for USF and worked on a Spanish teaching credential. Bev was a great student and active in many organizations at Placer High. She was salutatorian of her graduating class. She went to San Francisco State to become a teacher. Barbara and Colette enjoyed participating in the choral groups at Placer and then went on to Chico State to pursue teaching credentials; Barbara in music and art, and Colette in history and art.