Ruth Marie Yeoman LaPlante
Later Years: 1968 to 1977
As the kids were growing Ruth began painting and playing golf on Saturdays with Dad. Bill was working in Reno, Nevada teaching Spanish like his Dad, and Beverly was working as an elementary school teacher in Roseville. On Feb. 4, 1967, Beverly married Pat McKenzie and moved up to Lake Spalding.
Beverly & Pat McKenzie
Then on December 9, 1967, Mom and Dadís first grandchild was born: Monica McKenzie.
Monica Bev, Monica, Pat McKenzie
BOLIVIA
Mom was ecstatic about having her first grandchild. She and Dad had always dreamed of adventure, so in 1968 Dad decided to take a job with the American Cooperative Schools in La Paz, Bolivia as Director. At this point Colette and I were going to college in Chico. In Bolivia Mom and Dad had to stay in a pension when they first arrived. Mom wrote that they had to share a bathroom with all the floors and there was only cold water for the showers. The room was dreary, cold and unattractive. That was the beginning of their eye opener of living in a foreign country. Only two hours after their arrival they received an invitation to Ambassador Hendersonís residence for the celebration of American Independence. The next day they toured the American school in Calacoto. They had lunch downtown about which Mom wrote: ďThe city is one of contrast. There are many old fallen down buildings, small adobe smelly shops, then a very large modern building rising out of the rubble. The very latest in architecture has been used with very poor construction. There are many beggars in the streets who beg in a sing song whine. This is the first time I have really known what was meant by the whine of the beggar. They are dressed in rags; some of them with their clothes rotted off of them, the few shreds left barely covering their nakedness. Then you see the beautifully dressed women in the very latest styles and immaculately dressed men with carnations in their buttonholes, stepping from chauffeured cars or hurrying into the dining rooms for their social engagements.Ē
<![if !vml]>
<![endif]>
<![if !vml]>
<![endif]> <![if !vml]>
<![endif]>
Views of La Paz, Bolivia Dad in the entryway of their house in Calacoto
In Bolivia there were many social happenings. The Hymeís had a reception for Mom and Dad shortly after they came. Mrs. Hyme was the secretary of the board of trustees and was at the airport to greet them when they came. Some of the guests were Mrs. Douglas Henderson, wife of the U.S. Ambassador to Bolivia, Mr. and Mrs. John Fisher (Deputy Chief of Mission, U.S. Embassy), Mr. and Mrs. James Roaf, (Mgr. Grace Co.), Colonel (Chief Air Force section) and Mrs. M.R. Buls, Dr. and Mrs. Ronald Hartmann, and the list goes on to many members of USAID. Mom and Dad settled into their life in Bolivia. They eventually moved into a lovely home in an American section of housing in Calacoto. They hired a maid called Chela whom Mom became good friends with. They also had a gardener called Ernesto who Mom and Dad became very fond of.
<![if !vml]>
<![endif]>
Chela Chela, Mom, Ernesto
Chela had many tales and stories to tell. During this time the astronauts landed on the moon. Chela said the Indians believed that Santiago lives on the moon. He rides around on his white horse. When our astronauts landed there he was disturbed. There was a drought there and the crops on the alto plano dried up. They were very angry at the U.S. astronauts because they thought this was Santiagoís revenge. On December 21, 1968, Mom and Dad flew to Kansas to visit family in Fredonia and in Wichita and then to California to spend Christmas with their children at Bev and Patís. It was great to be all together.
Colette, Pat, Monica, Bev, and Barbara
After a great Christmas, Mom and Dad flew back to La Paz, Bolivia. They attended many cocktail parties which seemed to be a way of life there. Dad played golf and Mom dove into her painting. She wanted to capture the culture and feel of the country in her paintings. When she saw the devil dancers (baille del diablo) she created a devil dancer needle point picture: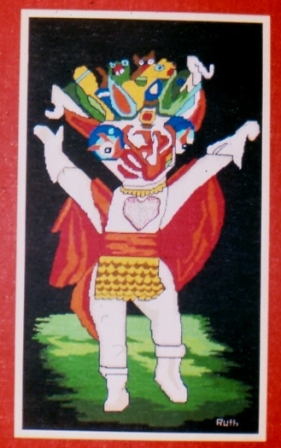 Mom and Dad were able to go on a few trips to Oruro, Lake Titicaca, Honduras and other places. In 1969, I got a job teaching vocal music for the Marysville School District. Colette and I were able to go to Bolivia in the summer before I started teaching. Mom and Dad took us many places. We had great trips to Oruro, Lake Titicaca and to Machu Picchu.
Hotel "Hamburgo" in Chulumani where dogs and Ruins near Pisac, Peru
chickens roamed through the kitchen
Sailing across Lake Titicaca Colette and Barbara at Machu Picchu
During that time Momís tooth got infected and she was miserable. Thankfully, a young Swiss couple Mom and Dad met traveling while on the boat on Lake Titicaca had some pain pills and some sulfa and penicillin. She was a stewardess and her husband a pilot. Mom made it back to Bolivia where after some horror stories with a dentist, she had a doctor friend supervise her tooth extraction. Mom and Dad had many adventures in Bolivia from shopping in the outdoor markets where meat was hung outside in stalls to sell and where you had to barter for your price on vegetables, or, if you wanted, you could buy a llama fetus to bury under the cornerstone of your house for good luck, to hearing shots from revolutions, to dealing with the school board members and the problems they caused for Dad.
<![if !vml]>
<![endif]>
Mom shopping in La Paz
On July 7, 1969, Bill married a beautiful blonde, Lana Smolinsky. She had a beautiful little girl named Michelle. They moved to Cali, Columbia where Bill was to teach for the American Schools.
<![if !vml]>
<![endif]>
Bill & Lana LaPlante
<![if !vml]>
<![endif]> <![if !vml]>
<![endif]>
Bill, Lana, and Michelle Tina, Ruth, Ged, and Michelle
They were close enough to visit. Mom really missed her kids overseas and was always happy to see or hear from them. Towards the end of their stay in Bolivia, Mom was able to show her art work in the Centro Boliviana. She was very nervous about it. After spending eight hours every day painting, she was glad to show her work.
Mom and her paintings of the old Ranch House (see others at: Pictures and Pottery)
The show was a great success. Many of her painting were sold. Mrs. Fisher wanted to show her works at the American Womenís Club the next week.
BOGOTA
After two years in Bolivia, Mom and Dad decided to take a job in BogotŠ, Columbia. The board wanted Dad to stay on in Bolivia because he got the school on solid financial footing and they liked him, but the high altitude of Bolivia was very hard to live in. In 1970 Dad accepted the job as Director of American Schools in BogotŠ, Columbia.
On May 21, 1970, Bill and Lana had a baby girl named Christina (Tina).
She was born in Quito, Ecuador.
Tina LaPlante
On August 7, 1970, Bev and Pat had a baby boy named Gregg Anthony McKenzie.
He was born in Auburn, California.
Gregg McKenzie
Some of Momís impressions of BogotŠ: ďThe sun is shining this morning. The city is smoggy. This afternoon we will very probably have rain. The nights and mornings are cold. It has been very hard to describe this city of BogotŠ. Is it beautiful? Is it interesting? What do you say? Is it a big city? Possibly like a big city in the States, but no, it isnít. It is the most modern city we have visited in Latin America but in many ways it is just primitive enough to say it is modern. Looking down on the many tile roofs is a pleasing sight. The traffic and horrible gas fumes from the many trucks, buses and cars make the downtown area almost unbearable. This is not beautiful, interesting or pleasant.Ē
<![if !vml]>
<![endif]>
Scenes from BogotŠ, Columbia
One good thing about BogotŠ is that Ruth and Ged brought Chela with them. She was a great friend of Ruthís and told her many stories. Ruth and Ged also paid her well so she could send her son through school. In BogotŠ Ruth was part of a womenís group where she taught them to make their own designs for rugs.
<![if !vml]>
<![endif]> <![if !vml]>
<![endif]>
Mom with her unique rug Mom and Dadís house in BogotŠ
There were lots of demonstrations, manifestations and unrest in the cities there. Momís notes on BogotŠ are scarce. The best part of Columbia was our family gathering there at Christmas time 1970.
Bev and Pat went over with Monica and Gregg. Bill and Lana were there with Michelle, and Tina. I went over by myself. Colette was unable to make it. On June 2, 1971, Bill and Lana had a son named Gedeon William LaPlante. He was born in Cali, Columbia.
Gedeon William LaPlante
Later in the summer I married Jim Collins on August 7, 1971.
Mom and Dad came back and helped with the wedding.
Barbara and Jim Collins Ged, Jim, Barbara, and Ruth
They went back to BogotŠ after the wedding but left shortly after. Iím not sure what happened, but they were in fear of their safety. There was some suspicion of the secretary of the school being involved in the drug market and suspecting Dad of knowing too much. So they quickly left BogotŠ and had a friend send their things back to the states.
Back in the USA
1971
Mom and Dad came back to the states and decided to explore the hotel business. They took the hotel management training back in Georgia and got a job in El Cajon as managers of a Travelodge Motel.
<![if !vml]>
<![endif]> <![if !vml]>
<![endif]>
It was great having them closer to home. On June 29, 1972, Jim and I had our first child, Jennifer Marie, a beautiful baby girl.
Jennifer Marie Collins Mom giving the first bath
At Jennifer's Baptism
Mom with Monica, Bev, and Greg in Yuba City 1972
Mom and Dad worked in El Cajon CA for about a year. The motel business wasnít quite what they were looking for. On September 30, 1973, Jim and I had another beautiful baby girl, Rachel Lee.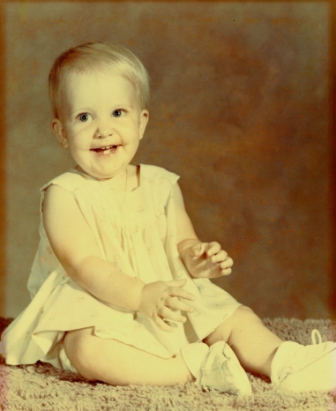 Rachel Lee Collins Rachel, Jennifer, and Jim
Gregg, Bev, Colette, Monica, Ruth
Pat, Jennifer, Barbara, Rachel, Ged
Mom and Dad quit the hotel business and then went over seas again in 1974 to San Salvador, El Salvador, but not before a trip to Patrick's Point with the McKenzie family:
Mom with Monica
They also took time to drive to Alabama with Grandma Yeoman to visit Bill and Lana and family: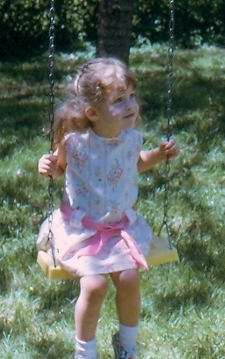 San Salvador, El Salvador
1974
Momís first impressions of San Salvador were: ďÖthe towns' sameness. Just like the South American cities we had been, though it doesnít smell like La Paz. There doesnít seem to be that terrible atmosphere of poverty and misery.
The women were carrying baskets of things on their heads. Flowers, fruits, materials, laundry and other things were balanced atop their heads. Shoulders straight, neck straight, hips swinging they walk gracefully with no effort.Ē Mom spent many weeks trying to find a good maid. Never could find one as good as Chela. Mom and Dad really enjoyed this American Schools assignment. The altitude was lower and the weather nicer. Their surroundings were in a tropical setting with many beautiful flowers and shrubs.
Dad took more time to enjoy the area and he and Mom went on many strolls on the beach.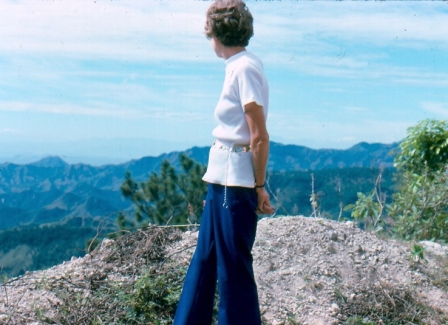 They went to Cera Verde in the mountains. On one side they could see the ocean and on the other the valley below.
The Volcano de Izalco is part of this mountain and you can look directly into the mouth of it from the hotel. On April 13, 1975, Jim and I had our first son Jeffrey James, a handsome little boy.
Jeffrey James Collins Rachel and Jennifer with Jeff
Then on April 14, 1975, Bill and Lana had another lovely daughter, Nicole, born in Birmingham, Alabama, where Bill was Director of a Catholic School.
Nicole LaPlante
Colette was able visit Mom and Dad in El Salvador and enjoyed it very much.
She said it was like vacationing in Hawaii.
On November 11, 1976 Colette married Craig Fleck in Klamath Falls, Oregon.
Colette and Craig Fleck
On February 22, 1977, Jim and I had another daughter Margaret Ruth, another beauty.
Margaret Ruth Collins
Auburn and Sacramento
1976
On one trip back to the states Mom found out she had ovarian cancer, so she and Dad moved back to Auburn. She underwent treatment. They lived in Auburn for a couple of years, playing bridge with Ken and Ila McKenzie once a week and visiting with kids and grandkids that would drop in. Mom really enjoyed being close to her kids and grandkids. She and Dad found a house in Sacramento and enjoyed fixing up the yard, having barbecues and visiting their children and grandchildren. Mom had a great faith, a strong love for God and family. She put up a big fight. There was no treatment she wouldnít undergo to have more time with her family, but passed away on November 4, 1977. Her children and their spouses had four more grandchildren after her death. Bev and Pat had a beautiful daughter, Kimberly, on September 24, 1978.
Kimberly McKenzie
On September 6, 1979 Jim and I had another lovely daughter, Ellen Kathleen.
Ellen Kathleen Collins
On May 13, 1983, Jim and I had another wonderful son Joseph Anthony.
Joseph Anthony Collins
On November 11, 1985, Jim and I had another son, John Arthur, who died a few hours after birth. Mom had a total of 14 grandchildren. She would have loved to have seen them and to have known them, and they would have loved her beautiful, loving, caring personality.