Ruth Marie Yeoman LaPlante
Roots on the Krebs side
At the beginning of this picture biography I showed Momís roots on her fatherís (Yeoman) side. Now I will show her roots on her motherís (Krebs) side.
The Krebs family tree line can be traced back to Momís great grandfather,
Francis Louis Krebs: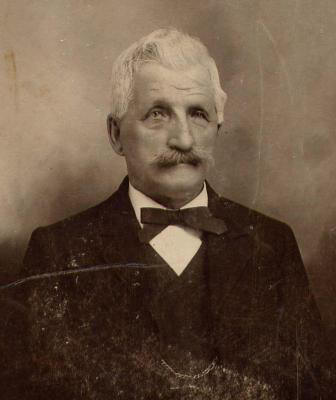 The following notes in italics were found among some of my Momís papers:
Francis Louis Krebs Ė Reason he came to America from Germany he was mixed up in the Students Rebellion. He was a tailor and worked as an apprentice. When he came to America he followed that trade. He didnít have much to do with parents. Did write to his sister.
Wife lived in Virginia. Married before she was 16. Had Negro mammy who took care of her. Her name was Susan Hogan.
Moved to Columbus, Indiana when the civil war broke out. Francis tried to enlist in the Union Army north as a cook because he had a bad arm he couldnít make it as a soldier. Called him dutchy because he spoke German all the time.
6 boys Ė 3 girls Ė all had a trade:
Geo [Joe?] and George were carpenters
Frank [John?] was a painter
Kurt was an engineer
William J. oldest was a printer
Albert was a printer Ė was black sheep of family. Biggest liar in 40 states Ė was crippled and spoiled.
From Momís notes and other sources, a basic biography can be pieced together:
Francis Louis Krebs was born in Bavaria in April 1831. He fled Bavaria as a young man about 1848. Family tradition has it that he and a cousin and one other student had floated down the river on a barn door used as a raft and came to America. He arrived in the United States in 1852. He was a tailor by trade but was frequently involved in farming at the places he lived in this country.
His wife, Susan Hogan Krebs, was the daughter and fifth child of Phillip and Abby Hogan. Her father had come from Kentucky to Ohio and then to Bartholomew County, Indiana, where Susan was born. Some records show her to have been married at St. Louis. However, I believe the correct information to be that she and Francis Louis were married at St. Louis Crossing which is a location near Columbus, Indiana.
Article from May 29, 1909 Ė Native American 230 Phoenix, Arizona:
Mr. Krebsís father, Francis Louis Krebs, who died recently at the Kansas home, was a German nobleman who fled from Bavaria at the time of the political troubles of 1848. The title of count and the family estates in Germany will descend to Mr. Krebsís oldest brother, W.J. Krebs of Kaw City, Oklahoma, who will shortly go to Germany with an attorney of N.Y. to look after his interests. Though Mr. Krebs, the elder, had been exiled by royal decree in 1848 for participation in the studentsí rebellion against the crown, he was restored to favor by the king several years ago, but preferred to live the remainder of his days as a plain American citizen.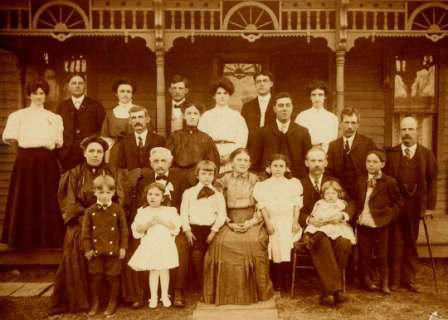 Francis Louis Krebs Family Picture
William Joshua Krebs
William Joshua Krebs, Momís grandfather, was the oldest child of this family. He was born on August 25, 1858 in Indiana. He had five brothers--Albert, Joseph, George, John, Curtis; and three sisters--Lola, Belle and Byrde. One girl child died. The first 5 children were born while the family lived in Indiana. Between 1870 and 1876 the family moved to Newman, (Douglas Co.) Illinois where all the remaining children except the last one were born.
Between 1880 and 1882 the family moved to Great Bend, (Barton county) Kansas where they took a claim. William Joshua went to work at the newspaper office there and that is where he met Katie (Kathrynn Margaret Bosch) who came into the newspaper office where he worked. He recalled that she was wearing a beaver hat when she came in. He was smitten by her beautiful brown eyes.
The following notes in italics were found among some of my Momís papers:
Motherís [Ruthís grandmother, Kathrynn Bosch] father a carpenter and farmer. When her father died Ė In Germany Ė She worked as a maid for a printer and motherís father [William Joshua] worked for the printer. This is when they met. Was 15 when she arrived in America. She had finished school in Germany. Went to kindergarten here to learn her ABCís and learn English.
She made her husband promise that none of her children would ever work as a maid, and they didnít. Motherís father said that when he first saw Katherine (mother) she was wearing the Dutch maid clothes with flowers on her head and she was the most beautiful sight he had ever seen.
William Joshua married Katie at Great Bend, Kansas, on June 14, 1882. She was born on March 18, 1864 in Germany. Shortly after the wedding they moved to claims in Kingman County, Kansas at a place first called "Lotta" which was later known as Penalosa. In 1884 their first child, Ella, was born in a sod house. Their other children were John Francis, Susie Belle, William Joshua, Gladys Marie, Esther Pauline, and Paul Gordon.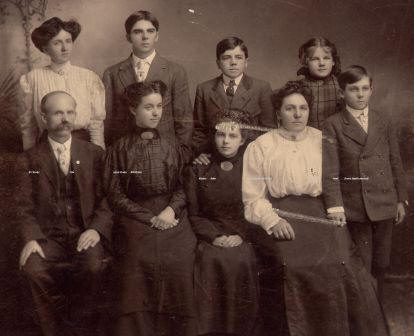 Front: William J., Susie, Gladys, Kathrynn, Paul; Back: Ella, Bill, John, Esther
According to the 1885 census, William Joshuaís father, F.L. Krebs, was living on an 80 acre claim valued at $440.00. W.J. lived with his wife Katie and daughter Ella on 80 acres valued at $240.00. Neither farm was fenced. Both grew corn, winter wheat, oats and potatoes. W.J. also harvested 12 tons of prairie hay in 1884. He had one dog. F.L. and family had two dogs. All the adults were shown to be literate.
W.J. became a newspaperman in his own right in 1886 operating and editing the Penalosa Times. It was a short lived venture due to other circumstances. (I have read the issues of this paper which are included in the records of the Kansas State Historical Society.)

W.J. had signed as surety on a loan with some friend who lived in the area. The friend could not pay the loan and the creditor looked to W.J. to pay it which resulted in his losing his farm in Kingman County. When that happened he moved to Conway Springs, KS where he worked in a plant that processed sugar beets. The newspaper business was on hold for a few years. In about 1900 W.J. was back in the newspaper business at Braman, Oklahoma.
In 1902 W.J and some acquaintances were involved in starting a town at the Southern end of the Kaw Indian Reservation just outside the reservation boundaries and situated near the Arkansas River. This was thought to be the sure location of great opportunity because of the Santa Fe Railroad route that would make this a major city. That did not occur, but the town was a thriving place for several years. My grandmother, Gladys, recalled that it was on her ninth birthday [August 18, 1902] that they loaded up their belongings and headed out from their home to go to this new location at what would be known as Kaw City.
Grandma told me her mother had been raised a Lutheran but after coming to America she had become a "shoutin' Methodist". When she worked in the post office in Kaw City where W.J. was the postmaster she was not the least bit hesitant to encourage the customers to go to church even when the customers were the guys who were cowboy/showmen from the nearby 101 Ranch--like Tom Mix and those guys. Katie developed cancer of the spine and died at the age of just 54 on October 13, 1918. She died at Newton, Kansas, where she was being cared for by her daughter Ella. She is buried at Conway Springs, Kansas.
Audrey Heffron, Lee Heffron, Kathryne Riddle with baby Ellis Riddle,
Esther Krebs, Lee Yeoman, Nita and Bill Krebs, Kathryne & William Krebs
W.J. Krebs was postmaster, real estate developer and newspaperman in Kaw City where he owned and published the Kaw City Star. He was a "red hot Republican" which helped him get the assignment as postmaster which was a political position during those times. It also meant that when the Democrats were in power he was no longer postmaster.
W.J.ís second wife was ďJimmieĒ Agnes Martin. They had no children. She was with him on the 30th of September, 1934, while they were driving near the small town of Nash, Oklahoma, when their vehicle was involved in an accident. W.J. was severely injured and died either at the scene or shortly after being taken to Enid which was in the area. He was buried beside Katie at Conway Springs.
Grandpa Krebs and Agnes (2nd wife)
While in the newspaper business in Kaw City his helper, partner, etc. was his youngest son Paul.
Paul is still living as of this writing. (Information research done by Frank Yeoman, Jr.)
<![if !vml]>
<![endif]>
Back: Bill, John, Paul; Front: Ella, Susie, Esther, and Gladys
Esther Krebs
Esther Pauline Krebs was a county health nurse for Tulsa city Ė county health department. She was the first public health nurse hired by the state health department in 1935 when the state was gripped in a death Ė dealing spiral meningitis epidemic. She was able to save all but one patient. Another milestone was when Dr. R.M. Adams, founder of Tulsaís first city health department in 1940, hired her and three other public health nurses to open the new service in Tulsa. In 1950 when the city and county health units were merged, she was named a field supervisor in the combined nursing force.
Gladys Krebs
Gladys Marie Krebs was born on August 18, 1893 in Kansas. She married Marcus Lee Yeoman on December 31, 1912. Their children were Frank, Florence, Ruth Marie, Bill, Bob, Christine, Ramona, and J. Lew.