Oklahoma Land Rush 1893 to 1919
At precisely twelve noon on September 16, 1893 a cannon's boom unleashed the largest land rush America ever saw. Carried by all kinds of transportation - horses, wagons, trains, bicycles or on foot - an estimated 100,000 raced to claim plots of land in an area of land in northern Oklahoma Territory known as the Cherokee Strip. There had been a number of previous land rushes in the Territory - but this was the big one. In 1828 Congress designated the land that would become Oklahoma as Indian Territory. White settlers were required to leave, and a number of tribes from the East and South were forcibly moved into the area from their ancestral lands. Chief among these were the Five Civilized Tribes - the Cherokee, Choctaw, Chickasaw, Creek and Seminole - who allied themselves with the South during the Civil War. Following the war, the US government looked upon these tribes as defeated enemies. This animosity combined with increasing pressure to open up the Indian Territory to white settlement prompted the first land rush in 1885, a second followed in 1889.
By the time of the Oklahoma land rush of 1893, America was in the grip of the worst economic depression it had ever experienced. This was one of the factors that swelled the number of expectant land-seekers that day. Many would be disappointed. There were only 42,000 parcels of land available--far too few to satisfy the hopes of all those who raced for land that day. Additionally, many of the "Boomers" -- those who had waited for the cannon's boom before rushing into the land claim - found that a number of the choice plots had already been claimed by "Sooners" who had snuck into the land claim area before the race began. The impact of the land rush was immediate, transforming the land almost overnight.
Marcus Lee Yeoman
Father of Ruth Marie Yeoman
The following article was written by my Aunt Monie (Ramona Yeoman Smith):
Lee Yeoman was born April 27, 1886, near Greensburg, Kansas. His parents had married in Rensselaer, Indiana. Her parents gave them a team of horses and wagon and $1000.00 for a wedding gift, so the story goes, and they headed west.
"Lee His buggy & team & Frank"
Marcus Lee Yeoman
(Grandmother Yeoman, Margaret Parkison, was the granddaughter, 3 generations removed of Simon Kenton [see Kenton genealogy section], a pioneer and scout of some renown.) They had gone to Colorado first but came back to Kansas before Lee was born. He told us of standing beside his father as he started the race in the Cherokee Strip Opening, when he was 7 years old.
They moved to Oklahoma then, where his father homesteaded. They lived on the farm and his father ran a hardware store in town. Lee and his mother mostly ran the farm. He grew up in the north central area of Oklahoma. He went to school until he finished his Jr. year in high school. He was an outstanding football player and was offered a scholarship to the college at Stillwater, Oklahoma. He got on his horse and was riding to Stillwater, when he came upon a guy who was wanting to sell a herd of cattle for what he thought was a good price, so he bought them and drove them back to the farm. He never got to college.
On December 31, 1912 he married Gladys Krebs:
Gladys Marie Krebs
They lived in and near Kaw City, Oklahoma, the first part of their marriage.
They had eight children, 4 boys and 4 girls. (Children of Lee and Gladys are:
Frank, Florence, Ruth, Bill, Robert, Christine, Ramona, and J. Lew.)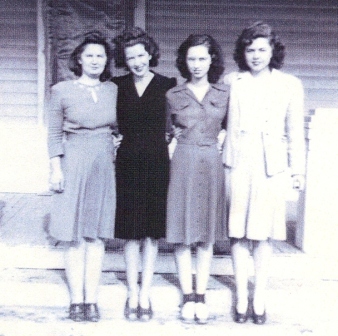 Florence, Ruth, Christine, and Ramona... J Lew, Bob, Bill, Frank, and Lee
In 1929 they moved to a ranch in Clark County, Kansas. It was a dream ranch for Lee, but not ideal for Gladys and inconvenient for the children to go to school. There were no roads into the place then and the house was not the most elegant… so they kept their home in Kaw City. Gladys and the children lived in town during the school months and Lee stayed on the ranch year around.
The Old Ranch House
It was always a great event for the children to move to the ranch in the summer time. Later on, when the older children were ready for college, they sold the home in Kaw City and bought one in Alva, Oklahoma for the winter stays. It was much closer to the ranch.
Until 1947-48, when rural electrification came about, the farms did not have electricity, nor actually any other modern conveniences. The lights were kerosene lamps for the most part, with one gas lamp. The gas lamp put out a brighter light but needed pumping up frequently to keep it burning. There was an outdoor privy, (the old backhouse), and a water pipe ran into the house from the windmill. It was fixed with a shut off and there was a 50 gallon barrel in the house to fill with water. The cook stove was a wood/coal stove, as was the heating stove.
<![if !vml]>
<![endif]> <![if !vml]>
<![endif]> <![if !vml]>
<![endif]>
Old Privy Gas Light Old Cook Stove
The oldest son, Frank, moved to the ranch permanently when he graduated from high school, and there were a least three hired hands who stayed there with Lee and him in the winter. It was during the depression years that Lee wrote most of his poetry.
<![if !vml]>
<![endif]>
The evenings were long and he missed his family very much, especially Gladys. Lee was an optimist, always thinking things were going to get better. He also had a great sense of humor, as you can tell from most of his poems.
Lee was an excellent horseman, and always took good care of his horses.
He liked to break his own horses and did a very good job. He practically lived on a horse in his younger days. He sometimes rode in the rodeos, and as any of his friends might tell you, but rarely him, he had never been "thrown." Many nights he slept on the prairie with his saddle for a pillow, when he was on a cattle buying trip. He tried many occupations along with his farming/ranching business, "to make it through" the depression years.
At one time, he even had a dealership for selling the Model T Ford. He never gave up his horses though until he could no longer ride. Even then he always had one or two around for when the kids came. He kept a herd of Shetland ponies on the ranch, raising the colts and having his younger children gentle ride them since they were gentle. He did sell some of them from time to time, but doubt they were as much for profit as for "something to keep the kids out of mischief."
Dust storm during the Great Depression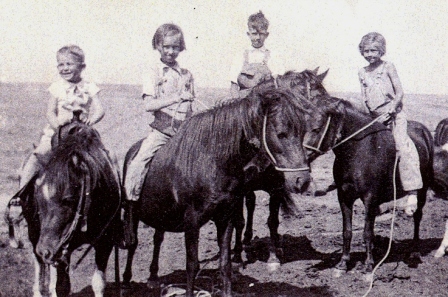 J. Lew, Christine, Bob, and Monie and the horses
J. Lew on his horse
In 1947, he and Gladys and the two youngest sons moved to Fredonia, Kansas where he had bought a farm.
Ramona, Ruth, and Lee
Ruth's sister, Florence, married Alfred Gabriel (Gabe) Dorsey on July 1, 1936.
Frank and his family were on the ranch in 1943.
Virginia, Florence, and Gabe... Virginia, Frank Florence, James, Gabe, and Bill
Lee continued to raise cattle and feed with his son Bob in Fredonia until his death on February 25, 1972.
Lee was sometimes called "Bebo" by his grandchildren. The story goes that Gladys' pet name for him was Lebo. Frank Dorsey couldn't say Lebo so the name became Bebo to the grandkids. Lee wanted to be called daddy or Lee, so Ruth, Frank, Florence and Bill called him Lee. He used to tease and tell his kids to call him Lee so nobody would know they belonged to him.
Gladys continued to live on the farm with her son Bob who took over the ranch. Gladys passed away on December 7, 1990.
Bob Yeoman on Tex Bob Yeoman
NEXT: THE EARLY YEARS
BACK TO INDEX