Ruth Marie Yeoman Ancestry
Early Immigrants and Ancestors 1638 to 1892
Ruth's roots go back to Christopher Yeamans from Middlesex England. We are not sure why the Yeomans emigrated from England but below are some of the reasons given.
The English left mainly for economic and religious reasons. The English migration was far larger and more gender-balanced than that of the Dutch, the French, or the Spanish. The explanation for the rapid growth of England's North American colonies lies in the existence of a large "surplus" population. Early seventeenth-century England contained a large number of migrant farmhands and unemployed and under-employed workers. Most English migrants to North America were recruited from the lower working population--farm workers, urban laborers, and artisans--who were suffering from economic distress, including sharply falling wages (which declined by half between 1550 and 1650) and a series of failed harvests.
Religious persecution was a particularly powerful force motivating English colonization. England allowed religious dissidents to migrate to the New World. Some 30,000 English Puritans migrated to New England, while Maryland became a refuge for Roman Catholics and Pennsylvania, southern New Jersey, and Rhode Island, havens for Quakers. The refugees from religious persecution included Baptists, Congregationalists, Presbyterians, and a small number of Catholics, to say nothing of religious minorities from continental Europe, including Huguenots and members of the Dutch and German Reformed churches.
Christopher Yeoman
This comes from Family Tree DNA Project Website. To understand the flow of these ancestors it may help to visit the LaPlante family tree on Ancestry.com. Jim or Barbara Collins can include you as a guest if you would like to see the entire site.
According to well-documented sources, Christopher Youmans, b. 1638 in Middlesex England, immigrated to America in 1656, settling on Long Island NY, near Madnan's Neck. It is not known whether he came directly to Long Island from England or whether, like many others, he landed in Connecticut and then crossed the Sound to Queens County Long Island (then known as Nassau Island). He married Hannah ____ in 1669 in New York (date from Roots Web.). Based on an inheritance from his brother, William Yeamans, England is identified as his homeland. Based on his brother's will, the surname was originally "Yeamans" or "Yeomans". Known children of Christopher Youmans (Yeamans) are Moses, Christopher, Solomon, Hannah, Thomas, Sarah, Mary and William.
Hempstead, Long Island was purchased from the Indians in 1643 by John Carman and Rev. Robert Fordham, acting for their associates at Stamford, Conn. On Nov. 16, 1644, they procured a patent from William Kleft, the Dutch Governor of the New Netherlands. The first settlement was made in 1644 by between thirty and forty English families from Stamford and Wethersfield, Conn. They were joined by other English settlers from the inland including Capt. John Seaman who had secured title to a tract comprising more than twelve thousand acres, which in 1685, under the Dongan patent became part of the town of Hempstead. All the surrounding towns had been settled by the Dutch, but the English settlement at Hempstead was allowed considerable liberty in management of its own affairs.
In 1647 the first recorded division of lands was made among the sixty-two freeholders. The minutes of the towns of Hempstead and North Hempstead since the year 1654 are preserved and they were printed in 1896 by order of the Town Board of North Hempstead, Long Island. In those records we find the following references to Christopher Yeomans. On October 19, 1659 there is a record of the sale of fifty acres of land by Christopher Yeomans to Will Smith. On March 22, 1664 an agreement was made between the townsmen and Christopher Yeomans for the keeping of the East herd of cattle for the ensuing year. There are many other agreements listed in these minutes. So it seems that Christopher had settled down here and raised his family for a while. Christopher moved to Rye, Westchester Co., New York in 1720.
Christopher's descendants prospered and continued to move up the Hudson between New York and Connecticut. Stories of the Youmans/Yeamans families in Dutchess County, Albany County, and many other New York counties are numerous. They participated in all the major wars, settled the land, and were some of the early pioneers moving ever westward. Christopher Yeamans died in 1720. His body is interred in Rye, Westchester, New York.
Solomon Yeoman
Solomon Yeoman, son of Christopher, was born in 1667 in New York. He married Susannah in 1669 in New York. Their children are Hannah, Samuel, Eleazer, Mary, Solomon, Nathaniel, and Moses.
Eleazer Yeoman
Eleazer Yeoman was born April in 1702 in Queens New York. He was the son of Solomon Yeoman. He married Mary Hunt in Queens New York. There is some dispute of this fact. One source says that he married Mary Aarse (record #74) at Old Dutch Church Sleepy Hollow Tarrytown Westchester County New York. Ancestry.com lists Mary Hunt. Their children were Stephen, Arthur, Abraham, Oliver, Eleazer, Gilbert, Moses. During the Revolution Eleazer was appointed to take charge of all persons of being disloyal and of those arrested or paroled.
Stephen Yeoman
Steven Yeoman was born in August 1747 in Eastchester, Westchester New York. He was the son of Eleazer Yeoman. He married Abigail Fountain in 1773. Stephen Yeoman served in the Revolutionary War 1777-1779. There is a story of his being captured by the British and being hanged as a spy but the rope broke. He served in the White Plains, New York, area. He is a Patriot of Daughters of The American Revolution. Pages copied from Westchester County, NY-History of The American Revolution show Stephen signed the Association Test in 1775. Stephen was in Cornwall Township, Orange County, New York, 1790 Census. Abigail taught school where "cannonballs fell on the school house." James was born in midst of all of it. Stephen received a land grant near Dryden, New York, granted in 1793. In the 1810 Census, he was in Cayuga (now Thompkins) Co., New York. Stephen settled in Good Hope, Fayette County, Ohio in 1815. No sooner had the blue smoke begun to curl from the crude chimneys built of sticks and mud than the construction of a church was begun. Stephen who was a member of the Baptist Church while a resident of the State of New York, assisted in the constitution of the Paint Creek Baptist Church, the first church organized in Wayne Township and one of the first churches founded in Fayette County. Stephen and Abigail had four sons: Walter, Gilbert, Samuel, and James.
Stephen Yeoman, emigrated from York State at a very early date, and settled on Main Paint (Creek), near Rockville. He was the first to locate there in 1815. He built the mill and constructed the dam. There was also a store and some small shops. He built the first brick house on Main Paint.
Walter Yeoman
Walter Yeoman was born on September 2, 1782 in Cornwall Orange, New York. He was the son of Stephen and Abigail Yeoman. He married Bethia Fountain on August 14, 1785. She was from Holland. Their children were Eneus, Enos, Asenath, William, Eli, Olivia, Levi, Milton, and Allen. Walter died on October 3, 1863 in Good Hope Fayette, Ohio
Eli Yeoman
Great Grandfather of Ruth Marie Yeoman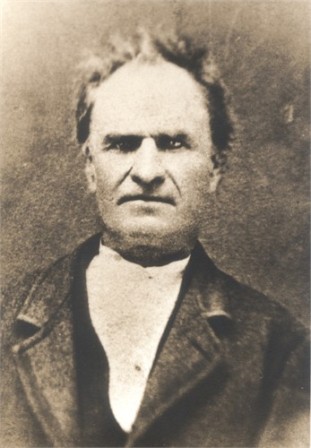 Eli Yeoman was born in April 3, 1813 in Dryden, New York.
When young, he moved to Fayette County, Ohio, where he learned farming
and married Rebecca Jane Knox on September 21, 1841.
Rebecca Jane Knox
Their children were Joseph, Andrew, Jane, Robert, Ogle, Lewis, James A., Charles, David Franklin, and Marcus. In 1856 Eli built a sleigh, and removed his family to Jasper County. They were twelve days on the journey, during eight of which it snowed continually. On his arrival, he purchased some land from James and Andrew Ferris. Most of the land was so wet that Rebecca declared that she could, by springing up and down, shake the ground for several feet around her. Mr. Yeoman improved this land by ditching, as a result of which it became the most productive in the county. (Jasper County Biographical by Betty & Co.) Eli died on April 27, 1882.
David Franklin Yeoman
Grandfather of Ruth Marie Yeoman
The following was written by Gladys Krebs in 1985:
David Frank Yeoman, born in 1860, married Margaret Parkinson on February 6, 1882, in Rensselear, Indiana. She was born in October 1865
Like so many people at the time, they came west to make their fortune. They found a farm close to Greensburg, Kansas. Frank worked the farm and worked in the community building homes. Times got harder and building in Greensburg stopped. They then spent some time in Kingman, Kansas, where two of his brothers lived.
In 1893 Frank came to Arkansas City so he could be in the race when the Cherokee Strip opened. He made the run and staked out a 160 acre claim near Newkirk, Oklahoma. They lived and worked in Blackwell, Oklahoma, where Frank had an interest in a hardware store. He spent weekends working on the claim, trying to make the necessary improvements. One weekend when he arrived to work on the farm, another fellow was there and had taken over his claim. There wasn't anything he could do about it, or so he thought, so he gave it up.
In the early 1900's the family moved to Kaw City, Oklahoma from Bringer, Oklahoma, where Frank and his brother, Charley Yeoman, bought a hardware store. When they first moved to Kaw City, the family, including Charley, lived in the two story building where the hardware store was located. After a short time they purchased a house to which they moved. The family soon became acquainted and enjoyed living in Kaw city.
Charley was fire chief in Kaw City for awhile. Frank and other community members often helped in firefighting. While fighting a residential fire one day Frank was pumping water on the pump wagon and had been pumping for quite awhile when he was relieved by Charley. As the fire raged inside the house, a loaded gun hanging on the wall went off and shot Charley, who was fatally wounded.
After Charley was killed, Frank seemed to lose interest in the hardware Business. They later went into business farming with their oldest son, Mark Lee Yeoman, and his wife, Gladys Yeoman. They lived and worked on the farm that was 12 to 15 miles outside of Kaw City. They owned a portion of the land and leased some additional land from the Indians.
Frank and Margaret had five children. Their oldest, Mark Lee Yeoman, married Gladys Krebbs on December 31, 1912, in Kaw City, Oklahoma. In 1936 they moved to a ranch outside Bucklin, Kansas, and then to Fredonia, Kansas, in 1947. Lee Yeoman Died February 25, 1972. His widow still lives in Fredonia.
Boyd Yeoman met and married Ruth Yeoman when he moved to Pawhuska to attend school. He was later a salesman for an oil company. They moved to Wichita, Kansas, where he died and his widow still lives.
Mable Yeoman met and married Henry Carson, a dentist in Kaw City, Oklahoma. They later moved to Pawhuska, where Henry had a successful practice.
Amy Mae Yeoman moved to Pawhuska, Oklahoma to live with her sister Mabel. There she met and married Corbet Cornet, a lawyer. Amy Mae died in childbirth.
Hazel Yeoman married R. A. Sodowsky. They met in Kay County and lived in Blackwell, Oklahoma most of their lives. They were involved in farming.
Source: North Central Oklahoma: Rooted in the Past--Growing for the Future, compiled and edited by North Central Oklahoma Historical Association, Inc. Topeka, Kansas: Jostens Printing and Publishing Division, 1995, p.767.
David Franklin Yeoman (on the bottom)
His brothers Ogle (top), Marcus (left), and James (right) with him.
David Franklin Yeoman was the son of Eli and Rebecca Yeoman.
He was born September 3, 1860 in Rensselaer, Jasper Indiana.
He married Margaret Parkison on February 6, 1883.
David Frank and Margaret (Parkison) Yeoman
Jaley Parkison with her sister Margaret (Maggie) Parkison
Their children were Marcus Lee, Mable Leon, Hazel Fanny, Amy Mae, and Joseph Boyd.
In 1893 David rode in the Oklahoma Land Rush on the Cherokee Strip.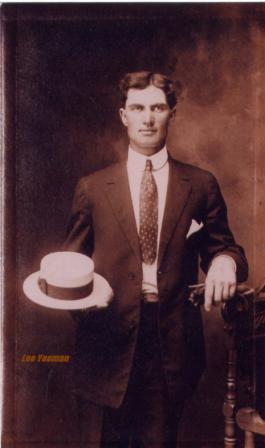 Marcus Lee Yeoman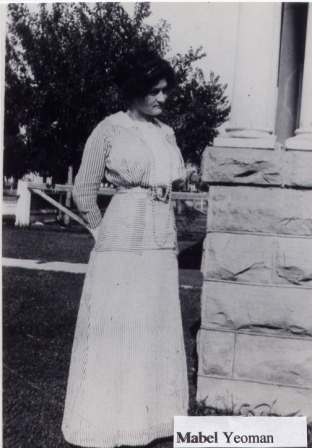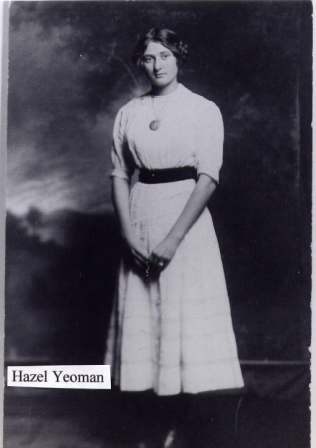 Lee's sisters, Mabel Leon, Hazel Fanny...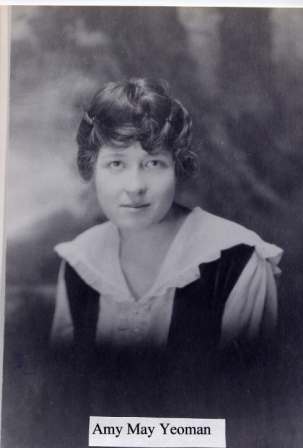 Amy May; and brother, Joseph Boyd