GED LAPLANTE
South America and back again: 1968-1979
American Cooperative School La Paz, Bolivia: Director
Being a thoughtful father, Dad took the time to write a letter to his children explaining his reasons for retiring early as superintendent and going overseas. He stated the pressures of administration and impossible demands on the position and the effects on his health as part of the reason as well as the changes in society at that time. So after much thought and discussion with Mom he decided to pursue overseas education. In 1968 Dad was offered a job as director of the American Cooperative School in LaPaz, Bolivia. Dad and Mom sold their house on Finley St. and said goodbyes. From there they flew to Kansas to visit with family. After their visit they were off on their way to Bolivia. It must have been a departure of mixed feelings about leaving family and one of excitement and adventure.
Upon arriving in Bolivia the first thing that hit Dad and Mom was the lack of oxygen in the high altitude. They had a rough bus ride in a wet bus and benches for seats to the customs area. There was a long wait in customs. They got things moving quickly when Mom's rollers fell out of the suitcases and onto the floor. The customs officers passed them through. After the long
trip to La Paz, Dad and Mom were looking forward to a nice hotel and a hot bath. The secretary of the school was there to meet them. Driving through the poverty stricken country was an eye opener for them. There were women dressed in colorful skirts, shawls and derby hats sitting on the ground selling fruit along the way, and children running and playing. In the city, men and women were doubled over carrying huge packs on their backs. There was no rhyme or reason for the traffic rules. It all revolved around who honked first. When they arrived at their hotel they found out it was a pension. It was a simple room with twin beds, a shared bath, and only cold water.
Dad and Mom thought they had reached the end of the world. They already missed the comforts of the USA. Receiving an invitation to a 4th of July celebration given by Ambassador Henderson shortly after they arrived picked up their spirits.
Dad and Mom toured the school the next day. It was in a beautiful setting. It used to be the home of a very wealthy family. It had palm trees, flowers and fountains. There were new buildings added and old ones in need of repair. The American school was located in Calacota "little America" since many Americans lived there. The school was a small school not like the big districts in California.
Getting settled in their new job took some patience. When they came, the Emigration Office took their passports. After many hassles with the Emigration office to have their passports returned, they finally got them back (they learned a little cash sped things up). While waiting to find a suitable house Dad and Mom did some house sitting until they found a nice house in Calacota not far from the school.
Entryway in the house in Bolivia
All the homes in the neighborhood had high walls, locked gates, sharp glass lining the top of the walls and big watch dogs. While Dad worked at the school Mom learned the ropes of shopping from Mrs. Heim. Most things from the states were very expensive. The shopping was quite an ordeal having to learn how to haggle over prices.
<![if !vml]>
<![endif]>
Mom at the market
<![if !vml]>
<![endif]>
Market place in Bolivia
Dad and Mom got in the routine of shopping, washing their vegetables in iodine and water, grinding and cutting their meat, purchasing fresh bread and eggs from the cholos who came to the gate. They hired a maid named Chela and a gardener named Manuel. They became their very dear friends in La Paz.
<![if !vml]>
<![endif]>
Chela, Manuel, and Dad Chela
Dad and Mom quickly delved into the Bolivian routine: school for Dad; painting, reading, entertaining for Mom, many social engagements during the week and weekends, playing golf, exploring the neighborhoods and city, traveling to different places. After church at San Miguel's, the tradition was to go out for salteñas and beer. One of the janitors of the school showed Dad the black market.
Mom wrote that Dad's first day of school was so quiet it scared him. He missed the football players and their growls and yells that tell the community they are tough, the cheerleaders practicing their maneuvers and yells, and normal noises of a healthy American school. He thought it would be a challenge to find things for enthusiasm in a purely academic school. At the first board meeting Dad gave a wonderful presentation. The board was awed by his knowledge of the school business. There were many problems to be solved: no board procedures, no teachers' handbook and regulations, few records, money in the bank drawing no interest, and little or no insurance. Dad also made policies about student dress. There was much political unrest in Bolivia. General Vasquez tried to over take the government of Barrientos and Ovando.
The students and professors in the university had lots of demonstrations. Barrientos closed down the schools. With Molotov cocktails and gun shots in town, the hardships in living in Bolivia and the effects of the altitude on sleep and health, Dad began to look for other American School jobs in better locations. At the first parents club meeting the pro communist groups were out. There was an unexploded bomb in the American embassy. There was extra security for the meeting at the school. It was very nerve racking for Dad and Mom.
Dad and Mom went to Cochabamba for Thanksgiving with friends and decided, since Colette and Barbara were coming to La Paz in the summer, that they would go home at Christmas. On their way home for Christmas, Dad and Mom flew to Wichita and Fredonia to visit family and then to San Francisco where family was waiting to see them. On the way to Pat's and Bev's, they stopped in Sacramento at the Coral Reef and took the family out for dinner.
Colette, Pat, Monica, Bev, Barbara Monica and Dad Dad, Mom, Monica, Pat, Bev, Barbara, Colette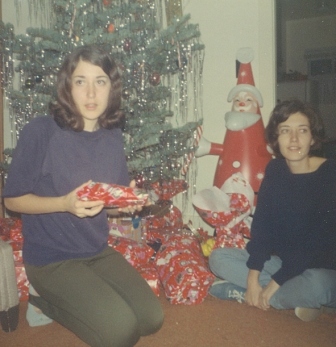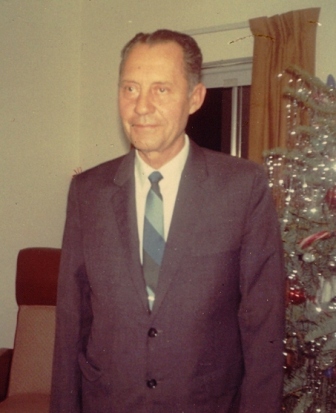 Colette and Barbara Mom Dad
Being with family was great but a flu epidemic seemed to hit everyone. When Dad and Mom flew back to La Paz they were greeted with problems at the school. Dad had put a lot of work into developing school procedures and discipline policies. One board member, who thought he was very powerful and intimidated everyone, did not want the discipline enforced. This board member wanted to extend a school dance into the late hours of the night. He and Dad got into it. Dad stood up to him and got the board to go along with his policies. He said he would leave if he was not supported. Eventually this board member met with Dad and settled the problem (Later, in San Salvador, Dad would run into him again). He had a lot of respect for Dad because he was the only one who ever stood up to him.
In the summer Colette and I flew to La Paz to visit.
Colette, Dad, Barbara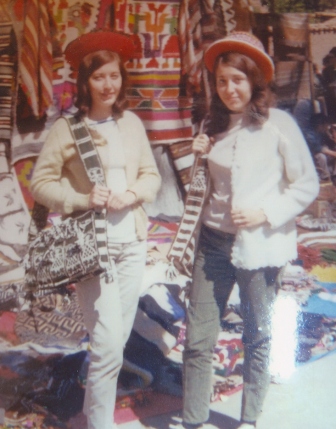 Barbara and Colette
It was a wonderful trip meeting all of Dad and Mom's new friends, attending some fantastic brunches, barbecues, and dinners. It was a new experience hearing many different languages spoken at the different gatherings. There were many interesting people. One lady was in a German hospital and was tortured during the war. Another couple lost their mine and land when the new government took over. Another was a doctor's family that was very hospitable. The doctor was Bolivian and his wife was American. Dad and Mom took Colette and me to the Yungus where there were many beautiful shrubs and trees. We stayed in the Hotel Hamburgo which was quite an experience.
<![if !vml]>
<![endif]>
Enrique, Jean Mary, Barbara, Mom, Colette Mom and Barbara
<![if !vml]>
<![endif]>
Barbara and Dad
We took another trip to Lake Titicaca and to Machupicu. It was quite an adventure taking the old train up the mountain, traveling across Lake Titicaca all night, and arriving on the other side in the morning ready to head to Cuzco and then on to Machupicu.
Dad and Mom in Cuzco Lake Titicaca
Colette and Barbara at Macupichu Mom
The only difficulty on the trip was when Mom got an infected wisdom tooth. Dad was thankful for a couple who came to the rescue with some medicine. On the way back there were Peace Corps students talking and singing on the train.
After Colette and I left Bolivia, Bill came with his wife Lana and their beautiful daughter Michelle. Dad and Mom were excited to meet their new daughter-in-law, and granddaughter, and to see their son so happy.
<![if !vml]>
<![endif]> <![if !vml]>
<![endif]> <![if !vml]>
<![endif]>
Mr. & Mrs. Wm. J. LaPlante Bill, Lana, and Michelle Michelle and Mom
Prospects of better jobs did not come up, and the school really liked Dad, so he decided to stay another year in La Paz. That next year Bill got a job in Quito, Ecuador. The year started with Dad and Mom finding out they were to house student teachers from Ball State for a few months.
<![if !vml]>
<![endif]>
Dad with students from Ball State
Dad and Mom enjoyed the company but not the headaches that went with it. They were huge eaters. They wanted to have parties in the house but Dad and Mom said no. Some of the girls had Bolivian boy friends, and Dad and Mom held their breath they would not go back pregnant. During social occasions they were not very refined. They were glad when they left in November. Mom found a pile of slacks folded in a pile when they left. Someone must have borrowed them from her without her knowing. In December Dad and Mom went to the States for Christmas again and enjoyed seeing family.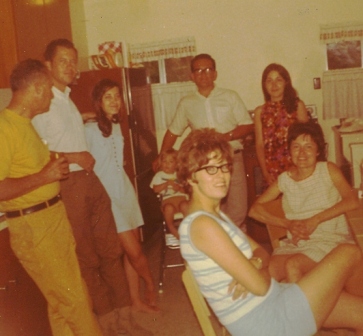 Dad, Bill, Barbara, Gregg, Pat, Lana, Colette, Bev Monica and Dad
School went on as usual when they got back. Earlier in the year the military wanted to fix up a football field. In January they had the dedication of the field and their first game. Mom writes: "The Ambassador and his wife came. All the parents came and drank beer. The Marines played the High School kids. The kids beat the Marines. One of the Marines was kicked out of the game. All the moms were potted by the time the game was over. Everyone got sunburned and had a good time."
<![if !vml]>
<![endif]>
Soccer game between the high school and the Marines in Bogotá
On May 21, 1970 Bill and Lana had another little girl, Christina, born in Quito, Ecuador.
<![if !vml]>
<![endif]> <![if !vml]>
<![endif]> <![if !vml]>
<![endif]>
Bill and Tina Tina, Mom, Michelle, Dad; Mom, Bill, Tina, Lana, Michelle
Dad got a new assignment in Bogotá, Columbia for the next year. Dad and Mom had a busy last month with Dad ending the school year, training the new Director, and Mom having a very successful Art show. Dad ended the year with the school sorry to see him leave. In a recommendation Rosalie Heims said the school was facing a $25,000.00 deficit in its projected budget. Dad, with his knowledge of school operations, made it possible for the school to end its fiscal year with all bills paid and a 15% reserve. At the same time he improved the curriculum of the school.
<![if !vml]>
<![endif]>
Dad at a school assembly
On August 7, 1970 Pat and Beverly had a little boy named Gregg Anthony McKenzie.
<![if !vml]>
<![endif]> <![if !vml]>
<![endif]>
Monica and Gregg Gregg, Mom, Bev, Pat, Dad, Monica
<![if !vml]>
<![endif]>
Gregg, Dad, Monica Monica, Gregg, and Pat
Bogotá, Colombia 1970
In Bogotá the altitude was a little bit better. The country was still very backwards. Dad and Mom convinced Chela to go with them. They had become very fond of her and wanted to help her out with good pay. The school like any other had its problems. The Columbians who had children in the American School didn't want to pay the teachers very much. They all wanted to run the school. Colombia had just as much unrest as Bolivia. The professors and the labor unions protested salaries and the cost of living. There was much stealing, some murders, which was usual, and it was, perhaps, more dangerous than Bolivia. Dad and Mom did not walk the streets alone there. People would steal watches, jewels, or whatever as people would stop at a stop sign if the window was down.
That Christmas Pat, Bev, Monica, Gregg, Barbara, Bill, Lana, Michelle, and Tina, all came to Bogotá. It was a wonderful Christmas. Bill had gotten another position in Cali, Columbia that year.
Mom, Bill, Dad, Lana Dad, Monica, Mom, Bev, Chela with Gregg, Pat
Michelle, Monica, Lana, Bev, Pat, Barbara, Irma, Ralph, Mom, Bill, Dad
At the end of that year Dad and Mom decided to leave Bogotá. The situation at the school was dangerous. Dad felt the secretary of the school suspected him of knowing of some connections of hers to the drug trade. Dad had another great recommendation from an Elizabeth Eddison, secretary of the Board of Directors. She said "within the first 6 months at Colegio Nueva Granada I saw the atmosphere of the whole school involving adults and young people, professionals and students change from negative to positive, from hopeless to hopeful. Mr. LaPlante is firm but not inflexible. He supports his staff and makes very clear lines of authority and so on......"
On May 14, 1971, Dad and Mom went to the states on a recruiting trip. I believe at this time they took a trip to Haiti and also through the Panama Canal. They also went to Alabama and Texas.
On June 2, 1971, Bill and Lana had a little son named Gedeon William LaPlante. He was born in Cali, Columbia. After he was born, Lana flew with the kids to Alabama where Bill got a new job. Dad had decided to leave Bogota without telling anyone. He didn't trust his secretary, so he and Mom decided to quietly leave. He flew down and met Lana, then flew with her and the kids to Bogotá. Then Dad, Mom, Lana, Michelle, Tina, and little Ged flew from Bogotá to Atlanta. Ged was just 2 weeks old. Bill had gotten a job as Director of Bishop John Carroll High School in Birmingham, Alabama.
<![if !vml]>
<![endif]>
Ged William LaPlante Ged, Michelle, Tina
That summer I fell in love with Jim Collins, a teacher at Wheatland High School. We were married on August 7, 1971. Dad and Mom came to help with the wedding.
Mr. and Mrs. James Collins Dad, Jim, Barbara, Mom
Barbara and Dad
After the wedding, Dad and Mom took a trip to Fort Bragg with Pat, Bev, Monica and Gregg.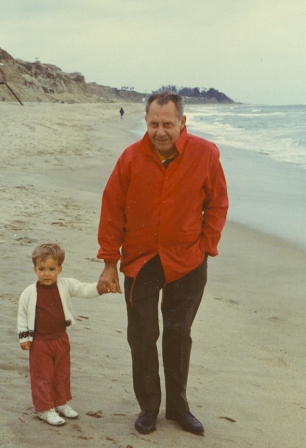 Gregg and Dad Monica and Dad
Travelodge: El Cajon
Later on, Dad and Mom decided to train for the hotel business. They went back to Virginia Beach, Virginia, for their training--close enough to Bill and Lana to visit a few times. After their training they moved into an apartment in Sacramento, California. It was off Alta Arden. Dad found a little spot in back of the building to plant some tomatoes. Bev, Barbara, and their families would visit often. It was great having them so close.
On June 29, 1972, Jim and I had a beautiful daughter, Jennifer Marie Collins. Mom and Dad came after she was born to show us the ropes. Mom showed me the basics of giving a bath, and Dad showed his expertise in baby walking.
Jim & Barbara at Jennifer's Baptism Jennifer Marie Collins
Jim, Jennifer, Barbara, Gregg, Monica, Bev, Mom
In August or September Dad and Mom got a job managing a Travelodge motel in El Cajon, California.
<![if !vml]>
<![endif]>
They found out, as in any new job, that you start at the bottom. They also found out they could not take time off together. This was definitely not what they were expecting.
When Christmas of 1972 came, all their children and spouses came to El Cajon, except Bill and Lana. They were still in Birmingham. The motel business didn't last long. It was not for Dad and Mom.
San Salvador, El Salvador
In 1974 Dad began looking for more American Schools jobs and found one in San Salvador, El Salvador. This was an overseas job they loved. The tropical foliage and the weather reminded them of Hawaii. The school board members were all congenial and seemed anxious to talk to Dad and Mom. Dad and Mom moved into a vacant Episcopal rectory for a month while they looked for a house. After some looking they found a big house to rent. It was built on many levels. From the living room there were two iron doors that opened on a small portico and on into a garden where there were many lush tropical plants. Dad liked the faculty at this school.
The counselor was a Jesuit priest and went to school in Kansas. Dad and Mom settled into life in San Salvador getting things in order in the school and getting to know the people there.
On September 30th Jim and I had another lovely daughter named Rachel Lee Collins.
Jim with Rachel and Jennifer Rachel
Gregg, Bev, Colette, Monica, Mom, Pat, Jennifer, Barbara, Rachel, Dad
Easter 1974
One funny story of Dad and Mom's adventures in San Salvador is when Dad found an invitation to a party for the Elementary PTA at 7:30 p.m., that same day on his desk. The word of mouth from the secretary was that it was very informal. Dad went home very tired and told Mom about it. He got dressed in a sport shirt and slacks and Mom wore a long skirt and a white blouse. They didn't arrive as early as they usually did. When they got there at 7:50 no one was there yet. So they went to a market to get some things. They went back to the home, and the first person arrived all dressed formal. This was one hour late. Dad and Mom went back home and changed clothes. They talked about not going and then changed their minds and went.
In November Dad and Mom went to the beach.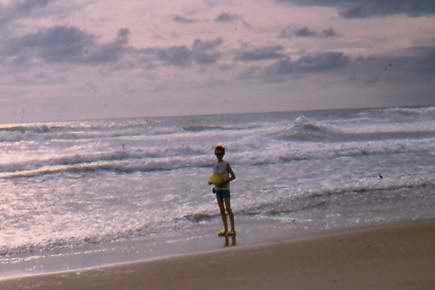 They went to the Cabana Club at Costa Del Sol. It had black sand and lots of shells. It was a very nice spot. That year Dad and Mom had Christmas in San Salvador with friends they had there. One interesting thing about the school in San Salvador is that it had the so-called fourteen families, who own the greater part of the land and have most of the money and are influential in the country. The Escuela Americana is the best school there so the 14 families send their children to this school. They are a force capable of doing most anything (bribery, threats, force) to assure a good grade for their child. Their purpose is to get their children in colleges and universities in the States or Europe. One incident with these families was when Dad and Mom were invited to many parties when they first came. The families were anxious to see what kind of people they were. At one occasion the host had a collection of artifacts that he had dug up on his many fincas (properties). This was undoubtedly the best collection of its kind Mom had ever seen. She admired one pot in particular, not knowing really what she was doing because the host said, "If one admires a thing in my house it is theirs" so he says, "It will be in your house in the morning." He made a big ceremony of taking it from the case and having one of the servants taking it in to be readied for a gift. Needless to say, Mom was greatly embarrassed. The next morning the pot was not in her house, nor for many mornings after that. One day the hostess of that evening had driven her car to the school for a meeting and in the process of getting in and out she backed into the school fence, knocking it down and causing some damage. Nothing was said. They received a bill for damages, but the pot arrived at Mom's door the next morning. Mom wondered what to do about a thing like that. Was this bribery or what? She didn't send the pot back as that would be sure Hara-kiri for her spouse. There were many more instances involving the 14 families.
Pre Columbian Pot
On April 13, 1975 Jim and I had our first son Jeffrey James Collins.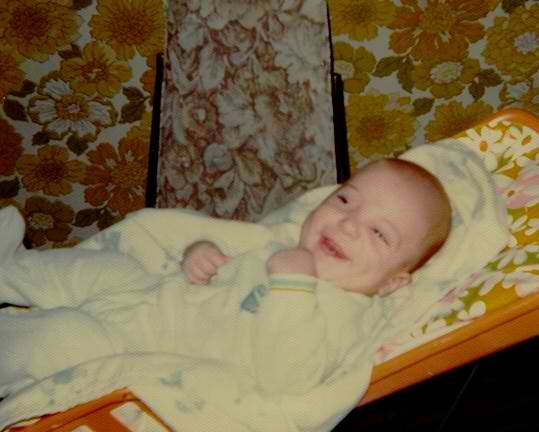 Jeffrey James Collins
Then on April 17, 1975, Bill and Lana had another daughter, Nicole La Plante. She was supposed to be born before Jeff, but he beat her by 4 days.
Nicole LaPlante
Colette was able to go to San Salvador and spend some time with Mom and Dad. She really enjoyed the trip especially the trips to the ocean.
Mom and Colette
On November 19, 1976 Colette married Craig Fleck, a seed company rep and farmer she met in Yuba City. Dad and Mom flew back for the wedding. It was a beautiful wedding with the reception at Craig's parents' house situated on Klamath Lake.
Mr. & Mrs. Craig Fleck
After the wedding there was time for a quick trip to Ashland to visit Mom's brother, Bill, and his family: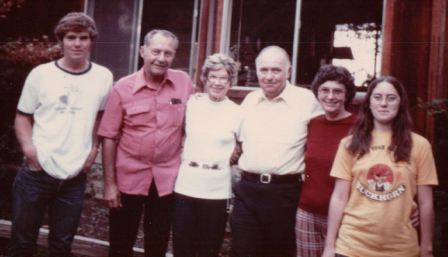 Little Bill, Mom & Dad, Bill, Nora, and Ann
After the wedding, Dad and Mom flew back to San Salvador. The school board liked Dad and wanted him to come back the next year. There were other overseas offers Dad was being considered for. Dad and Mom were planning to return to San Salvador the next year. Mom started having some health problems so they traveled back to the States for a doctor's appointment. She found out she had ovarian cancer. Dad and Mom immediately moved back to Auburn so Mom could begin treatment.
Back to California
Dad and Mom found a little house to rent in Auburn, not far from where Ken and Ila McKenzie lived. It was in a nice quiet neighborhood. They would get together with Ken and Ila once a week to play cards. It was great to have them so close to family. On February 22, 1977, Jim and I had a little daughter named Margaret Ruth Collins. Dad and Mom were thrilled about their new grandchild.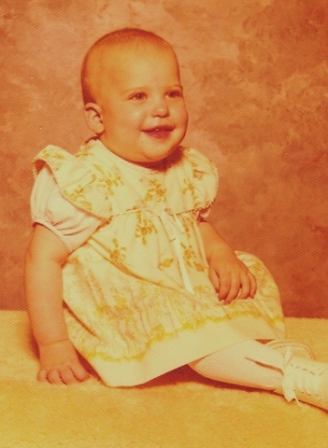 Margaret Ruth Collins
Mom loved to carry Maggie around fussy or not. Dad wanted Mom to have a nice house of their own so they purchased a house in North Highlands, Sacramento. It was bigger for family to visit, closer to Mom's treatments and doctors, and had a yard they could work in. Dad got into composting and gardening. He was proud of his vegetables especially his tomatoes. Mom was able to enjoy time with family and grandchildren and then passed away on November 4, 1977. Mom's mother and sister were able to come out and see her before she passed away and joined Jim and me for a birthday party of Jennifer's.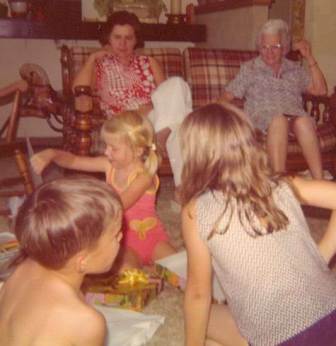 Gregg, Jennifer, Monica, Aunt Moni, Grandma Yeoman
The next year on September 24, 1978, Bev and Pat had a beautiful daughter, Kimberly Ann McKenzie. Bev had told Mom about her new little grandchild before she passed away.
Kimberly McKenzie
Dad stayed in Sacramento and was active at St. Lawrence Church as a lector and helped with the school finance. He also joined a ball room dancing class. The family continued to get together often. On September 6, 1979, Jim and I called Dad late at night to come and watch our children. He got there around midnight and Jim and I rushed off to the hospital to have our beautiful daughter, Ellen Kathleen Collins. From then on Dad would call her his eclipse baby, since there was an eclipse of the moon that night.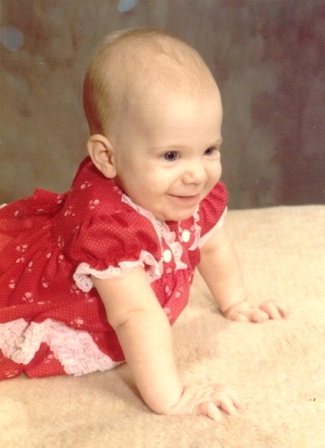 Ellen Kathleen Collins
NEXT: Golden Years: 1980-1997