GED LAPLANTE
Golden Years: 1980-1997
Dad was not one to live alone, so occasionally he would bring a lovely lady up with him to dinner and later asked how we liked her. One of these times he brought Mary Patterson, a lady he met at church. Dad was a lector and Mary was the choir director. She seemed to get the okay from everyone, and not long after that they were married. They were married on May 31, 1980.
Mary and Dad
The Patterson and LaPlante Clans
It was a beautiful wedding. Mary's son, Tom, a professional classical guitar musician, played for the wedding, and Colette and I sang. Mary had a son, Tom, and two daughter's, Carol and Ellen. Carol had three children and Ellen had a daughter and two boys. On the La Plante side there were 12 grandchildren at that time. It was great because all the grandchildren had a grandma and a grandpa. Dad made a good choice because the La Plante's couldn't have had a more loving grandma and the Patterson's a more loving grandpa. In June Dad and Mary took a honeymoon trip to Aptos. Then in July they went to Monterey. They traveled back to Aptos and then to Carson City where Mary's daughter, Carol, and her family were living. After that they went to San Juan Baptista and Bellingham.
Mary and Dad Mary, Colleen, and Dad
Mary, Tom & friend, and Dad
Then in September they took a trip to Vancouver, Alaska, and to Banff. In November they went to visit Craig and Colette, and in December they went to visit Bill and Lana.
Mary and Dad in Banff Craig, Colette, Sneaky Feet, Mary, Dad
The next spring Dad and Mary continued their travels and went to Dillon Beach, Atlanta, Jeckyll Island, and Wichita in the summer to meet family. It was wonderful they were able to enjoy traveling together.
In April of 1983 Dad and Mary went to Arizona and visited the London Bridge. Then in May they came to Jeff's 1st communion.
<![if !vml]>
<![endif]>
Mary, Jeff, and Dad Maggie, Barbara, Jeff, Ellen, Jim
They also made time to go to King City to attend Nicole's 1st communion. Supporting their grandchildren in their faith and the sacraments was important to them.
Nicole and Dad
Later in the month on May 11, 1983, Jim and I had another handsome son Joseph Anthony Collins. The kids were all thrilled to have another brother.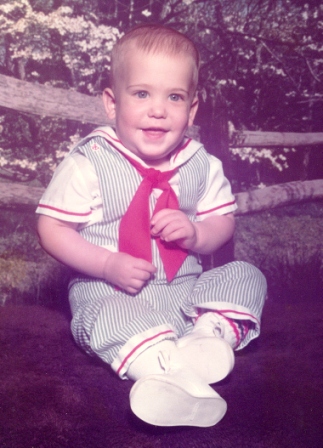 <![if !vml]>
<![endif]>
Joseph Anthony Collins
Dad, Barbara with Joe, Mary Family gathering at Dad and Mary's home
That summer they went to Aptos, Butchart Gardens, and to Puget Sound. Then in September of '83 they went to Oregon and Mendocino.
<![if !vml]>
<![endif]>
Tom, Mary, Dad Christmas 1983
In April 1984 they took a big trip to the Holy Land and to Rome.
Holy Land Pilgrims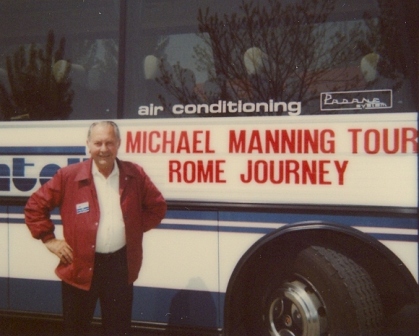 Mary and Dad at the Jordan River Dad at the pilgrimage bus
In May they went to Gregg's Confirmation and to Joe's 1st birthday.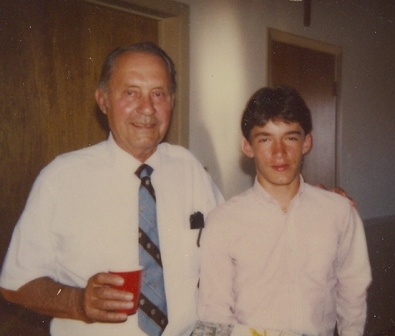 Dad with Gregg
In August we had a family gathering at Gibson Ranch, a great place for the kids to run.
<![if !vml]>
<![endif]> <![if !vml]>
<![endif]>
Dad and his garden Dad and Mary in their kitchen
Starting in May of 1985 Dad and Mary went to Aptos, to Maggie's first communion, the Mystery Spot, Point Arena, Rachel and Jennifer's piano recital, Fort Bragg, Yosemite, and ending in October with a trip to Bodega Bay. On November 11, 1985, Jim and I had a little son John Arthur Collins who died shortly after birth.
<![if !vml]>
<![endif]> <![if !vml]>
<![endif]> <![if !vml]>
<![endif]>
Barbara, Ellen, Dad, Maggie Mary and Dad Dad at Fort Bragg
Dad and Mary started the New Year 1986 off with a trip to Disneyland and the Rose Parade. In May they went to Kimberly's 1st communion. That summer they took an Alaskan Cruise.
<![if !vml]>
<![endif]> <![if !vml]>
<![endif]> <![if !vml]>
<![endif]>
On August 27 the family celebrated Dad's seventy second birthday at Brother Oliver's. In October Dad and Mary went to Rachel's piano recital and then took a trip to Vancouver and Alaska. Mary's son, Tom, was living in Washington at the time.
<![if !vml]>
<![endif]> <![if !vml]>
<![endif]>
Dad and Mary in Vancouver Dad and Tom on stairway
In May, Dad and Mary came to Ellen's 1st communion and enjoyed a family party at our house.
Dad, Ellen, and Grandpa Collins
Then in June of 1987 they had a wonderful trip to Ireland where they had quite a time kissing the Blarney Stone. I think Mary tried it but Dad didn't. It was quiet an ordeal holding on to the platform and leaning out to kiss the stone. Fortunately they came back in one piece.
<![if !vml]>
<![endif]>
Mary and Dad in Ireland
The next year brought trips to Tucson, Washington DC, Atlanta, and King City (where Bill and Lana had moved). Bill was superintendent at King City High School.
<![if !vml]>
<![endif]> <![if !vml]>
<![endif]>
Dad and Mary in Tucson Mary and Tom
<![if !vml]>
<![endif]> <![if !vml]>
<![endif]> <![if !vml]>
<![endif]>
Dad at St. Patrick's Dad, Mary and family Ged and Dad
That Christmas we had a nice celebration at Pat and Bev's. Everyone was there.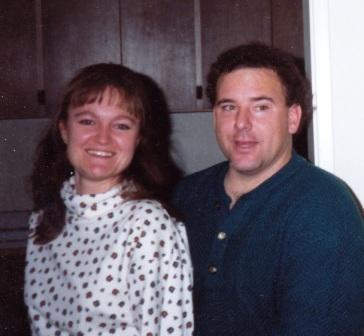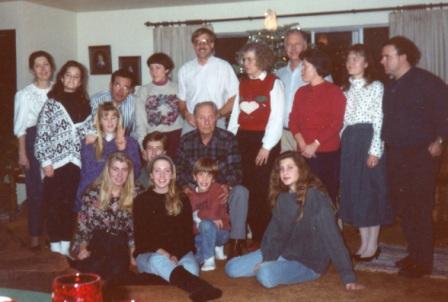 In the Spring of 1990, Dad and Mary went to the Grand Canyon and later to Tucson to see Tom and his wife, Afifiana, who was from Brazil.
<![if !vml]>
<![endif]> <![if !vml]>
<![endif]>
Dad at the Grand Canyon Dad, Tom, Afifiana, and Mary
In 1992 Dad and Mary traveled to Georgia to visit with Mary's family.
In August, Dad and Mary were there for Monica and Mike's Wedding:
The next year Dad and Mary went to Tucson and to Daffodil Hill.
In 1994 Dad and Mary took another cruise to Costa Rica and the Panama Canal. Dad had reserved an inside cabin on this cruise. He didn't like the small room with no windows. Mary said he spent most of the time outside in the deck chairs. Dad and Mary also went to Tucson to see Tom and Afifi's new little son, Reed. Then they were in Yuba City and Sacramento for Christmas. Ged was diagnosed with prostate cancer but continued to live life to the fullest, planning trips and enjoying family gatherings.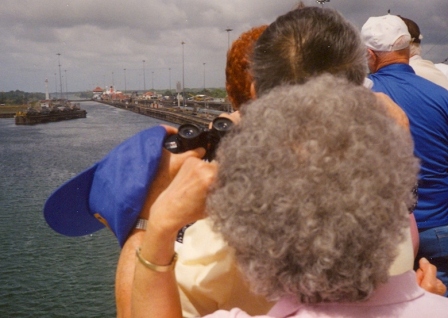 Mary and Dad; Dad holding his place going through the Panama Canal
Mary, Dad, and baby Reed
Dad in Sacramento Dad and Mary in Georgia
On June 22, 1996, Dad and Mary went to Gregg McKenzie's wedding. All the family was there. By this time he was not able to walk very well. Pat McKenzie's mother, Ila, was there also and at the time fell and broke her hip. They both endured and enjoyed the lovely outdoor wedding of Gregg and Tiffany's at Tamales Bay. That was a wedding to remember.
Gregg and Tiffany's wedding
Mary and Dad Barbara, Maggie, Mary, Ellen, Lana, Bill, Jeff, Colette, Dad, Joe
Barbara, Maggie, Mary, Ellen, Lana, Bill, Jeff, Jim, Dad, Joe Barbara, Bill, Bev, Colette, Dad
When Dad and Mary weren't traveling they kept active in church, worked in a food locker once a week, and had many celebrations with the family.
Mary, Rachel, and Dad
By the time our first daughter, Jennifer, graduated from high school in 1990, Dad said that would be the last. The ceremonies had become noisy crowd gatherings and Dad had been to enough graduations to last a lifetime, making speeches at many. He and Mary would meet up later for the party. Mary loved to play bridge with her bridge group and Dad loved to play golf. They had a good life together for nearly twenty years. In 1996 Dad started having seizures and his cancer had gotten worse. He went down hill from there. Mary was such a loving wife and took great care of him. Towards the end Colette would drive down from Oregon on the weekends to see him. The rest of the kids would drop in often or whenever Mary needed help. On February 16, 1997, Dad passed away. He had a beautiful funeral and was placed next to Mom in the Auburn cemetery with beautiful rose bushes around them. His children are grateful for the exemplary life he lived and his example of being a good Catholic man, husband, father, and grandfather. He was always there for support and good advice. There was nothing he would not do for his family and his Church. We are proud of the great father he was and pray that we can do half as well. At present count Dad and Mom have 4 children, 14 grandchildren, and 23 great grand children.
Gedeon Anthony LaPlante and Ruth Marie Yeoman LaPlante
Loving Father and Mother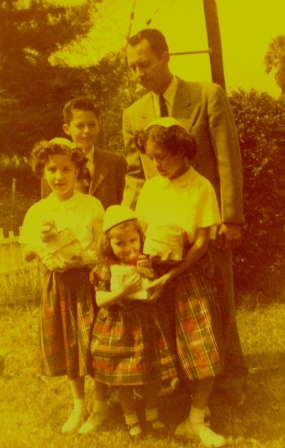 NEXT: Smithhisler Ancestry Line