Smithhisler Ancestry Line
Johannes Michael Schmitthaeusler 1749
Johannes Michael Schmitthaeusler was born June 27, 1749 in Wintzenbach, Bus-Rhin, Alsace, France. He married Maria Magdalena Hutt who was born in 1758. They had a son Philip Smithhisler. He was born in Germany on May 29, 1787.
Philip Smithhisler 1787
Philip Smithhisler was born in Germany on May 29, 1787. Philip died on February 4, 1873 in Knox, Holmes, Ohio USA. He married Mary Ann Ulm. She was born on May 22, 1796 in Neewiller, Bas Rhin, Alsace, France. She died on May 1, 1874 in Danville, Know Ohio. Their children were Martin, Magdalena, John Michael, Gaspard, Andrew Anthony, Daughter?, Philip.
Andrew Anthony Smithhisler 1831
Grandfather of Ged
Andrew Anthony Smithhisler was born on February 15, 1831 in Baltimore, Massachusetts, USA and died on April 8, 1920 in Danville, Harper, Kansas USA. He married Martha Ellen Blubaugh. She was born on November 30, 1836 in Danville, Knox, Ohio USA and Died June 14, 1913 in Danville, Kansas USA. Andrew and Martha had 8 children: Francis H., Leo Raymond, Anthony Elias, Charles Edward, Bernard Julius, Louis Philip, David Stephen and Margaret Ellen.
Martha Ellen BLUBAUGH was born on 30 Nov 1836 in DANVILLE OH. She died on 1 Jun 1913. Her husband was a grocery man in Ohio and later engaged in the hotel business and had a saloon in connection with the hotel. They migrated to Kansas in 1882 after he had made a trip there to survey the country and land in Harper County. He was very impressed with the level country and decided to make the move to Kansas. He returned to Ohio and sold his business there. He purchased a farm southwest of Danville, KS, a farm known as the Pete Montgomery farm. They had a large family of seven boys and one girl. They were a credit to the Danville, Kansas community where most of them grew up and lived. Parents: John BLUBAUGH and Elizabeth SAPP. Parents: John BLUBAUGH II and Elizabeth SAPP.
Children were: Frank SMITHHEISLER, Raymond SMITHHEISLER, Elias SMITHHEISLER, Charlie SMITHHEISLER, Julias SMITHHEISLER, Lewis SMITHHEISLER, David SMITHHEISLER, Margaret Ellen SMITHHEISLER .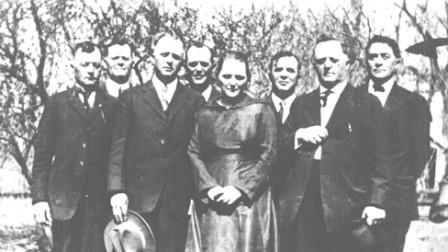 Children of Anthony Smithhisler & Martha Ellen Blubaugh:
Anthony Eliias, Charles Edward, David Stephen, Louis Philip,
Margaret Ellen, Julius Bernard, Francis H., Leo Raymond
Margaret Ellen Smithhisler 1877
Margaret Ellen Smithhisler was born on October 6, 1877. She was the only daughter of Andrew and Martha Smithhisler. She had seven brothers. She married Joseph Domino La Plant on May 24, 1898 in Danville at the Immaculate Conception Catholic Church.
Mr. & Mrs. Joseph LaPlant
Immaculate Conception Church Danville
Joe and Maggie lived with Maggies's folks south of Danville for a short time until Joseph Domino decided he wanted to go back to Michigan and try "fruit farming". He loved to tell about the big strawberries and how Michigan apples were so much better! While in Michigan they picked fruit and took it to Chicago to sell. They also started their family. They lived in Michigan for ten years and during that time Maggie got very homesick to see her family. She prayed that she would get back to Kansas before her parents died. Her prayers were answered. Back to Kansas they went, bought a farm north of Danville and J.D. became a wheat farmer. Not a wealthy farmer but provided for seven children. Maggie raised chickens and sold eggs to help out.
Their children were Joe, Leo, Marguerite, Edgar, Paul, Gedeon, and Helen Betty. As each one got older and left the farm to pursue their different vocations it finely left J.D. and Maggie to work the farm on their own. They were getting older and in those days there were no tractors, work was done with a team of horses. In fact they were the last family in Harper County to buy an automobile which was a Ford Model A. J.D. was proud of that car and no one dared to drive it unless he was in the front seat beside them.
When Helen Betty was the only one left at home and school started the fall of 1928, they sent her to Harper to stay with Marguerite. She was teaching the 5th grade there. In spring of 1929 Joe sold the farm to a neighbor, Kye McKeiver, and moved to Wichita to 1742 South Main. J.D. was looking for a place to build a new home and found a lot at 1112 Jackson. The home was finished by September and they moved to the north side of Wichita.
Mom and Dad at 1112 Jackson
They rented a bedroom to a school teacher for two years. Her name was Ruth Clough. She was a friend of Olive Ann Mellor who was a secretary to Walter Beach. On one of the week-ends J.D. and Maggie visited Joe and Ferrell and also down to Manchester to visit Leo and Dorothy, Olive Ann stayed the week-end with Ruth and in the Sunday Eagle the headline read "Olive Ann Mellor to marry Walter Beach". This became quite a story for us because Olive Ann went on to become the President of Beach Aircraft.
Later J.D. and Maggie bought a little restaurant near 11th street and Bitting. Maggie did the cooking and J.D. took care of the cash register. The 'depression' came along and they rented out their home on Jackson and moved into a small apartment in a home close to the restaurant. Later they moved back on Jackson and lived there until Joseph Domino died December 27, 1947. Maggie died on Oct 26, 1973 in Wichita, Sedwick, Kansas.
Below is an article about Maggie's brother Elias.
Elias SMITHHEISLER was born on 5 Mar 1868. Following is a newspaper story written by Elma Byrne of the Eagle for his 100th birthday in 1968. "Elias Smithheisler is like the single tree along the road. Life's experiences have weathered the exterior, mellowed the interior. He is the keeper of 100 adventures and has been marked by many of them. He looks old, but the question is how old? Surely not the 100 years he will acknowledge Tuesday because he is alert and interested and can so minutely relive his past. Elias Smithheisler is like every man because he has experienced the basic emotion - love; for a woman named Mary, whom he married and lived with 68 years, 6 months, and 17 days. But she was the first person Smithheisler mentioned Sunday in an interview. He pointed to her picture on the wall behind his padded rocking chair in the Springview Manor Conway Springs. He remembers that Mary was in her early 20s when a band of cowboys tried to run off with her. She came up to Danville KS on a train from Kiowa KS. I was working at the station. I went into the depot and saw her and we started talking. Soon we became friends, and we decided we thought a lot of each other, we got married, Smithheisler said. Mary was bedridden three months before she died when she was in her 90s. She caught a cold at 3:00 in the afternoon, and the next morning she was dead...I sure miss her. She was a good woman, he said quietly. Smithheisler was born at Danville OH and when he was 13, he stole his way to Danville KS by train. I was 22 days coming, he said, adding "I had to hide in the Chicago yards 24 hours." He made that trip with two dogs and a red bird. And in his lifetime he worked at plowing fields for corn, breaking the prairie with an ox team, managing a drugstore, and farming. He said he turned over his farm property three miles south of Danville to Rev. Edward Flanagan of Boys Town. That property now is surrounded by oil wells, none of his land, he said. Teddy Roosevelt offered me a job. "I want you to be my secretary or special guard", Smithheisler recalled Roosevelt saying. I told him my wife was in the hospital and I could not leave. He always loved baseball. When he was 60 he rode the handlebars of a motorcycle from Danville to Conway Springs just to see a game. We used to ride 100 miles, then play a game, he said, noting that he has played throughout Kansas and Oklahoma. Now he stays in touch with the game by tossing the first ball for the Conway Springs little league baseball team. People today do not live much differently than in his day, he said -- it just costs more. And, during his life, "I fought sickness, and death, and everything. I have been given up for dead lots of times. Everything went wrong for me and everything has gone right for me." He admitted he cannot see to read and cannot hear too well. But, then-- "Tuesday I will start in again. You are young again -- if a fellow behaves himself." Parents: Anthony SMITHHEISLER and Martha Ellen BLUBAUGH.
NEXT: Smithhisler Line Summary