GED LAPLANTE: EARLY YEARS: 1914-1940
Gedeon Anthony LaPlante
On August 27, 1914 Gedeon Anthony La Plante was born to Joseph Domino and Margaret Ellen La Plante in Danville, Kansas. He was their sixth child. Joseph and Margaret had a farm in Danville where they raised their children. All of the children attended Sunny Slope School that was about three miles from their farm. It was a one room school house. All except one of them graduated 8th grade from Sunny Slope School. Dad had four brothers: Francis Joseph La Plant, John Leo La Plant, Edgar Vincent La Plante, Raymond Paul La Plante, and two sisters Marguerite Marie La Plante and Helen Elizabeth (Helen Betty) La Plante. Helen Betty said since Dad and she were the two youngest she would tease her brother a lot when growing up. Helen Betty only went to 5th grade at Sunny Slope School and then went to her sisterís school in Harper and had her sister Marguerite as a 5th grade teacher. Growing up on the farm met farm chores for the family. Milking cows, feeding the chickens, slopping the pigs, planting and harvesting wheat were some of the chores among others. The planting was done by a team of horses.
One time Dad was helping his mother gather eggs from the chickens. She threw a chicken off its nest right into Dadís face. From that time on Dad was never very fond of chicken for dinner. He would only eat the white meat. Being the youngest brother he looked up to his older brothers and joined them in smoking behind the barn hoping to not get caught. His parents were pretty strict being from French and German backgrounds. At times they would have to go get a switch if they misbehaved.
First Row: Leo, Marguerite, Margaret, Helen Betty
Second Row: Paul, Edgar, Joe, Ged
Dadís brother Leo married Dorothy Belham on February 15, 1926. Leo and Dorothy took over the Smithhisler farm and became farmers. (They had three children: Bob, Betty Marie, and Tom.)
Dadís brother Joe married Ferrell Baird Aug. 28, 1927. Joe ran a bus company. (Joe and Ferrel had two daughters: Jojean and Shirley.)
Joe LaPlant Jojean, Farrel, Shirley, Joe
St Benedicts Seminary
St. Benedicts Seminary
In 1928 after graduating from Maur Hill Junior High School where he won several boxing trophies, Dad entered St Benedicts Seminary in Atchinson Kansas. He had decided to become a priest. So at age 13 he left home and went to St. Benedicts. While there he was very active in everything. Besides taking very academic classes he loved to participate in sports and music. He loved boxing and would watch it every Friday night in his later years. He took cello lessons and played a solo at his graduation. He said he didnít practice that much but practiced the graduation song often and therefore was the best at it when it came time to choose who would play for graduation. Dad was also head of Raven Hall, the dormitory he was in. Dad graduated from High School at St. Benedicts on June 1, 1932
St. Benedicts Seminary
His yearbook, The Raven, said, ĒGedeon LaPlante stands out as the most active man in his class. Bedsides holding a class office, he is a leader in scholastic work, an intramural athlete, and high school representative on the St. Benedictís Sodality delegation to the diocesan meetings. He was also the class valedictorian.
On May 8, 1936, Dadís brother Edgar married Dora Ellen Bessey. Edgar was a manager of a Texaco Service station and then later worked for the Missouri Pacific Railroad. Edgar and Dora had four children: Roger, Delores Anne, Sonja, and Mary Katherine (Kay). Sometime in his college years Dad decided not to become a priest and left St Benedicts. He transferred to Northwestern State College in Alva, Oklahoma around 1939 and entered a preparatory teaching program with a major in Spanish. To help pay his way through school he would drive bus during his vacations for his brother Joe who ran a bus company. He also worked in a hotel in Alva as a porter during the year. While working in the hotel he met a beautiful girl named Ruth Yeoman, who worked in the candy shop at the hotel.
Ruth Marie Yeoman
She was working on her teaching degree in English and Science. Her brother Bill also worked as a porter. On July 28, 1939 Dad graduated from Northwester State Teachers College summa cum laude. He earned his Public School Teachers Certificate on August 6, 1940 in the subjects of Latin, French and Spanish 7-12 grades. During his years at Northwestern Dad fell in love with Mom and they were married on August 28, 1940 in the Sacred Heart Rectory in Alva Oklahoma.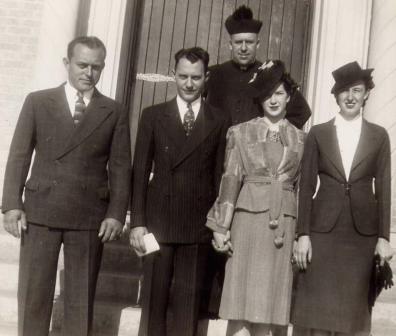 NEXT: Colorado and California Years: 1940-1968