GED LAPLANTE
Colorado and California Years: 1940-1968
Teaching years in Collbran, Alamosa, and Auburn
1940 to 1968
Collbran, Colorado
Collbran High School
Dad had his priorities in order because on August 19, 1940 he accepted his first teaching job in Collbran Colorado, a great place to start life with his new bride. In a letter from his new school they said, ďas to finding a place to live here there will not be much choice. There were only about two apartments left either of which will be all right for you. The housing situation is a little worse than usual here as a large CCC camp has just been completed near here and most of the places have been taken up by these camp officers. If you care for trout fishing perhaps you would like to spend a few days at Mesa lakes before the opening of school. We have some of the best lake fishing in the state within a few miles of here.Ē S.W. Miller. Maybe thatís where Dadís love of fly fishing came from. His teaching contract was for $91.66 a month for 12 months that first year.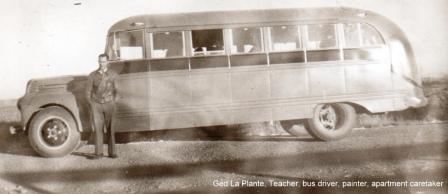 "Ged LaPlante: Teacher, bus driver, painter, apartment caretaker"
While in Collbran Colorado, Dad and Mom had their first child William Joseph La Plante. He was a bright handsome little boy. He was born August 3, 1941.
William Joseph LaPlante
Alamosa, Colorado
Dad was offered a teaching job in Alamosa Colorado for a little more money ($1,750.00 a year) so he and Mom moved to Alamosa. Those first years were tough. The weather in Alamosa was cold and snowy in the winter. Alamosa is on a high plateau and one of the coldest places in the USA. It was hard to make ends meet on a teacherís salary. On November 25, 1942 Dad and Mom had a beautiful little daughter Beverly Ann La Plante.
Beverly Ann LaPlante
Bill, Bev, Dad Bev, Bill (Lolly)
A few years later on January 28, 1945 another sweet little girl Barbara Ruth La Plante was born.
Barbara Ruth LaPlante
Dad, Mom, Bill, Bev, Barbara Dad, Mom, Bev, Barbara, Bill
Dad and Mom struggled to put food on the table and keep everyone from getting pneumonia during the winter. Thatís where some of their great depression recipes came from, like creamed wieners on toast, fried bologna, cinnamon toast, rice with milk and sugar, or macaroni and tomatoes with a little bit of butter and salt.
On June 27, 1946 Dadís sister Helen Betty married Virgil Wm. Barth.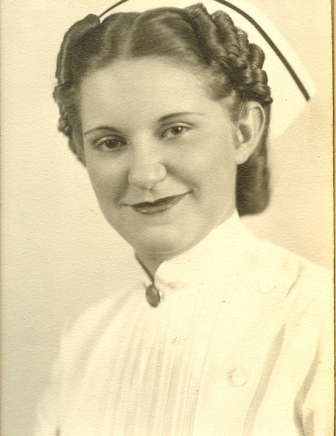 Helen Betty Helen Betty Marguerite and Helen Betty
Helen Betty was a nurse at St. Francis Hospital and Virgil worked for Beechcraft. Helen Betty and Virgil had three children: Donald, Jolene, and Richard.
Dad completed his Masters of Arts degree on May 15, 1947 from Adams State College of Colorado, Alamosa. After a few years in Alamosa, Dad took an offer to teach at Placer High School in Auburn, California. In 1950 Dadís brother Paul married Eleanor Lang. Paul managed a Phillips 66 Airplane Co., and worked for Boeing, and then went into the Painting business. Paul and Eleanor had two children: Raymond and Paula.
Placer High School Auburn California
1947 to 1968
Placer Union High School Ged LaPlante
In 1947 Dad and Mom moved their little family to Auburn California. It was a little town north of Sacramento in the foothills of the Sierra Nevada Mountains. When Dad and Mom got to California they stayed a few nights in a motel in Roseville. After that, they moved to Colemanís Cabins which were near Applegate north of Auburn. From there they moved to the old Ophir Hotel.
Neither were very suitable living quarters. They eventually bought a house on Finley Street just a few blocks from the High School.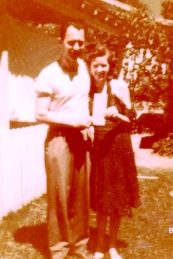 Bill was enrolled in 1st grade at the Auburn public school but then went to St. Josephís elementary school, where the rest of the kids would follow. Besides getting a fine Catholic education Father Coffey would entertain the children by playing his hand squeezebox and sing Irish songs at recess time. The Mercy sisters also taught many Irish songs. They taught combination classes with 50 children in the class. The students were taught the basic subjects plus the Baltimore catechism. The sisters were very dedicated and gave a great education. On July 5, 1949, Dad and Mom had another beautiful baby girl, Colette Marie La Plante.
Colette Marie LaPlante with Dad Marguerite, Grandma LaPlante, Dad, Colette
It was a difficult delivery and Dad had to be both father and mother at home for a while.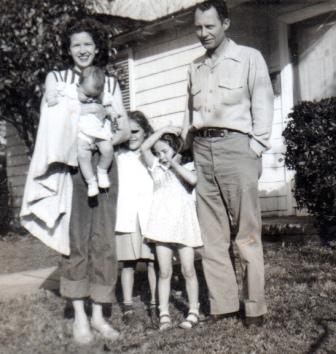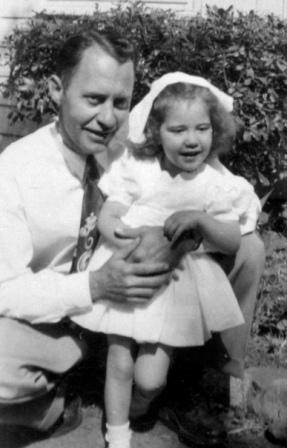 On February 6, 1952, Gedís sister, Marguerite, married Bill Mead. Marguerite had fallen in love before but the person she loved died in the war. She married Bill later in life.
Marguerite LaPlante Riding a favorite horse Marguerite and Margaret
Marguerite was a teacher and Bill opened a machine shop. Marguerite and Bill had no children.
Dad taught Spanish at Placer High School. Some of the highlights during Dadís teaching career are stated in a recommendation given him by Harold E. Chastain, District Superintendent:
ď To Whom It May Concern: This is to certify that Mr. G.A. LaPlante has served as a teacher and administrator in the Placer Union High School District from July 1, 1947 to the present date.
He taught Spanish in the High School and Sierra College from September, 1947 to June, 1954 and was considered one of the three best teachers in the entire school system. (100 teachers). During this time he organized a Spanish Club, which increased from 17 members to over 100, organized and carried through a trip to Mexico with a group of college language students in 1954, and worked on the revision of language teaching through the Foreign Language Association of California.
In July, 1954, Mr. LaPlante was offered a deanship in the Sierra College or the position of Dean of Boys (vice-principal) of the Placer Union High School. He accepted the latter and took over a difficult job as director of counseling and guidance, director of testing, supervisor of attendance accounting, director of the club program, and also in charge of all minor disciplinary problems in the high school. During this time he was a member of the Northern California Guidance Association, supervised the traffic control plan which has been very effective and revised the student court to make it an active body. In July 1955 he was selected as principal of the Placer Union High School and has served for one year under my jurisdiction in that capacity. During this year the high school has been operated very smoothly, with a minimum of contention and discontent and with a maximum of constructive activities and programs. Mr. LaPlante has directed the student council, successfully scheduled and programmed students into classes during a period of serious overcrowding, thus preventing a program of double sessions. He has maintained an almost 100% usage of the classrooms and has sponsored and worked closely with an active high school Parent-Teacher Association, which grew from 75 to 400 active members during his administration.
During Mr. La Planteís service as principal he has been a member of the Administrative Council and has actively participated in the establishing of internal policies. He has also attended all board meetings, offering advice and suggestions concerning school building programs and a bond issue. At the end of the 1955-56 school year he was presented a certificate of distinction and a valuable present from the 65 members of the high school faculty, a very unusual gesture on the part of a teaching staff.
Professionally Mr. LaPlante served as vice-president of the Associated Teachers of Placer, president of the same organization, and represented them at all board meeting. He was an active member of the California Association of Secondary School Administrators, serving on the College Entrance Requirement Committee.
In the community Mr. LaPlante is a member of Lions Club and handled their public speaking contest both locally and regionally. He is chairman of the Youth Activities Committee of the Auburn Elks Lodge and has been an active participant in a number of community projects and programs.
I believe that Mr. LaPlante would make a splendid school superintendent, having organized and prepared the high school portion of a budget for a high school of 63 teachers and 1325 students. He is an intelligent man who has a high degree of social sensitivity; he is willing to cooperate whole-heartedly in the successful solution of difficult problems and has shown great capacity for compromise. He is a sympathetic, tactful, quick-thinking administrator who has the ability to make decisions and stick by them courageously after thorough investigation has shown that they are sound. He has a humanitarian approach and always considers the rights, welfare, and feelings of the individual. I recommend him without qualification to any superintendent or Board of Trustees who would be fortunate enough to interest him in their needs.Ē
Another part of a recommendation from Harry C. Wiser states, ďMr. LaPlanteís knowledge and philosophy of secondary education is sound. He believes that the basic unit of instruction is the teacher in a classroom, fully supported by the administration. His loyalty to and support of the faculty has made him highly esteemed. Mr. LaPlante maintains good morale among students and faculty. His attitude is friendly, and his discipline could best be termed strict, but fair. He is highly objective in making decisions.Ē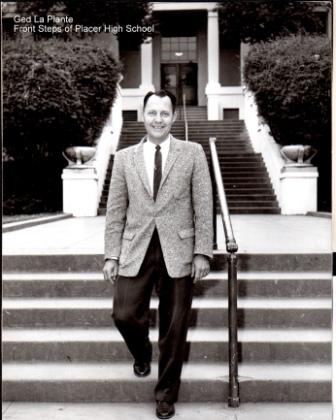 Not only was Dad a talented teacher and principal. He was also a great family man. Dad and Mom always attended all the sports and music activities bringing their children with them. The football and basketball teams were top notch at that time, and the music department had a great band, orchestra, and choir. At home Dad loved reading and read the newspaper from cover to cover every day. Dad was a great father who enjoyed reading to his children. He would read Brer Rabbit or Paul Bunyan and then have a few of his own tall tales to tell: Like the time he met a bear in the forest and reached down inside the bear and turned him inside out or how the Easter Bunny was running up the freeway and got run over. Dad liked to tease and always made family time fun. He had the perfect timing when telling jokes. Dad was also a very responsible father not only providing for the family needs but also making sure all the spiritual needs of the family were taken care of. Prayer was an important part of the day. The children were educated in the Catholic faith and participated fully in the sacraments and in going to Mass every Sunday. Dad and Mom were very active in the church. He was a strict but loving father who brought his children up to be good, moral, caring, and honest people. He instilled a pride of family honor and good reputation. When there was a vacation time, Dad in the early years would work in the fruit sheds to earn extra money. We loved the fruit he would bring home.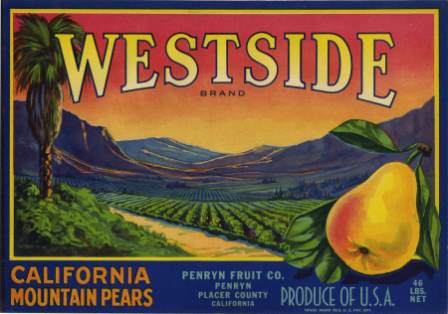 Since California was far from family, Dad would save to take a trip to Kansas every other year.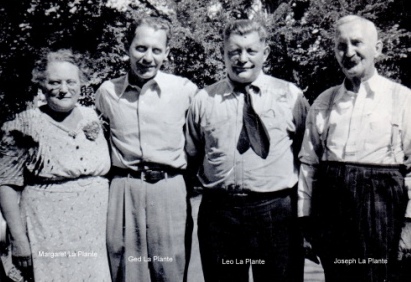 Colette, Grandma LaPlante, and Barbara Margaret, Ged, Leo, Joseph LaPlante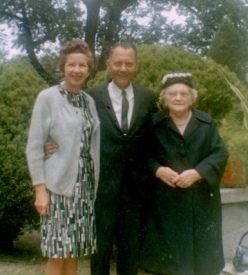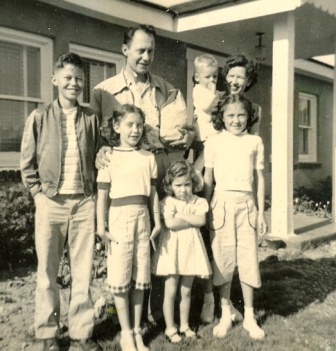 Cousins in Fredonia Bill, Barbara, Colette, Bev, Dad, Mom (holding a cousin)
Those were always fun times except for the long hot drive or the shack motel with neon lights we would mistakenly stay in. One time Dad drove straight through. Other summers we would go to Fort Bragg, our favorite spot by the ocean, or to the mountains camping. The camping trips didnít last because on the first one Bill got turned upside-down in his sleeping bag and the second one Dad thought he found a comfortable cabin, but it had springs for the bed and gaps in the wall that let the freezing air in. Dad loved to trout fish and many a weekend we would find a beautiful spot for a picnic and some fishing. Dad enjoyed doing the grocery shopping every Friday. He liked to find the best bargains. He would often take some of us kids with him. The kids knew not to ask for anything because the answer would always be no. Sometimes (hardly ever) he would buy us a treat which was a big surprise. Mom would always know how to make the best meals of what he brought home. She would have a table cloth and a full set of place settings on the table. We would always eat meals together with good conversation going around.
Superintendent of Placer Union High School District
Ged LaPlante
With the great recommendations above, Dad did become Superintendent of Placer High School District in 1959. During his years at Placer he saw the district deal with overcrowding and double sessions and supervised the planning and construction of two new high schools: Del Oro High School (Loomis) and Colfax High School (Colfax)
While working at Placer Union School District he saw his children graduate from St. Joseph Catholic School and go on through Placer High School.
Dad & Mom at Bill's Graduation
He watched his son Bill play football and basketball for Placer and then go on to the University of San Francisco to earn a teaching degree in Spanish. Bill also played football (receiver) and basketball for USF. His daughter Beverly was active in student activities and went on to San Francisco State to earn an elementary teaching degree. Barbara and Colette were active in the choral groups at Placer. Barbara went on to Chico State and earned a degree in teaching music and art. Colette went to Chico State and earned a teaching degree in art history and history.
Dad and Mom were a great team and put on many wonderful dinners for board members. They took up golf and would play on Saturdays or Dad would play during the week with business partners. The years passed by and soon most of the children were out of the house. In 1968 when the last one, Colette, graduated from Placer she went to join her sister, Barbara, at Chico. Bill was working in Reno as a Spanish teacher and Beverly was working in Roseville teaching 2nd grade. On February 4, 1967, Beverly married Pat McKenzie.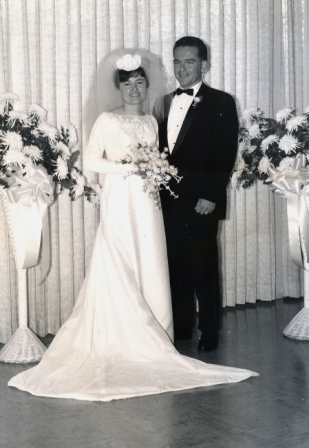 Mr. & Mrs. Pat McKenzie
Bev quit teaching and moved to Lake Spaulding where Pat worked for PG&E. Then on December 9, 1967, Bev and Pat had a little daughter Monica. Dad and Mom had their first grandchild.
Ruth and Monica Monica with Butch Monica
They had a great time helping Bev with Monica when they stayed that first month with them. It was pretty snowy and cold to take a newborn to Lake Spalding. Pat tells the story of when they took Monica home to Lake Spalding there was snow everywhere. They put her in a cardboard box on a sled and slid her to their house.
A McKenzie Christmas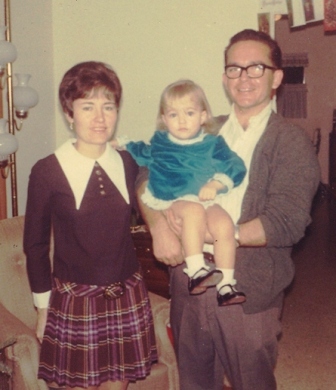 Monica and Ged Bev, Monica, and Pat
With their children pretty much grown, Dad and Mom made some changes in their lives. Dad and Mom always dreamed of traveling and so they decided to look into working in the schools overseas.
NEXT: South America and back again: 1968-1979