DEATH VALLEY DAYS
A few days after Easter the wildflowers were peaking in the desert—a great time for our first visit
to Death Valley. Seven hours of driving brought us to Scotty's Castle: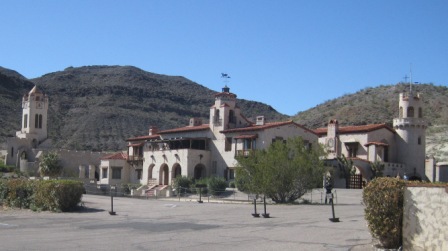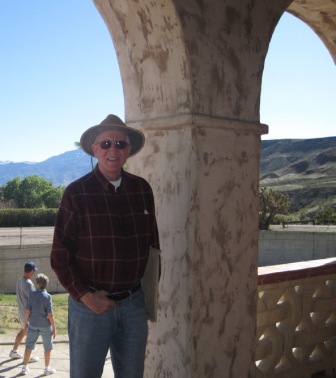 Soon we joined the tours under and inside the castle. There we learned about Scotty and the castle. Having learned to tell tall tales during his bronco riding days with Buffalo Bill Cody's Wild West Show, Scotty convinced wealthy speculators to invest in a phony gold mine in Death Valley. Albert and Bessie Johnson were fooled at first, then played along with Scotty building their dream castle in the West. Albert, a wealthy Chicago insurance executive, expected to die young from a back injury and had always wanted to be a cowboy. Scotty helped him realize his dream entertaining him with trail rides and stories. Albert used Scotty to set up the tourist attraction known as Scotty's Castle to help fund the castle's operation. Under the castle were built long tunnels to hide power and sewer lines. Scotty would tell guests stories of his gold mine with its "secret" entrance under his bed while castle workers made gold mining noises beneath the living room. The tunnels still hold a fortune in ceramic tile for the never-completed swimming pool which would have rivaled the one at Hearst Castle.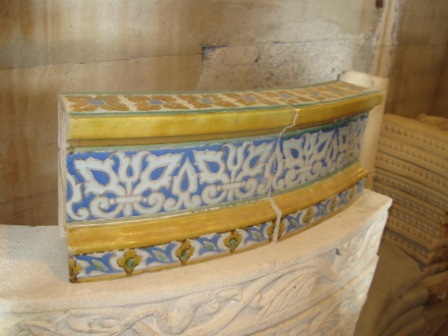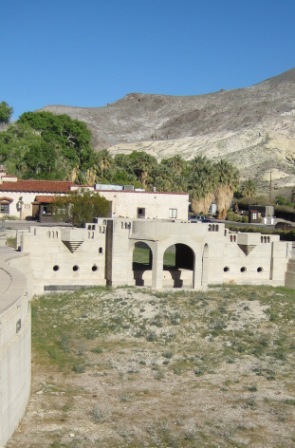 Swimming Pool Site
Scotty's Castle (Death Valley Ranch) featured enormous rooms with the finest furnishings available in the 1920's and 1930's: massive chandeliers, redwood beam ceilings, state-of-the-art kitchen with walk-in refrigerator and freezer, western style dining room, modern bathrooms, pipe organs, pianos, a large library, and an entire wall of rifles. A 1933 Packard still remains in the nearby garage.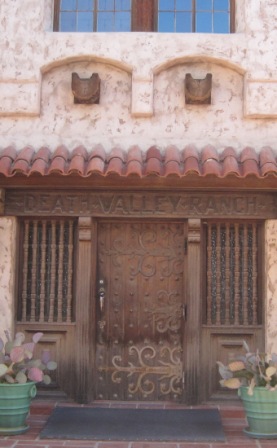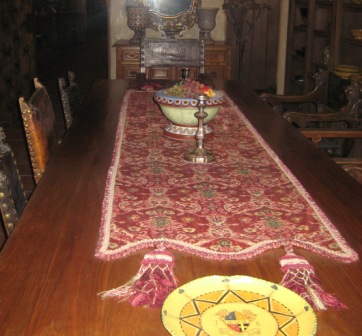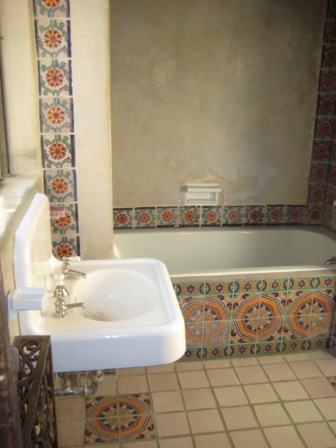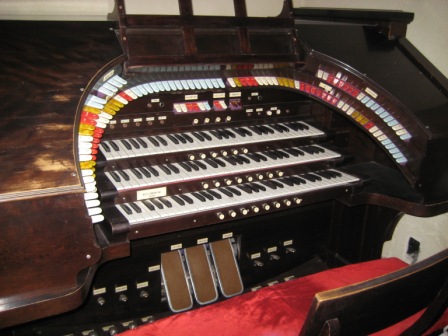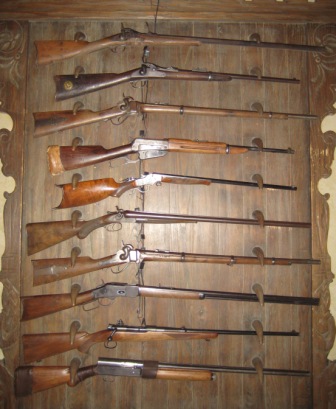 At sunset we drove southeast to Beatty, Nevada. We had reservations at the highly recommended Atomic Inn (Rated #1 on TripAdvisor for Beatty Area!) One look at the retro 1950's flat roof exterior and another look at the room's shag rug and plastic-cased mattress was enough to scare us away. I convinced the clerk to take $20 to cancel our reservation. Then we headed for a good night's sleep at the Death Valley Inn.
Early Thursday morning we drove back to Death Valley. After visiting what was left of the Phyolite ghost town, we clicked pictures of wildflowers on the way to the sand dunes near Stovepipe Wells (elevation 5 ft.)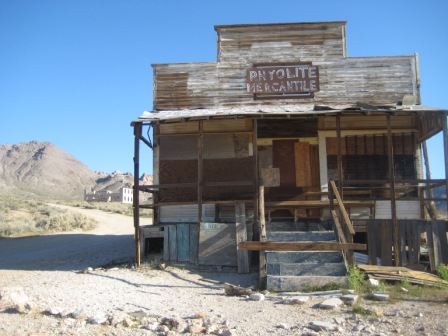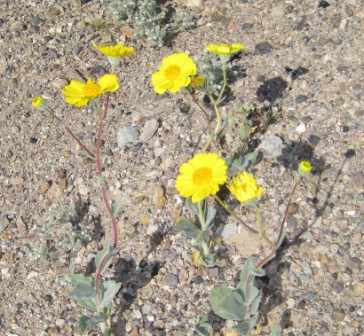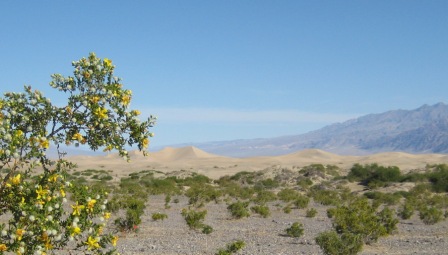 Nearby, we visited the Old Harmony Borax Works, posed by the 20 mule team wagon,
then headed to the wide open spaces around Furnace Creek…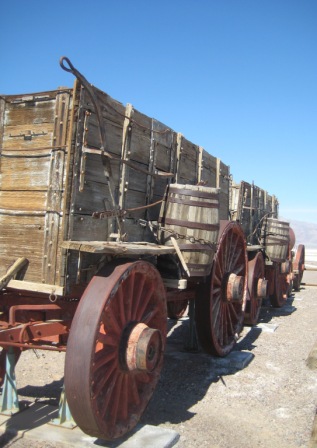 …Devil's Golf Course with Telescope Peak in the distance and Dry Lake salt pan…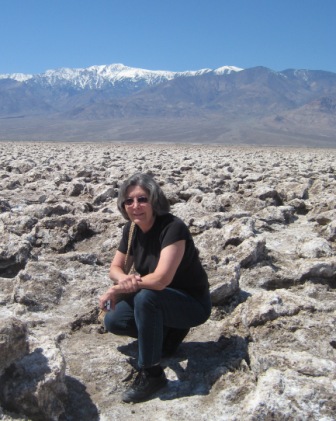 …then on to Badwater, the lowest spot in North America…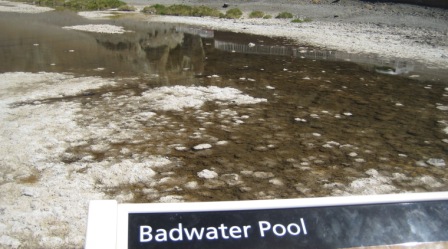 More wildflowers lured us into the Natural Bridge Canyon…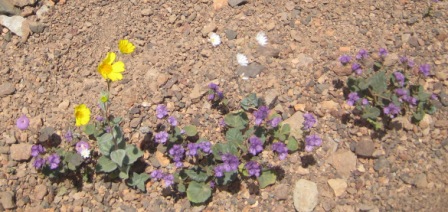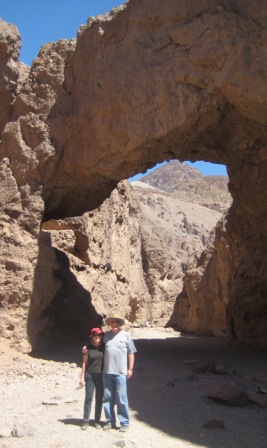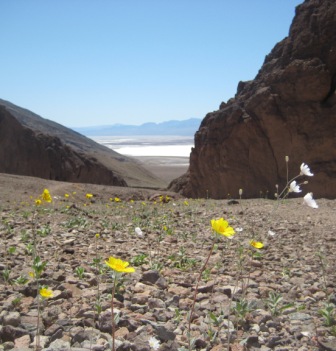 … and into Golden Canyon…
…followed by a visit to Artist's Palette…
Our final stop was Zabriskie Point