LONDON BRIDGE 2010
Six months ago we were in London crossing most of the bridges while touring the city. Now we were driving from Las Vegas to Palm Springs having decided to take the scenic route. This took us to Lake Havasu and the London Bridge which we had missed in London.
<![if !vml]>
<![endif]>
In 1896, it was estimated that the bridge was the busiest point in London, with 8,000 people crossing the bridge by foot and 900 crossing in vehicles every hour. London Bridge was widened in 1902Ė04 from 52 to 65 feet (16 to 20 m), in an attempt to combat London's chronic traffic congestion. In the end, the widening work proved too much for the bridge's foundations; it was subsequently discovered that the bridge was sinking an inch (3 cm) every eight years. By 1924, the east side of the bridge was some three to four inches (102 mm) lower than the west side; it soon became apparent that this bridge would have to be removed and replaced with a more modern one.
In 1967, the Common Council of the City of London placed the bridge on the market and began to look for potential buyers. On 18 April 1968, Rennie's bridge was sold to the American entrepreneur Robert P. McCulloch of McCulloch Oil for $2,460,000. When casting his bid for the bridge, McCulloch doubled the estimated cost of dismantling the structure, which was $1.2 million, bringing the price to $2.4 million. He then added on $60,000, a thousand dollars for each year of his age at the time he estimated the bridge would be raised in Arizona. His gesture earned him the winning bid.
As the bridge was taken apart, each piece was numbered to aid re-assembly. The bridge was reconstructed in Lake Havasu City, and re-dedicated on 10 October 1971. The reconstruction of Rennie's London Bridge spans the Bridgewater Channel canal that leads from Lake Havasu to Thomson Bay. Rennie's London Bridge has become Arizona's second-biggest tourist attraction, after the Grand Canyon.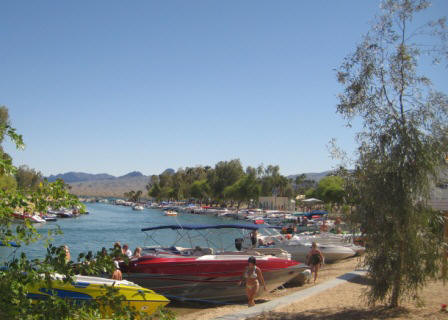 Now it is 2010 during Spring Break. Boats and bikinis jam the waterways around London Bridge. Never had London seen such a spectacle. Never had London seen or felt such magnificent weather. Allís well that ends well.