17. Niagara Falls to Niles, Michigan
Tuesday, July 29
It was a relief to see the Welcome to Pennsylvania sign near Orchard Beach in Pennsylvania. Now we could cruise in peace on I-90 not far from Lake Erie. About 40 minutes later we were entering Ohio. We stayed on the Ohio Turnpike passing through Cleveland and all the towns along Lake Erie. By the time we saw the turn offs to Toledo and Detroit, we were close to the Indiana border. South Bend was on the way to Spaulding RV Park in Niles, Michigan, so we made a quick stop at Notre Dame for a few pictures before parking the RV in Niles.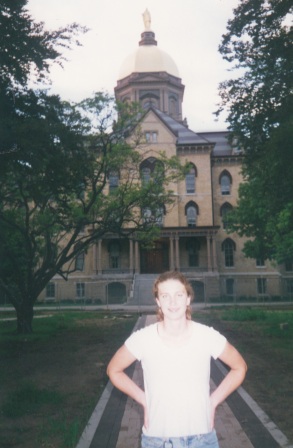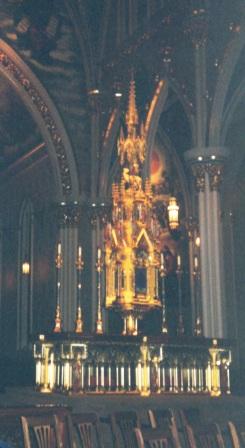 After taking a few photos of Notre Dame, we jumped in the Saturn for our next adventure, a visit to Maggie's favorite spot in Chicago, the statue of Michael Jordan at the United Center.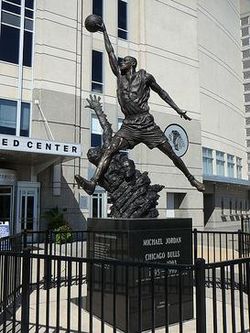 The sun was going down as we pulled up to the United Center. We were disappointed to see the statue behind a fence and a locked gate. I knew Maggie would be frustrated if we couldn't get close enough for a picture. So, I told her to follow me as I explained my latest brainstorm: "We stop, drop, and roll under the the security gate and run for a photo op at the statue. If we get stopped, I'll tell the guard that we're just some country folks from Wheatland that want to snap a picture." As soon as Maggie was positioned for the picture, a guard showed up. I played the country bumpkin part, and the guard told us, "Just get out of here." We ran back to the gate and rolled under it. Mission accomplished.
Then we drove back through Chicago to the Navy Pier where we had dinner before heading back to Niles, Michigan to spend the night. We had the memory of another special adventure and a picture of Michael Jordan's statue and Maggie standing next to it with her eyes popping out at the guard nearby.