1952-1957: Fresno Years
Dad bought a brand new house in a subdivision in Fresno. Inflation must have hit because the monthly mortgage was $67.00. All the dirt around the house must have reminded Dad of plowing fields as a young man. Undeterred, he tackled the yard until it was up to his standards, no less than the best looking yard in the neighborhood. Shortly after we were settled, Dadís brother, Victor, visited from South Dakota with his wife, Lucille, and our cousins Dan and Colleen. The two brothers had not seen one another since 1936. Given his tough upbringing and German roots, Dad rarely showed strong emotions. Tears flowed as they hugged.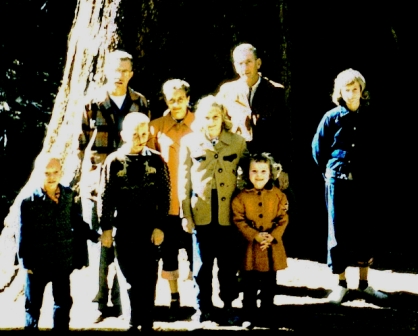 Dad, Mom, Vic, Zoe
Dan, Jim, Joyce, Colleen
Trip to the redwoods 1955
Meeting Dadís brother was a rare treat. We never traveled to South Dakota to meet other family members. I recall a few visits to see his half-sister, Fidelis, her husband, Bob, and our cousins Dan, Carol, Jean, and Pamela near Long Beach. We played shuffleboard in the backyard while Uncle Bob showed Dad the special refrigerator with beer on tap nearby. We also made an occasional visit to Dadís Uncle Ted and Aunt Cleo not realizing how they fit into the family tree.
Fidelis and Bob with Dan and Carol
Dad continued to manage the household finances wisely. I remember only one time when we were down to our last loaf of bread before the next paycheck. Mom and Dad told Depression stories as we toasted bread in the fireplace. Mom and Dad were determined that we would never experience the hunger and deprivation that they once knew. We never went to bed hungry. Celebrating a fatter pay check from North American Dad took the family to visit the Chevrolet dealership in Fresno. After a bargaining session with the salesman we drove a shiny, new, green 1952 Chevy from the showroom floor, leaving the Graham behind.
Mom and Dad enrolled us in Our Lady of Victory Catholic School where I made my First Communion. The school was exploding with children from all the new subdivisions nearby. Dad joined other men in the parish to build it. His roofing experience in Long Beach made him the leader of the roofing crew.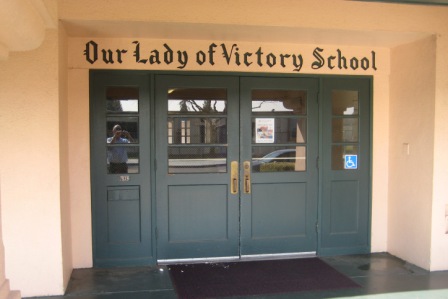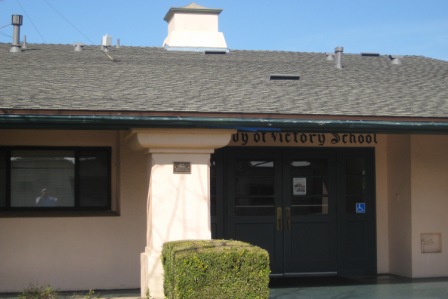 Within a few years, Dad advanced in management at North American. With a bigger paycheck he bought a nicer home a few blocks away. At least it had been previously landscaped. He bought the best mower and edger he could afford and, once again, had the finest lawn in the neighborhood.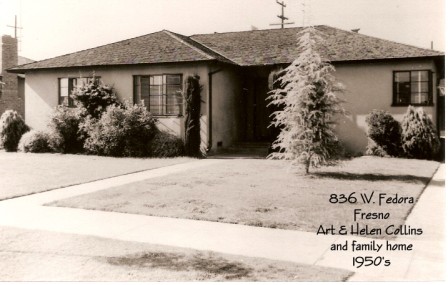 Since the backyard was larger, he planted a garden complete with the corn that he knew so well. When a neighbor hired me to weed his flower beds (he had seen my Dadís handiwork), Dad showed me a few of his tricks. I tried a few shortcuts and lost the battle with the invading Bermuda grass. After a lecture on honesty and some new instructions on how to do the job right, I was back to work until the weeds were under control.
A few more pictures have survived this era. One shows the family in 50ís hairstyles and attire visiting some neighbors:
Our Sunday drives now took us to Friant Dam, Pine Flat Dam, Yosemite, Sequoia and King Canyon National Parks, Shaver Lake, Millerton Dam, Bass Lake and other mountain locations. On one trip Dad bought some bamboo poles and taught us to bait fish like he had on the rivers in the Midwest. Getting up well before dawn, he took me alone on a few fishing trips below Bass Lake. He and his friends had a good laugh when I caught one of the first trout of the season doing everything wrong but still snagging a legal size fish. Dad and I try our luck below: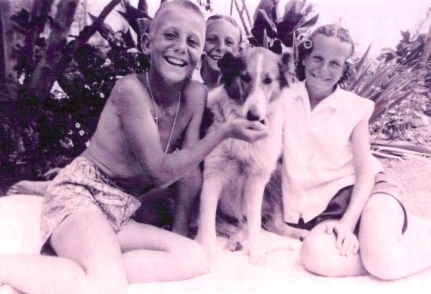 Summer vacations were usually spent at Grandma and Grandpaís place in Temple City
Working at North American had become a roller coaster ride for Dad. Many of his friends were laid off between contracts, but his job was usually secure. One summer while visiting our grandparents, we drove to the local Buick dealership. Dad struck a deal with a salesman and we drove away with a flashy new, black Buick loaded with extras. When we arrived back home in Fresno, Dad realized that we couldnít afford it, so he drove it back to southern California and paid the dealership to take it back. He hadnít forgotten the financial disasters of his childhood and would never impose them on his family. We were back in our 1952 Chevrolet:
In 1955 we took our longest family vacation trip traveling to Yakima, Washington. On the way we drove through the redwoods on Highway 101, sampled a lumberjackís sourdough pancake breakfast, and spent a day relaxing in a quaint resort in Miranda. Dad loved to be on the road exploring new places, especially on this trip which would reunite him with his sister, Evelyn. In Yakima we met Dadís sister, Evelyn, her husband, Tom, and our cousins Joan, Lynn, and Merle. I still have memories of learning to squirt milk from a cow in the barn at my cousin, drinking whole milk, and visiting my Uncleís barbershop.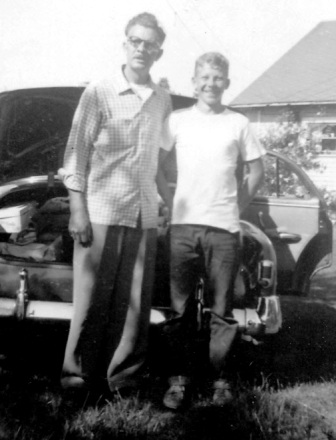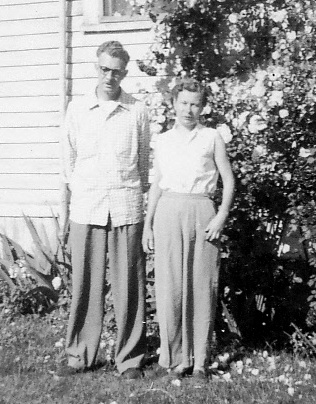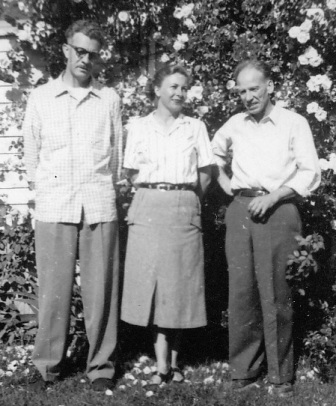 Dad with nephew, Lynn Dad with sister, Evelyn Dad with Mom and brother in law, Tommy
Collins family 1955
A few years later Dad had to face the greatest financial challenge of his life since that Christmas Eve when he was alone and broke in Stockton. It happened when North American closed its manufacturing plant in Fresno in 1957. Dadís accounts for August 1957 show only one weekly paycheck for $96.65. He must have seen the layoff coming because he transferred money from savings into checking to save the day. He would sometimes lecture us on saving money. Now we saw why.
Dad immediately started looking for another job. He had just turned 45 years old and felt that he was being rejected because of his age. Still he wasnít giving up. With only one paycheck in September and one more in October he had enough savings to pay the bills and begin paying for room and board in San Jose where he took a new job with FMC (Food Machinery Corporation). He lived in San Jose during the week and returned to Fresno on weekends from October until March when the rest of the family joined him in an older home which he bought in Santa Clara. The house had been built shortly after World War II and was small and beat up compared to our home in Fresno. Still we were glad to be back together with Dad. He quickly started to work on the yard, a large corner lot, and on fixing up the house.