1937-1951: California Hope
Dad's new life began when he headed for California. He ended up in Stockton on another bleak Christmas Eve alone and broke. Miraculously he ran into his cousin Jerry (Zoe's nephew) and drove south with him to Long Beach to stay with his Uncle Ted and Aunt Cleo (Zoe's sister).
Ted and Cleo in Long Beach
Eventually he found work in John Kummer's dairy in Long Beach as a milker
and did some roofing on the side. He moved from place to place in Long Beach
depending on where he found work (7116 Spring St. 1/37-2/40; 6559 Orange Ave. 2/40-6/41;
247 Golden Ave 6/41-8/41; 1628 E. 1st 8/41-2/42)
Dad at the Kummer Diary 1937
When World War II began he found work in the aircraft industry. His first aircraft job was with Consolidated-Vultee in Downey where he started at $0.53 per hour. From 1940 to 1947 he worked his way up to an assistant foreman dealing with liquid propelled rockets. While working there, Bill Redinger (Mom's cousin) introduced him to Helen Scherer.
They first met on a blind date. Mom recalls falling for the tall, handsome guy with "red curls and a green pen-striped suit". Dad must have been knocked off his feet too by the shapely, former model from Long Beach who loved to dance. He proposed on their fourth date. They couldn't wait for the process for Mom, a non-Catholic, to marry a Catholic in Los Angeles. So they headed for Yuma, Arizona, where there was no waiting.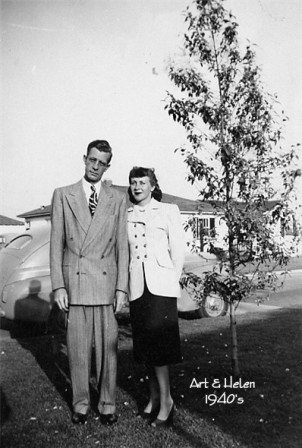 Mom and Dad found a duplex on Obispo St. in Long Beach to put down roots and to start a family. They went to church on Sundays at Holy Innocents (below) where Mom took instruction to become a Catholic.

As World War II continued, Dad took special night classes to become a "War Production Job Instructor" and moved up the corporate ladder with new promotions. He joined the work force in manufacturing P-38's, and the North American P-51D, and B-25. The B-25 Mitchell twin-engine bomber (see below) was the first bomber used in all World War II combat theaters and the first to sink Axis submarines. It is perhaps best known for the raid its pilots made on Tokyo on April 18, 1942, led by Col. Jimmy Doolittle.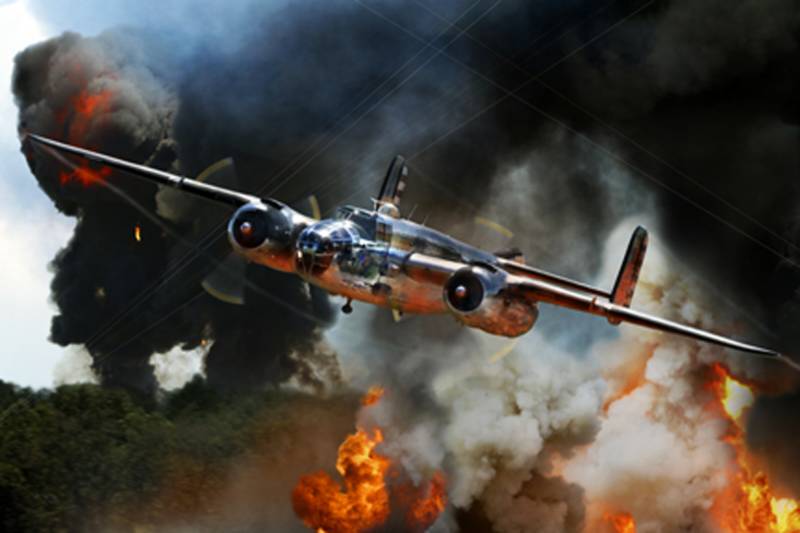 Dad (upper right) and fellow night school graduates celebrating advancement
Soon after she was baptized, Mom and Dad were blessed with a pretty blonde baby girl, Zoe in 1942, followed by another beautiful girl, Joyce, in 1943. In 1944 the stork brought a plump, blonde, baby boy, James. All three were born at the Harriman Jones Clinic Hospital in Long Beach. Check out the pictures below: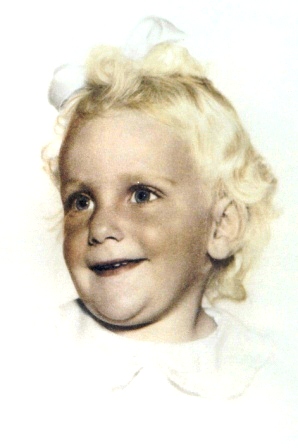 But now the duplex was too small, so Dad bought a "War" home in a subdivision in Bellflower (present day Lakewood): 5949 Whitewood. The monthly mortgage payment was $50.00. Beginning in February 1945, Dad kept an accounting book which details each month's expenses. Mom passed it on to me. Now I know where I get my compulsion to keep detailed monthly accounts in Excel and where our son, Jeff, a CPA, got his talent in accounting. When a balloon payment on the house came due in March of 1946, Mom's Dad sold part of his land in Temple City so that the house would not be lost. After Dad made the balloon payment of $784.17, the payments were reduced to $34.23 monthly. Other neighbors lost their homes.
1940's
<![if !vml]>
<![endif]>
2009
When Consolidated Vultee closed its aircraft plant in 1947, Dad transferred to North American Aviation. By now he was making $1.55 per hour as an assistant foreman, a lead man in final aircraft assembly. He had survived massive layoffs which shrunk the workforce from it wartime peak of 91,000 employees to 5,000 in 1946. The work ethic which he had developed during the tough years in the Midwest spared helped him survive all of the personnel cuts.
In June of 1946, Dad received word that his brother, Vic, married Anna Lucille Carlson, in Columbia, South Dakota (see below).
Family finances were tight, so Dad missed the wedding. In his spare time he built the detached garage behind the house and always maintained the best looking lawn in the neighborhood. He bought one of the first televisions, complete with tiny round screen, which quickly became a neighborhood attraction. When my sisters and I started attending St. Bernard School, about a mile away, he taught us how to ride our bikes.
On Sundays we usually went for drives. We piled into "the Graham" for adventures to the mountains, the beach, a local airport to watch planes take off, or most frequently to Grandma and Grandpa Scherer's home in Temple City. Dad liked stylish cars, and the Graham was no exception. It was considered a sporty looking, "supercharged" car compared to other cars of its era.
Graham Model 97 Supercharger 4-door Sedan 1939 "Spirit of Motion",
later nicknamed the "Sharknose". Mom poses by the Graham, early 40's.
Collins family at Grandma's 1945
After Mass on some Sundays Dad would load everyone into the car and just start driving. No one knew where we might end up. Most of the time it was somewhere in the mountains. The pictures below show the Collins kids on dry ground Easter 1948 then a few years later in the snow. Notice how Dad is still wearing his Sunday suit. He taught us how to build a snowman and led us up and down the slopes packing down the snow to make the perfect run for our saucer sled. We learned from his winter fun in the Midwest.
Our drives around Long Beach were about to end. Soon after Joyce received her First Communion, North American Aviation transferred Dad to Fresno to build F-86 jets. He would be a Production Control Coordinator between fabrication and assembly sections. We were ready to move by the end of 1951.