Vienna & Bratislava, Slovakia: Friday August 26
ORIGINAL PLAN:
Enjoy a day at leisure in Vienna. Perhaps see an unrivaled collection of Old Masters at the Museum of Fine Arts, or visit the Albertina. Maybe ride the Riesenrad, the world's oldest Ferris wheel. Alternately, you may join an optional tour to Schönbrunn Palace, the "Versailles of Vienna," or enjoy a Viennese waltz lesson as well as visiting the palace during a full-day optional excursion. A cup of coffee or tea and a slice of exquisite Sachertorte are a must for any afternoon in Vienna. Later, rejoin your ship and sail for Budapest. (Breakfast, Lunch, Dinner) No tours: Jim & Barbara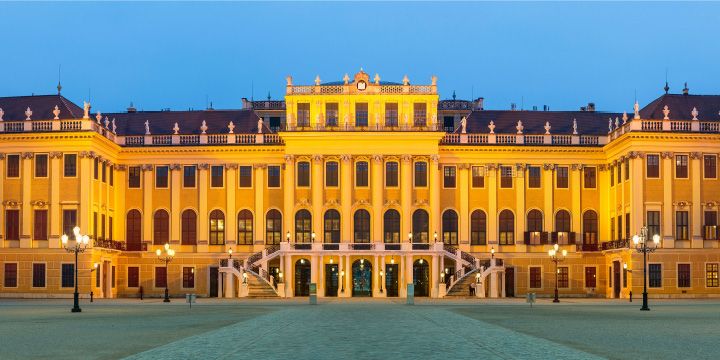 SPLENDID RESIDENCE OF THE HAPSBURGS
Tour the magnificent home of the Hapsburg Dynasty, built to rival the sprawling Château de Versailles. With your guide, drive just outside the city center to the monarchy's fabulous summer residence. In 1569, Holy Roman Emperor Maximilian II erected the original hunting lodge here and called it Schönbrunn, meaning "beautiful spring." In 1775, Empress Maria Theresa, the only female ruler of the Hapsburgs, added the grand neoclassical Gloriette colonnade so she could have sweeping city views. Enjoy a guided tour of the imperial apartments and grandly furnished rooms where Maria Theresa resided. Learn about her extraordinary reign, which featured many military campaigns and domestic reforms in medicine, education and civil rights. There will be free time to explore the formal gardens.
* Moderate - Walking portions may be long and somewhat challenging with occasional step-ups, stairs and inclines. Total time walking or standing normally ranges from 1.5 to 3 hours.
9:30 am to 1:00 pm: Schonbrunn Palace (Bill and Lana; Bev and Judy) $84 per person
Only excursion offered
Tour the palace and/or take tram to various locations
OUR EXPERIENCE:
An overview for the day with special insights was in the Viking Daily.
After breakfast, Barbara and I were ready for a new adventure. It was a short walk to the subway, so we decided to give it a try. We followed some Viking shipmates who showed us the way. At the station I tried using my credit card for 2 all day passes. After three tries, I figured it out. We scanned our tickets and hopped on the first subway heading towards the center of Vienna: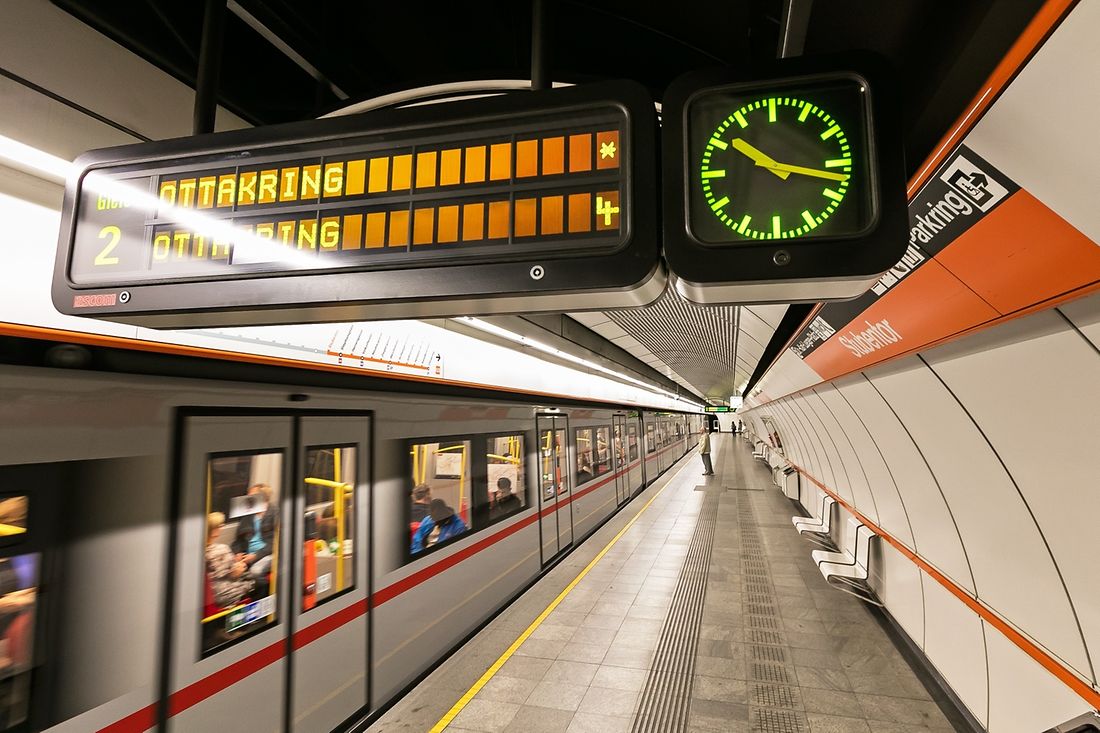 Picking a random stop, we hopped off and headed upstairs. As soon as we hit daylight, we could see the famous Vienna Ferris Wheel. We had seen it when we watched "The Third Man" movie, so we headed that way. It was a short walk through a park. We followed tourists toward the attraction and took pictures of some dioramas an the way to the ticket booth: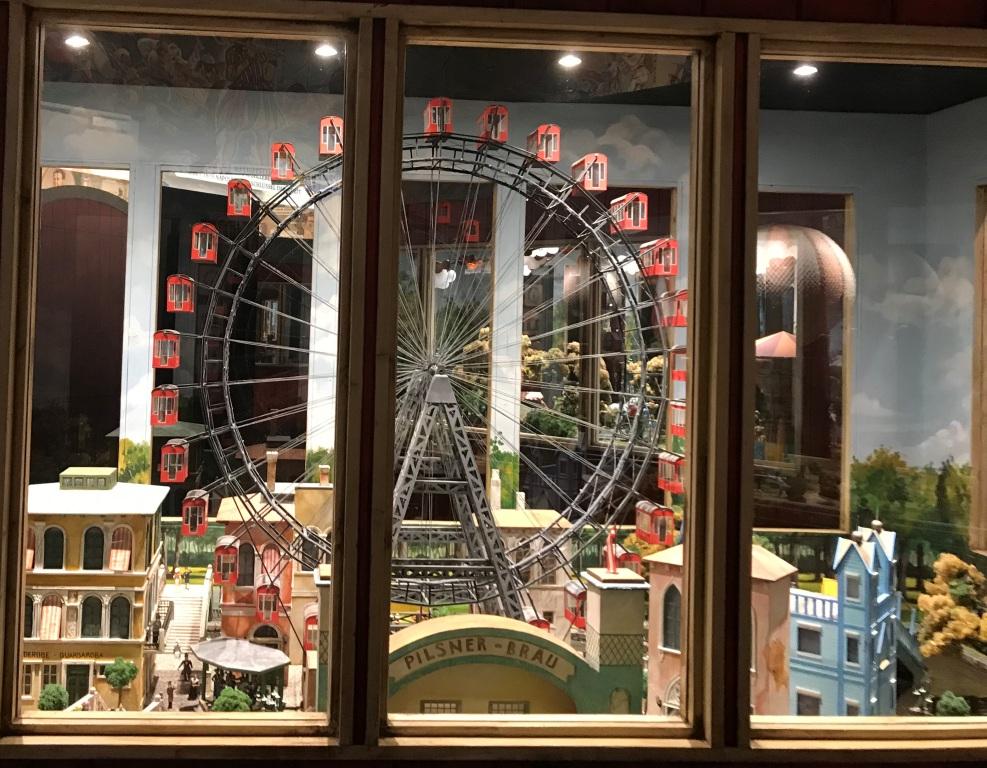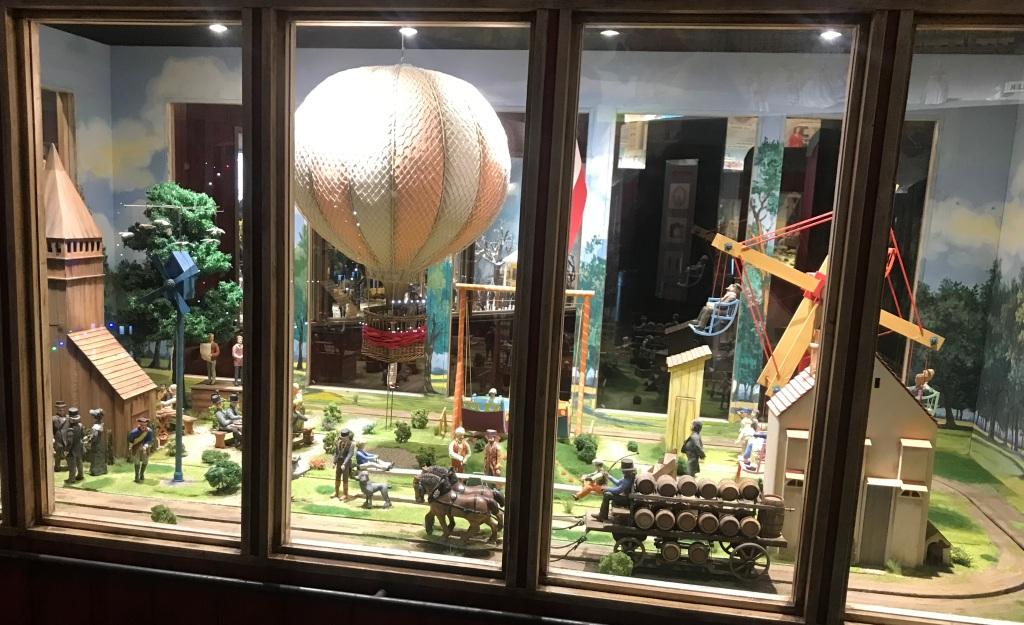 We didn't know what to expect until we chanced upon some other Viking shipmates who happened to be in our same car: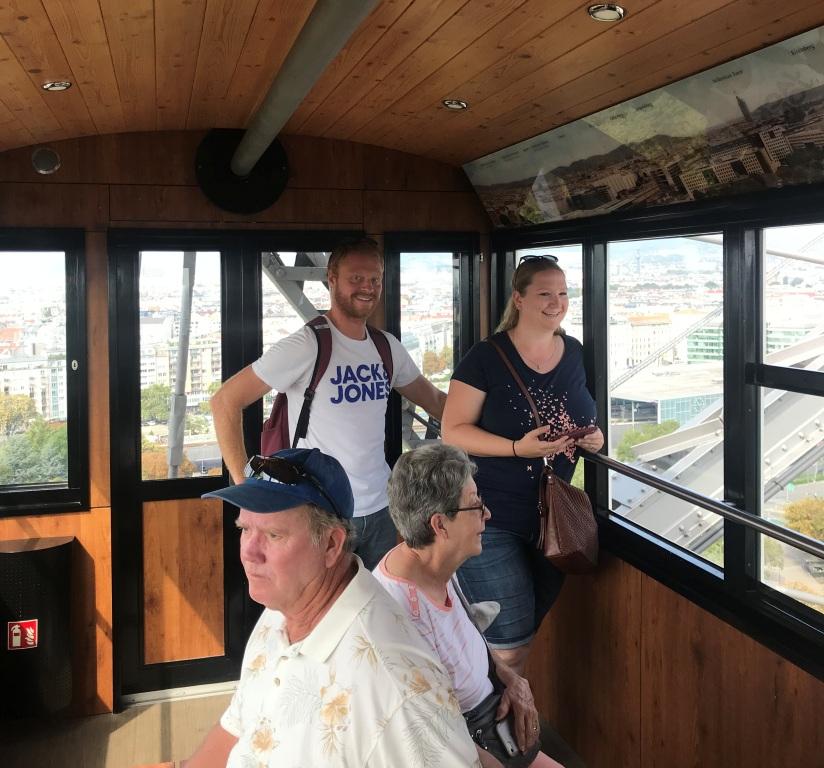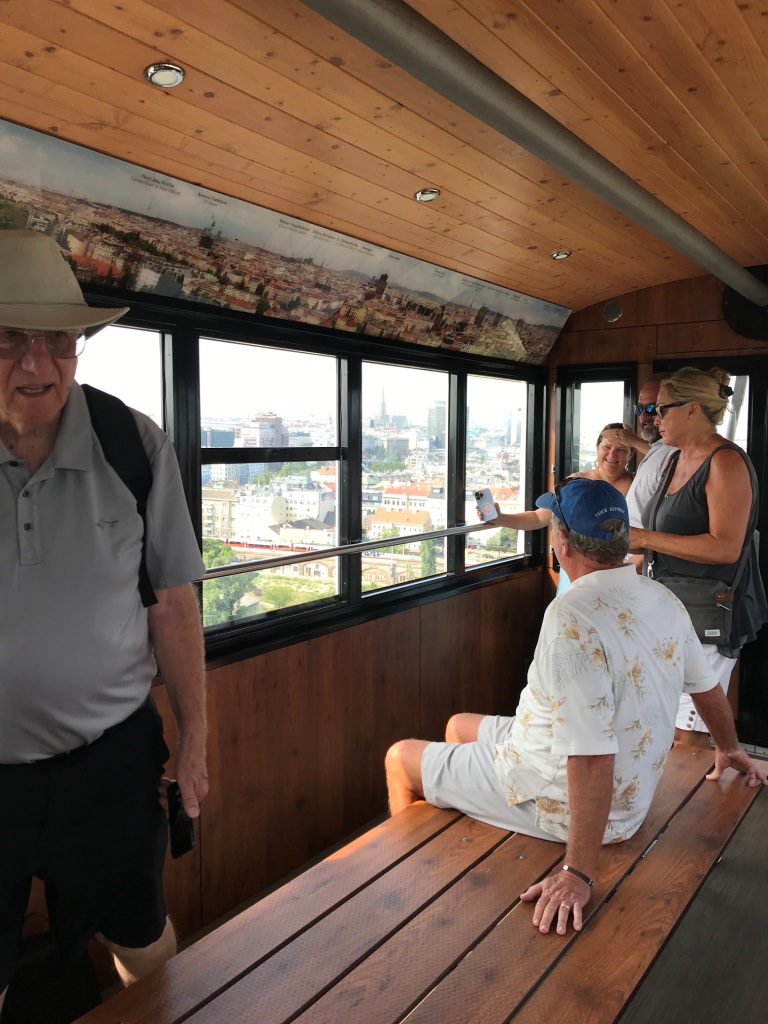 As our car reached up higher, we looked at other cars, the amusement park below, and the city of Vienna: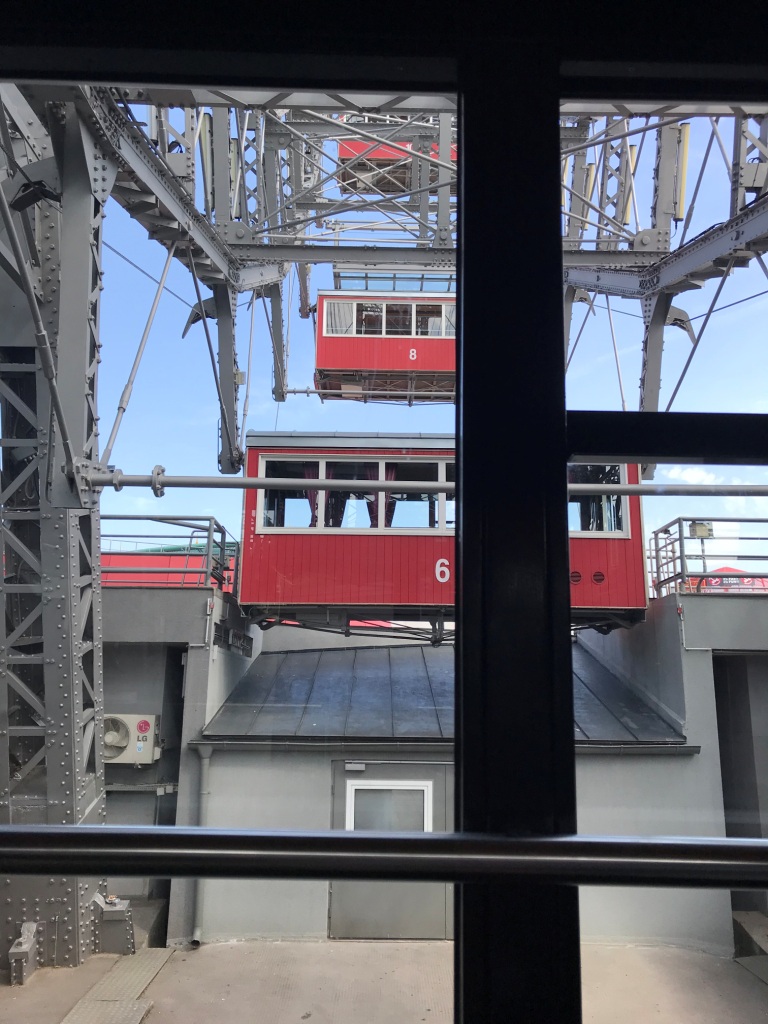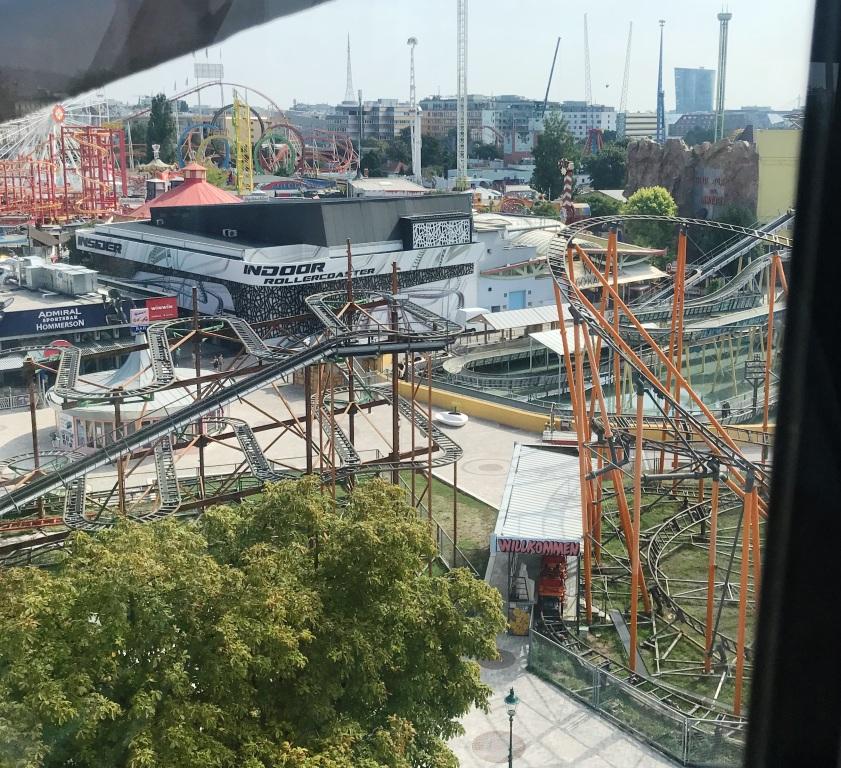 We noticed pictures on the wall that explained the panoramic views of the city: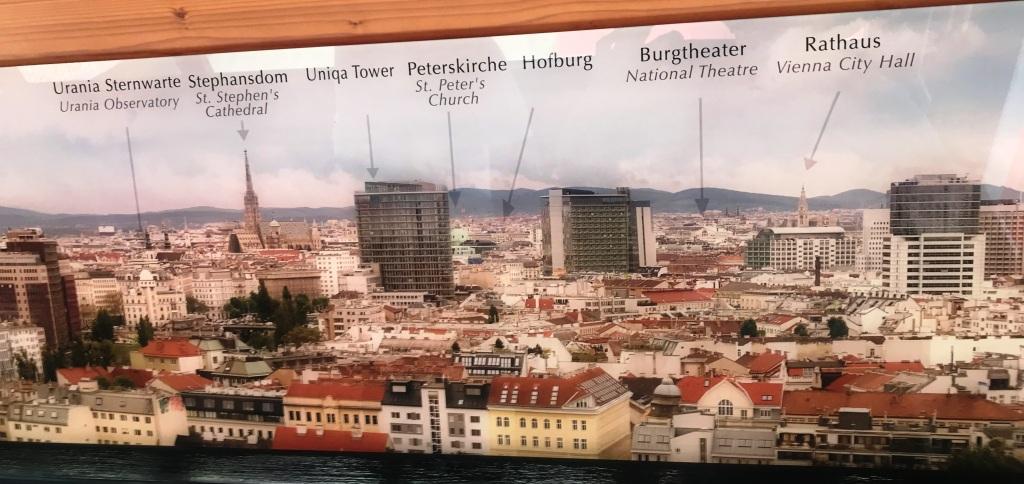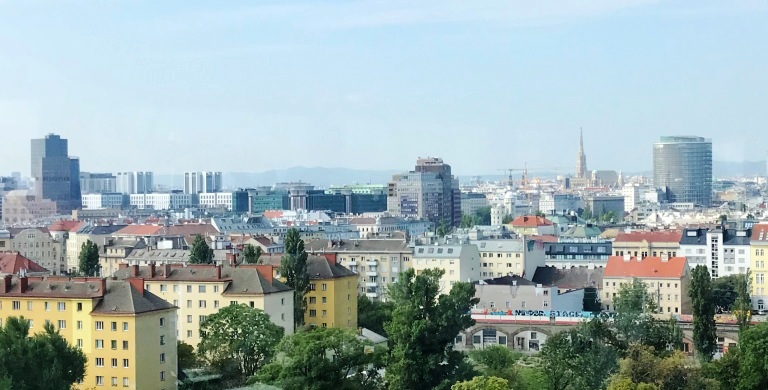 One of the pictures showed the massive DC Tower across the river from our ship, a landmark to find our way back.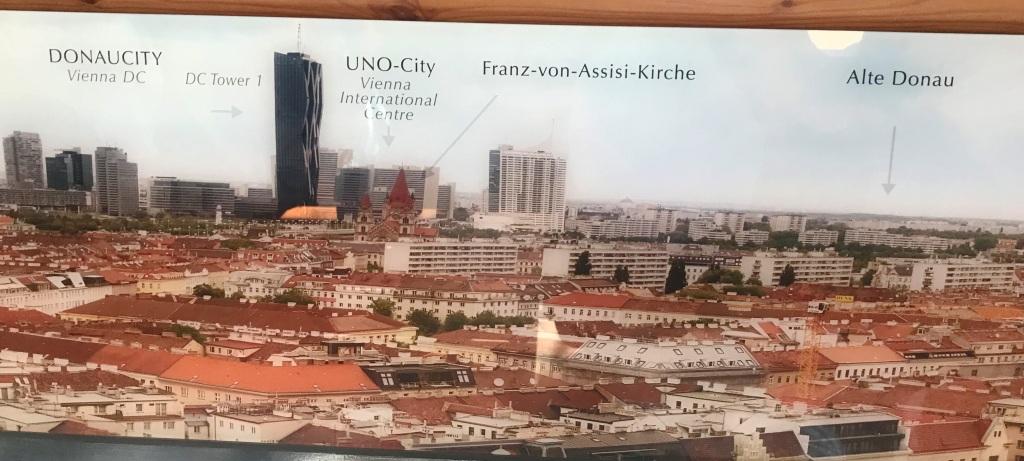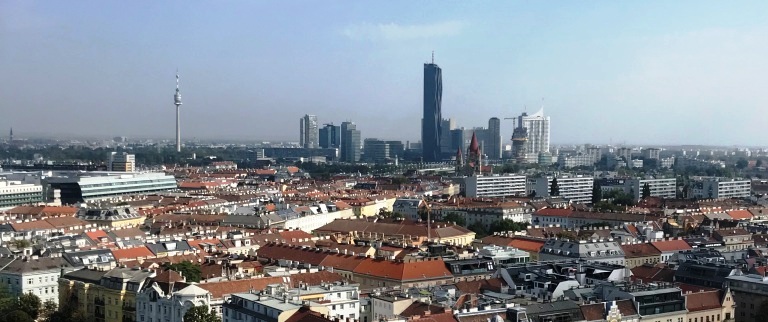 Back on the ground, we retraced our steps to the subway to find a place for lunch. Not wanting to be in the center of Vienna, we waited for several stops before getting off. It was amazing how many buildings stretched far away from the town center. After taking a picture of a street sign to remember the way back to the subway, we spotted a neighborhood cafe: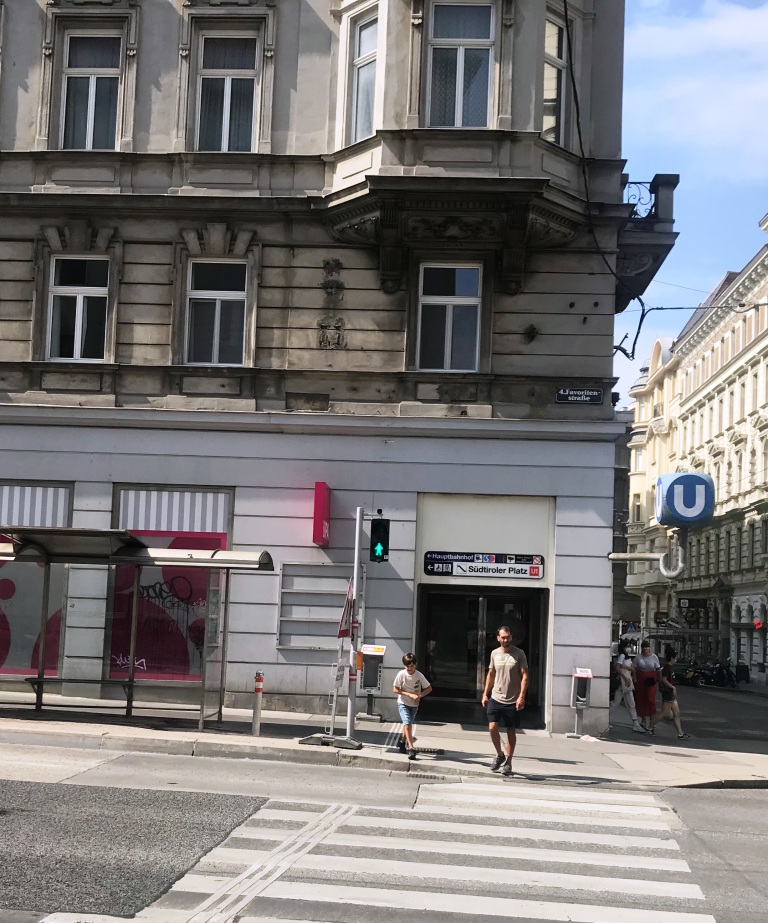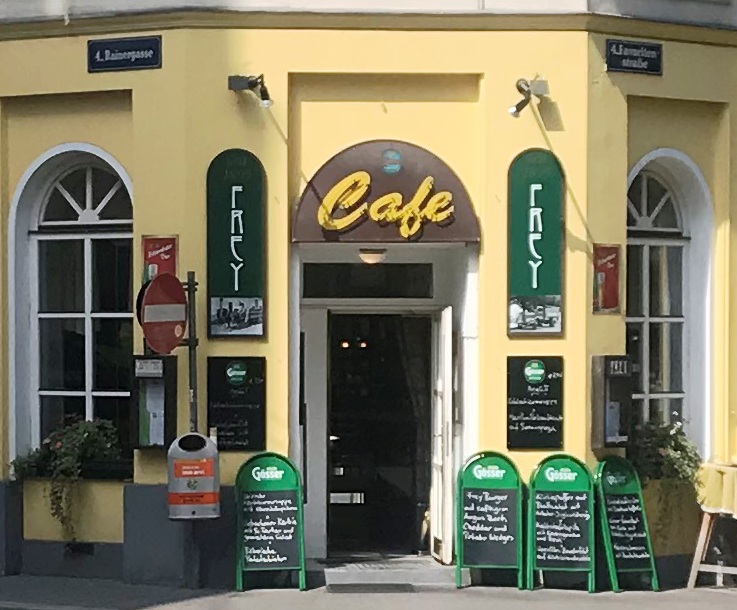 We asked the owner for some sausages and a beer not knowing how to read the menu. He served us quickly: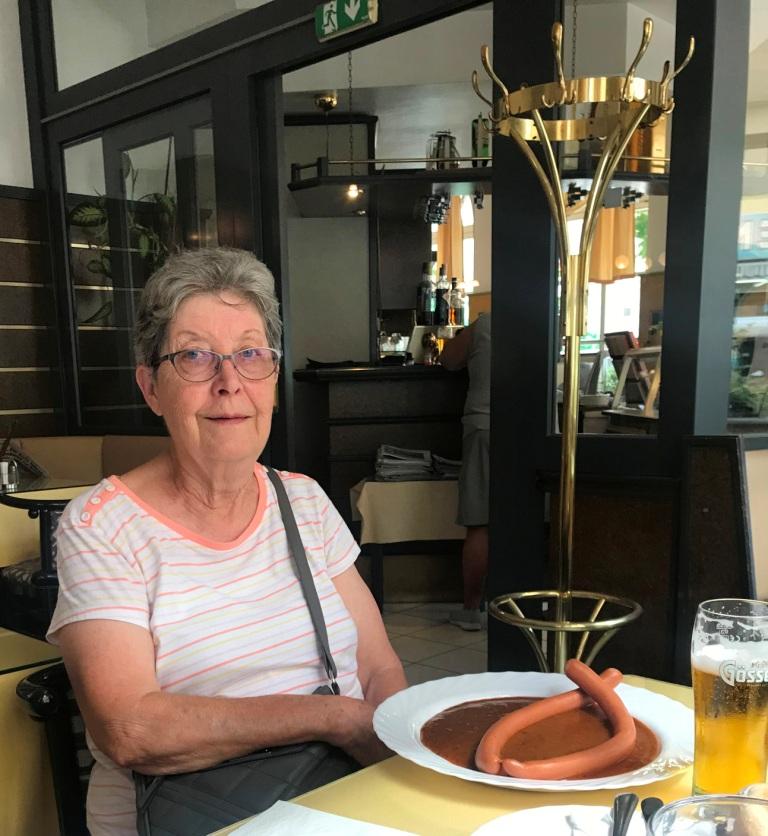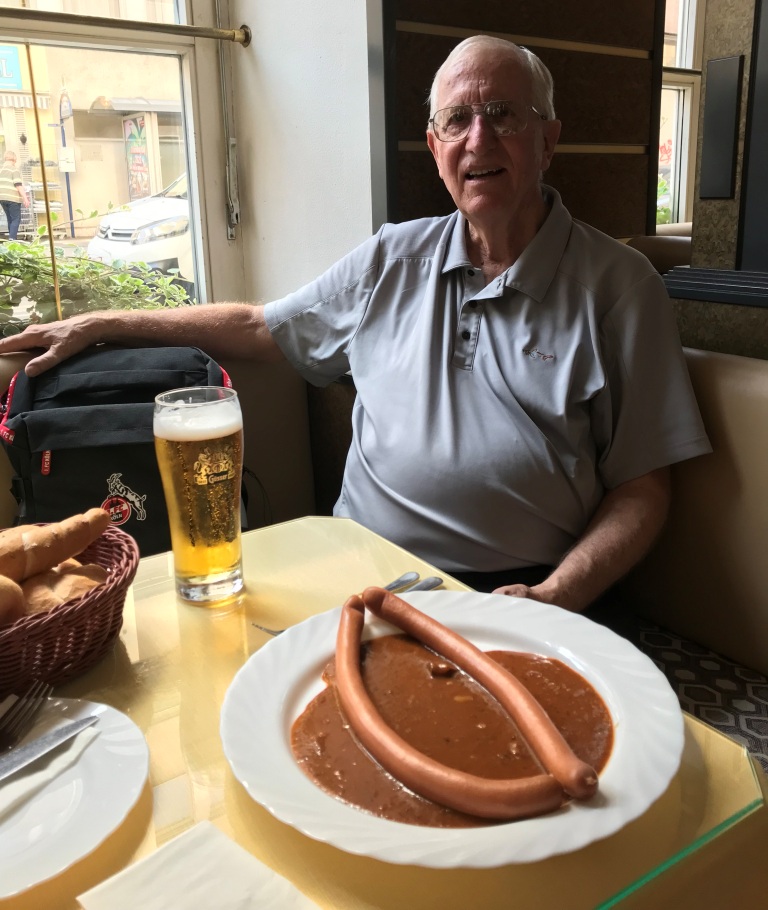 He seemed surprised to see Americans away from the center of town. He was friendly, spoke excellent English, and introduced himself as Peter. I asked to take his picture and he obliged: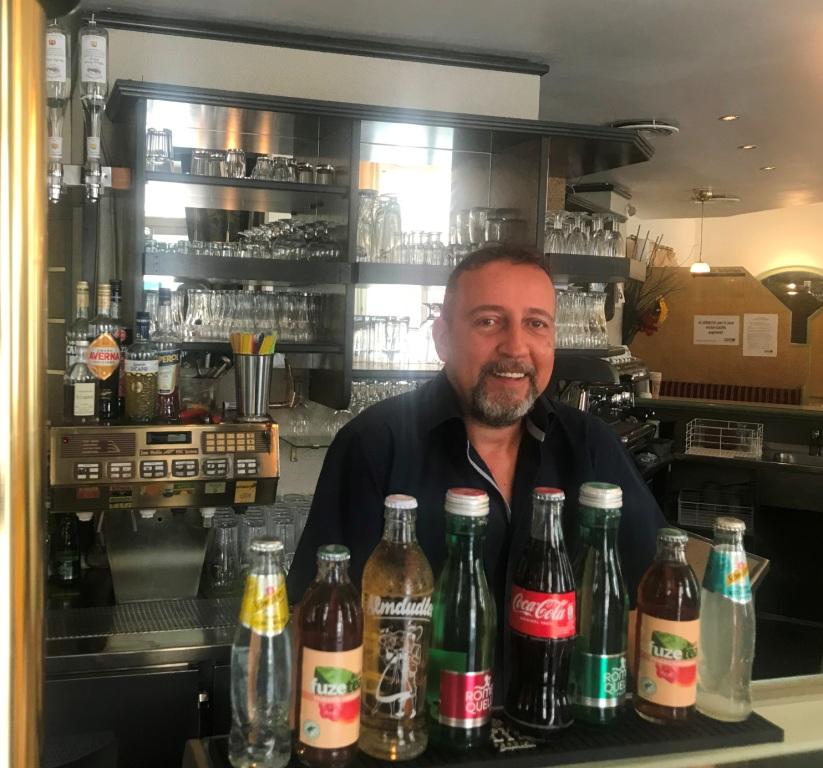 Peter had visited California (L.A. and San Francisco) and was anxious to return. We used the restroom then tried to remember our way back to the subway. I was taking a picture of another restaurant and some soccer balls when I heard someone shouting: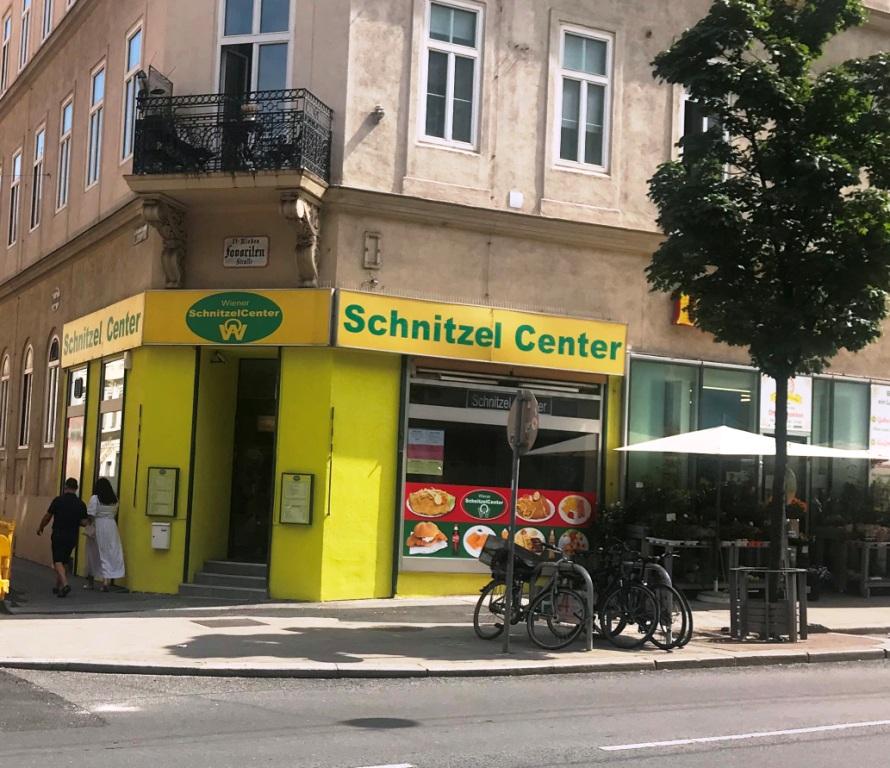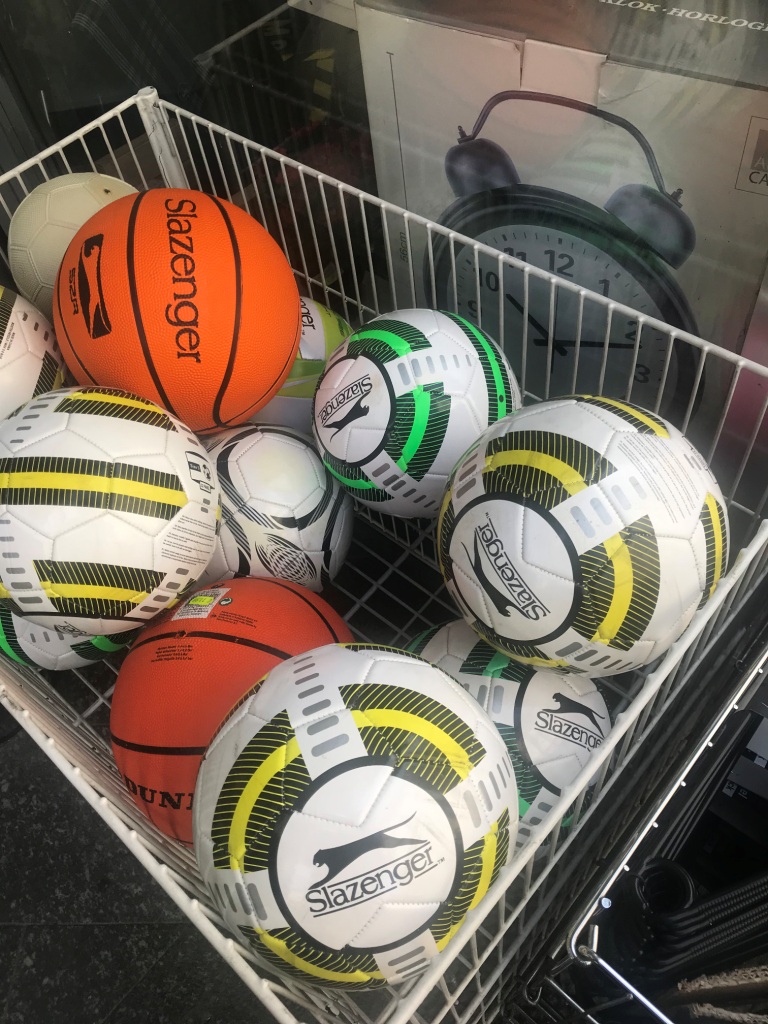 It was Peter. I had forgotten to pay the bill. He laughed as I paid him in Euros. We were either great scam artists or old folks clueless in Vienna. Somehow we managed to find the subway and get off at the right station near our ship.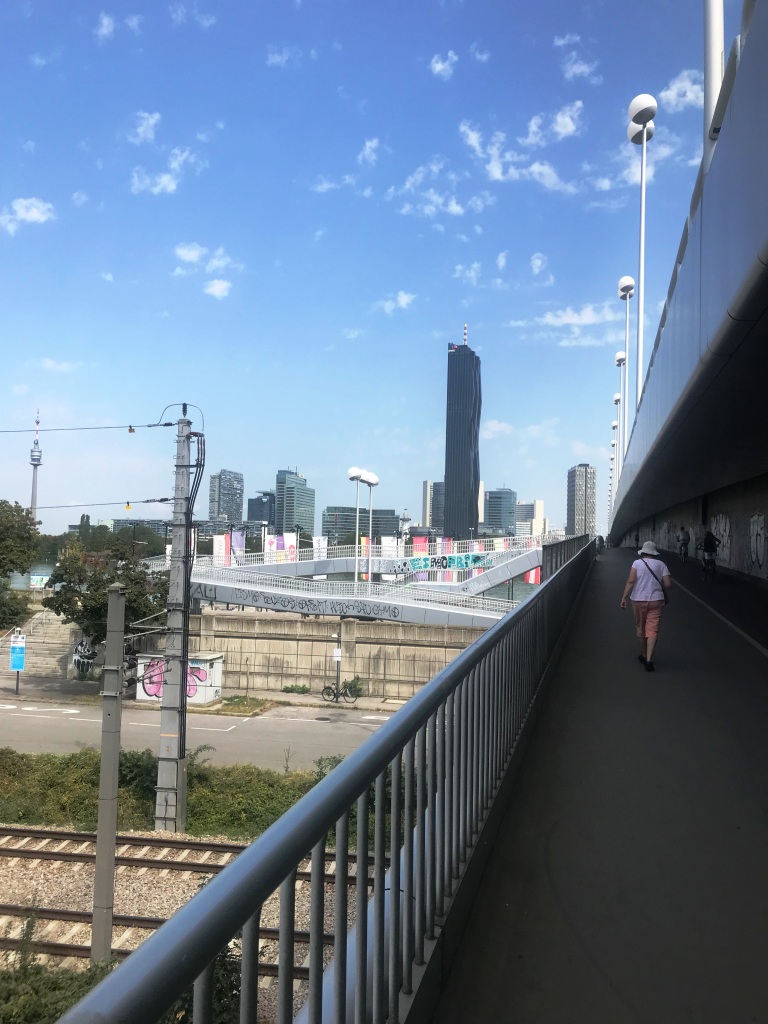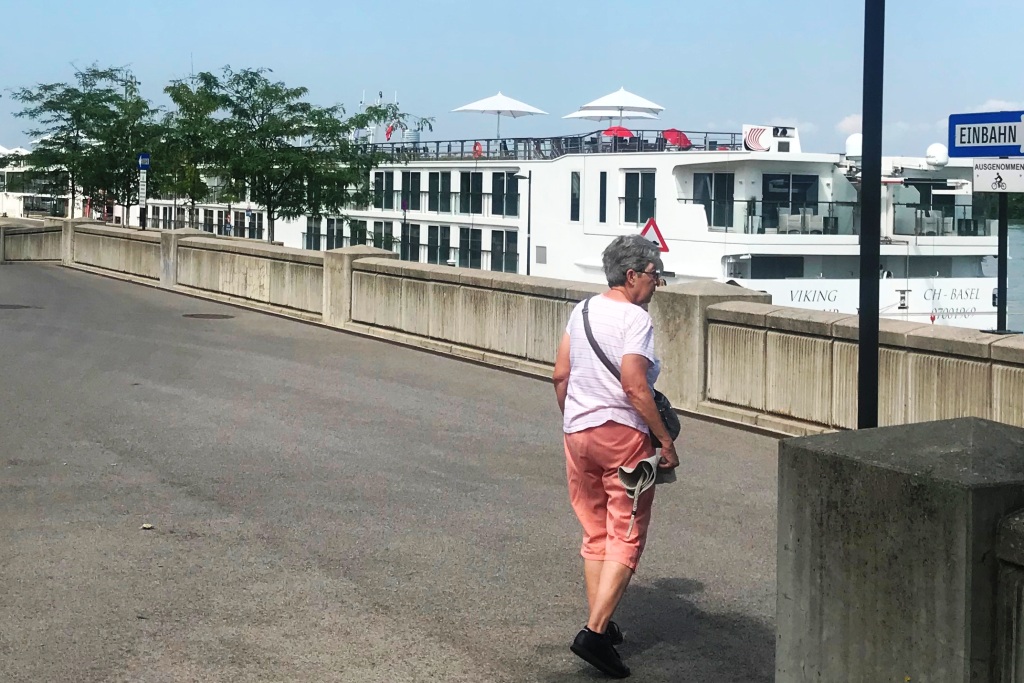 After dinner we left Vienna behind. I clicked a few pictures of the shore: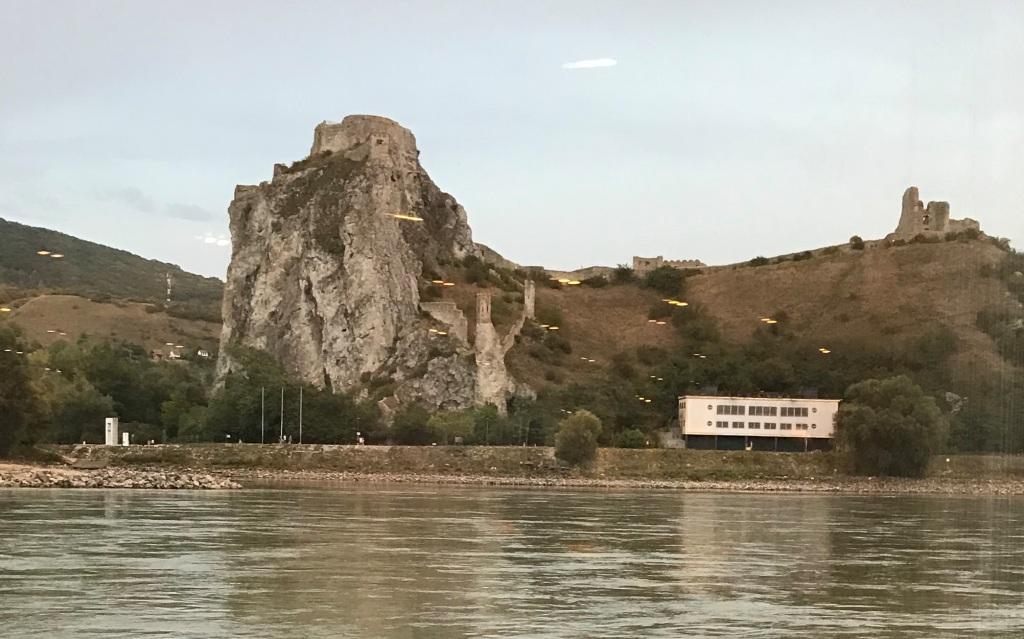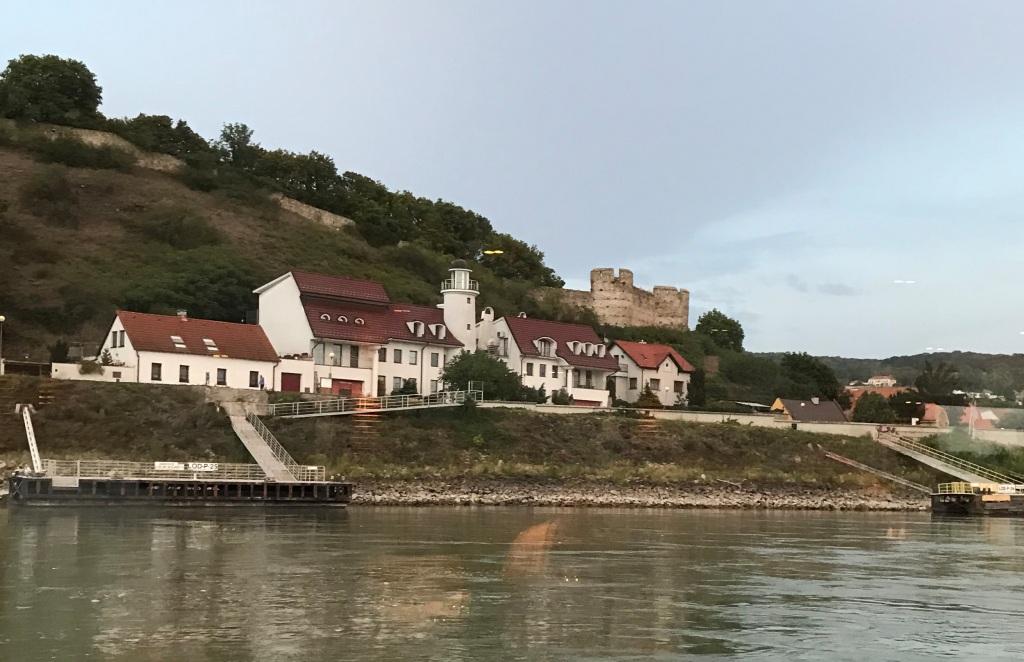 When I realized that we would pass through Slovakia, I decided to stay up until we saw the lights of Bratislava. Then I joined Barbara in our cabin. We needed some rest for our last adventure: Budapest.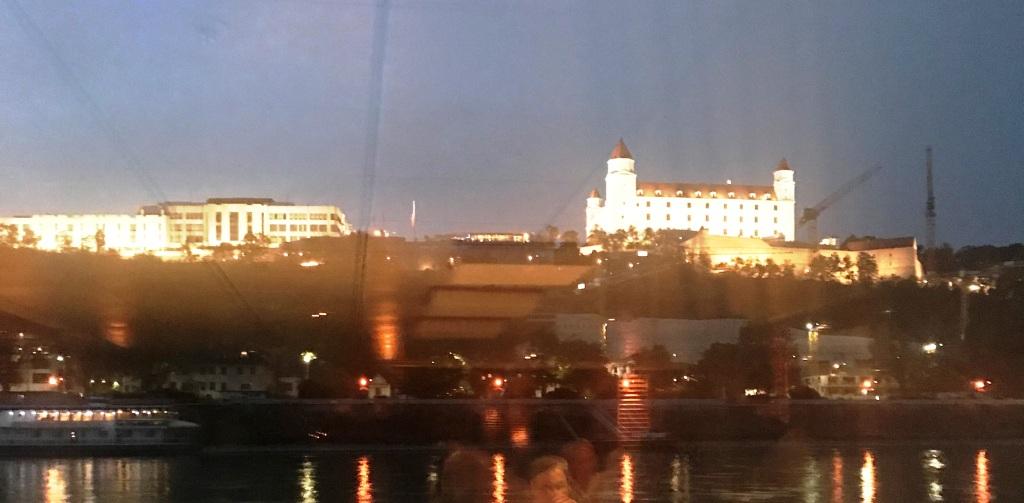 Bratislava Castle and Parliament