HELEN M. (SCHERER) COLLINS
ROOTS
To follow all the names, refer to or print the Genealogy Family View
Mom's Father's side: Mom's roots on her Dad's side are German and Scotch-Irish. The name, SCHERER, can be traced back to Oberfranken, Bavaria, Germany, where her great grandfather, William Fred Scherer (1829-1900) was born. From his obituary we know that he came to the United States, landing in New York in 1854. From there he traveled to Burlington, Iowa, where he settled. Also in Burlington were the Abel brothers from Damsendorf, Prussia, having come a year or so before. They sent money home for their sister, Fredericka Abel (1828-1892), to also come. She came steerage, bringing food for the trip and all her belongings in a large wooden box. After six weeks on the ocean, they arrived at New Orleans and came up river to Burlington where she joined her brothers. She had passed her 16th birthday on the ocean. In Burlington, Iowa, she met and married William.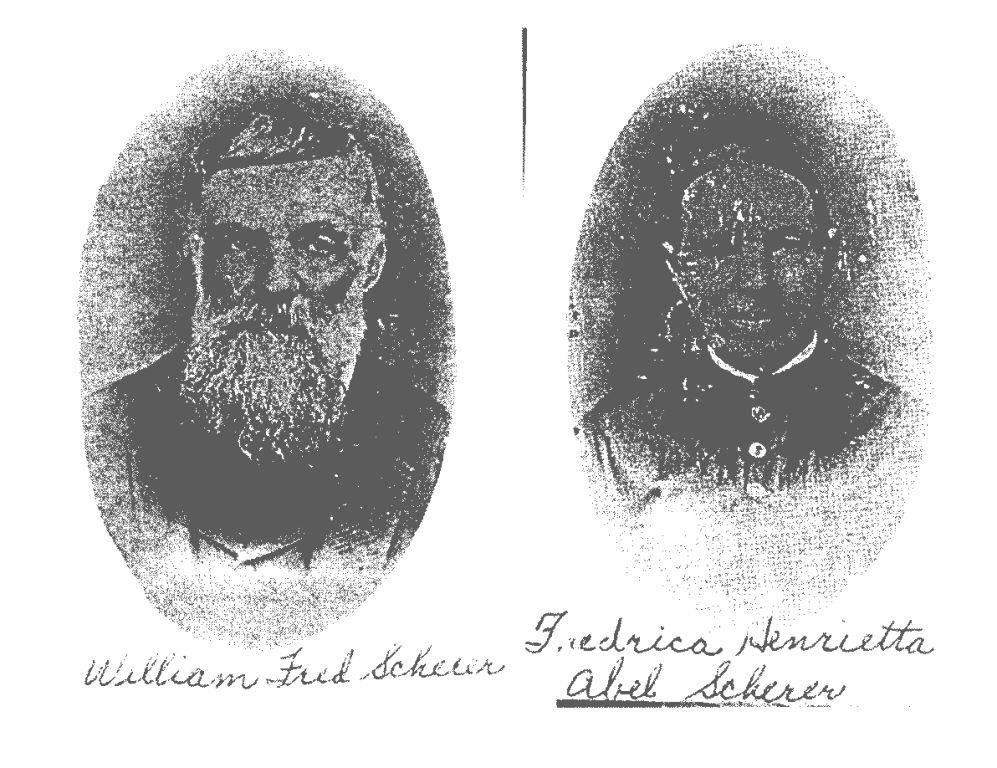 In the 1850's with his wife and "a very few earthly goods" he moved with his brother-in-law Fred Abel to Union County, and settled on 4 acres of rough brush land. From there they moved to a farm on Twelve Mile Creek and bought off Lamb Sheperd. In 1876, they moved from their home on Twelve Mile to Section 15 in Sand Creek Township. This land was prairie with no fences. There was no water. Still, they managed to raise nine children there while taming the land. Their son, Frank, being the youngest, had to drive the cattle back to Twelve Mile for water. He would take his lunch, get them back in the afternoon, but they were about as thirsty as when they started. William and his sons kept improving the land until it became one of the finest and largest farms in the county. Their home was on the route the Pottawattamie Indians followed each spring and fall as they went back and forth from their winter home in Kansas to their summer home on Grand River. They often stopped and camped over night with the Scherer's and Abel's. Three of William and Fredericka's seven children (Charles, William, and Frank) established homes and farmed in Sand Creek Township.
About the year of 1860 a German missionary came, by the name of Strohmeier of the Evangelical Association. William and his wife were among the first who joined the church at that time and remained consistent members until their deaths. In 1876 when the Evangelical church was built in Afton, William was quick to assist with work and money. And "when the fickleness of earthly claims played this church property, with so many others into the hands of the Escher party", he helped to redeem it for the Afton congregation. About two years before his death he was the prime mover in building the fine Bethel church in his neighborhood.
William was always helping others. He freely shared the wealth that he had accumulated from his pioneering efforts. After a lingering illness, his wife, Fredericka, died in February 1892. Her obituary states: "Her Christian life was consistent and exemplary… She was thoughtful and kind to all with whom she was permitted to associate. Her pure and earnest life will live in the hearts and memories of those with whom she became acquainted." About October 1892, William married Kate Ditzler (maiden name: Catherine Volelgesang). They lived about two years in Afton, and then moved back to the farm. Feeling unable to farm any longer he sold about two years before his death and moved to Shannon City. After his death on September 1, 1900, he was laid to rest "on that beautiful quiet hill by the side of his two children, and the wife of his youth, Fredericka, in the Abel cemetery where so many of our dear friends are awaiting the sound of the Angels Trumpet."
Mom's grandfather, William John Scherer (1863-1948), son of William Fred Scherer and Fredericka Abel, was born in Afton, Iowa, on January 3, 1863, one of seven children. In 1885 he married Maggie (Margaret) Berry (1864-1944) at the Evangelical parsonage in Afton. After the wedding, they made their home at William's father's ranch in Sand Creek Township. Together they raised eight children including Mom's father, John Leonard Scherer (December 25, 1892- June 17, 1973). They divorced in 1930. William married Effie Adams in 1936. She died in 1939. William retired in 1944 and moved to Creston where he died in 1948.
William John Scherer and Margaret (Berry) Scherer
"In the old courthouse yard at Afton, the elderly gather in the afternoon to enjoy the shade. Sometimes they play checkers; sometimes they just sit and visit. Increases which some are getting in old age pension often is the subject now." William J. Scherer, 80, third from left.
Mom's Scotch-Irish roots on her Dad's side can be traced back to Lord BERRY of Ireland. The Scotch-Irish are primarily Scottish. England encouraged the Scots to settle in Northern Ireland to maintain British rule. When conditions deteriorated, many immigrated to the United States, first to Lancaster County, Pennsylvania, then to Augusta County, Virginia. Most of the immigrants were Presbyterians. Documentation has been taken from Chronicles of the Scotch-Irish Settlement in Virginia extracted from the original court records of Augusta County 1745-1800.
Lord Berry had three stepsons, including John Berry (1695-1770), who left Ireland to join the Virginia Settlement. His son, Charles Berry (1725-1789), and Charles's wife, Mary Cunningham (-1789) had a son, James Berry (1757-1808), born in Rockridge, Virginia, Jan 10, 1757, who served in the Revolutionary War, spending time at Valley Forge under George Washington.
Proud of his heritage, James' coat of arms was listed in Early American History. However, when the colonists rose in anger over their British treatment James joined Washington's Army and served at two times, first in Nathan Read's Co., 14th Regiment (which became the 10th Virginia Regiment). This information comes from application #349854 for membership in the Daughters of the American Revolution submitted my Marie Berry Bredbeck 2-22-1945. Later his name appeared as Captain James Berry on the Muster Roll, covering the period from April to Sept. 1, 1782. He married Jane Doak (1767-1832) at the Dutch Heritage Group. Records of her inheritance, and other legal matters were recorded in Augusta County, Virginia. James and Jane had eight children.
James and Jane's oldest son, Charles Doak Berry (1792-1884), was born in Virginia in 1792, but moved to Ohio after his father's death in 1808. He bought a tract of timber land and cutting away trees and clearing out the stumps brought the fields under cultivation and made a good farm. In 1819 he married Elizabeth Craig 1788-1854). They lived in Ohio for more than two decades raising seven children. Then in 1849 they moved to Burlington, Iowa where they stayed two or three years before moving to Louisa County. After Elizabeth died in 1854, he moved to Arapahoe in the Kansas Territory and then to Central City, Colorado Territory. He became a Presbyterian minister - a circuit riding one. In his final years he moved back to Clarinda, Iowa, where he died in 1884.
Charles and Elizabeth's oldest son, James Craig Berry (1820-1913), was born in Augusta County Virginia. At the age of seven he moved to Ohio, settling in Madison County, twenty-six miles west of Columbus. The family home was in the midst of the green woods. He and his wife, Sarah Catherine Craig (1818-1914), were married in 1849 and soon migrated to Iowa and homesteaded. They moved to Burlington in 1864 where James became well known as a contractor, builder and merchant. He purchased one hundred and sixty acres of land on Sand Creek in Union County where he built a house and barn, fenced the fields and cultivated the land. In 1890 he rented his land and moved to Afton. There he owned and operated a hardware store until retirement. James and Sarah belonged to the Presbyterian Church. They raised nine children. James belonged to the Whig party. When it dissolved, be became a Republican.
Back row: Mary, Elijah, James, Elizabeth, Margaret, William
Seated: James Craig Berry and Sarah Catherine (Craig) Berry
James and Sarah at family home in Afton, Iowa
James and Sarah's daughter, Margaret Jane Berry (1864-1944), was born in Afton Iowa on May 21, 1864. She married William John Scherer (1863-1948) (see below) in 1883. Their third child, John Leonard Scherer (1892-1973), Mom's father, was a Christmas present born on December 25, 1892 in Afton, Iowa. He and his five sisters and two brothers formed a large farming family. After raising their children, William and Margaret divorced in 1930. Margaret moved to San Gabriel, California, where she died in 1944.
Back row: Minnie, John Leonard, Hubert and Arthur;
Front row: Sadie, Jenny, William John, Mildred, Margaret Ellen[Jane] Berry, Edith
John Scherer with baby daughter, Helen
Mom recall's her Dad: "I don't think my Dad went past the 8th grade. He was very good at math. He taught me fractions, I think before kindergarten. It was his way of keeping me occupied."
Farm life didn't appeal to John. His sister, Jenny, died in a farm accident in 1915, about two years after he had married Nellie Grace Redinger (October 5, 1893-March 26, 1982). After their wedding they worked on the Scherer farm for a few years "and got paid so much a month. They saved and saved and saved, talking about a Model T and going to Colorado Springs. Nellie didn't know she was going to California until they left the farm May 1916. The 1915 Model T was cheaper than 1916."
"I tried to figure out about how much cash they had when they left Missouri and the highest I could come up with was $1,930--$1,730 for 3 years' work, gift from Redingers $200. Gasoline is $0.10 per gallon, water free, oil $0.05 quart, repair kit tires, tire boots, hubcap grease, battery, gas cans, water bags, quilts and feather beds from the Redingers.
Mom still remembers how her father talked about farming life: "On the farm the girls worked right along with the men and boys, to get the fields planted, harvested, cows milked, pigs slopped, eggs gathered, vegetable gardens weeded and hoed, and making butter and doing part of butchering and putting down lard. Girls helped in cooking, canning, ironing, cleaning and sewing. Girls and boys also went to school. The men were often known by how good they traded what they had for what they needed. My Dad said that his Dad was a good horse trader."
"My mother was a big lady and she could butcher as well as any man. She could drive a team of horses and handle hogs. But she didn't learn to drive the Model T Ford till they left Colorado Springs for California."
Mom's Mother's Side: Mom's roots on her Mom's side are also both German and Scotch-Irish. Her mother's maiden name was Nellie Grace Redinger. The REDINGER roots can be traced back to Frederick Redinger who was born in Germany in 1803 and died in Ohio (c.1850). According to Mom's cousin, Rachel, he was one of five brothers that came from Germany. The youngest was born on the boat coming over. Frederick and his wife, Catherine Redinger raised eight children, including Frederick Redinger (1834-1912), Mom's great grandfather. He was born in Ohio, and then moved to Iowa where he married Hannah Henry (1839-1917) in 1858. By 1860 they had moved to Missouri where they homesteaded and raised seven children. In Ridgeway he helped organize the Farmers Mutual Ins. Co. One of his brothers was Ridgeway's first undertaker and a furniture store owner.
Frederick and Hannah's oldest son, William Albert Redinger (1859-1929), was born in Ridgeway. He continued the Redinger tradition of hard work on the Missouri farm. In 1883 he married Etta Jane Norton (1860-1951). Together they raised six children (two others died young) on the farm. A few years after Mom's visit to her grandparents' farm, her grandfather, William, died in 1929.
Mom never forgot that visit. She remembers: "All the children were born in the log cabin but Blanche Alma. And she entered the world in the lovely big home. I heard at one time it was pre-fab—from a place like Sears. Big jig saw puzzle put together with sweat and laughter. Neighbors, in-laws and people from church helped."
According to Mom, William built the "the lovely home after my mother was born—1894-95. They had a small room upstairs for each child. The beds were built by Grandpa and the mattresses by Grandma. The mattress was filled with corn cobs. Everyone had a feather bed and a quilt—again, Grandma's work. When the girls were older they did their share too."
Redinger home
1925 Group Photo: From Left: Pearl Redinger, Cleo Eldon Redinger, Nellie May Tuggle, Rachel Elaine Redinger, Francis Wilma Redinger, Frank Norton Redinger, Helen Marie Scherer, Paul Redinger, Garland True Hammack, William Albert Redinger, Nellie Grace Redinger, Etta Jane Norton, John Leonard Scherer, William Wayne Redinger.
Mom's cousin Rachel remembers Grandpa Redinger: "Grandpa loved to tease us kids. I always remember when we came to the table to eat, then he would start telling funny stories. We would get so tickled that we couldn't eat."
William Redinger with "Prince", a Percheron, a highly prized draft horse
She also had recollections of Grandma Redinger: "My memories of Grandma are mostly of her cooking, canning and gardening. She could make the best sweet pickles, mostly from a recipe in her head. Nobody could make them like hers - not even Pearl who stood right there and watched everything. Grandma had a magic touch I guess. We often went home with a jar of those pickles, which we immediately opened and got some bread and butter for a feast. There was a drawer in a cupboard in the pantry where we could always find string and stuff to play with. Grandma always had peppermints in the cupboard too. I remember that she always ate a peppermint after meals. Maybe that was what kept her healthy."
Redinger children: Bill, Pearl, Charles, Nellie, Frank, Blanche
Mom was six years old in 1925 when she drove with her parents to Missouri, Iowa, and Oklahoma City. Her recall of the trip and details of the Redinger home and farm is amazing: On the road to Kansas City they ate "fried chicken, pickles, bread, cookies, butter, lard, ham—beans, jams, cooked beans and potatoes for first few day, dried fruit, tin of crackers maybe canned fruit."
When they arrived at her Mom's childhood (Redinger) home, she recalls: "The home had a big, beautiful kitchen with 'inside' water. There was a pump next to the sink. The big black stove was huge and baked many loaves of Grandma's great bread. There was a round group of windows where the table sat and where you could sit on a high stool and churn butter. My mother loved the buttermilk."
"Missouri being Southern, they made hominy white gravy, corn meal for mush and frying. They grew sorghum for a dark syrup. Sauerkraut from cabbage and cottage cheese in a big black skillet. The cellar had a part that was called a root cellar for carrots, beets, turnips, and rutabagas. And always potatoes and onions hanging high."
"There were two front rooms: one for the family and one called the parlor for visitors. A beautiful big front staircase and a small steep one out of the kitchen for the family."
"Pearl was a tomboy and loved to help her Dad with the pigs."
Pigs at the Redinger farm
"The girls always helped with chickens, eggs and the garden. When the boys were young, they caught fish, shot rabbits, duck, geese and pheasants. Pigs were killed and butchered, put down in salt and fat. They made gallons of lard. The basement was their supermarket. And lots of happy tricks like collecting hail and putting cream, sugar, and vanilla on it—ice cream. Did it with the first snows too. And some boys did smoke corn silk behind the barn. A special place in the barn to keep winter ice—kept in the straw. Next to where they milked the cows, separator, cold house for milk and eggs."
"Sometimes when they went fishing in the creek they caught snapping turtles. There was an acre of trees used for woodstoves and if the stove could take coal they'd get a sack when they went to town for flour, sugar, salt, dress material, shoes and overalls, all at the general store. Took two horses and a wagon."
"The boys helped pick corn and learned to drive the horse and wagon and also throw the corn against the hang board. Hay was fun to run through and in the fall cut down and loaded into the hay loft in the top of the barn."
"They have thunder storms in Missouri. So Grandpa and others put lightning rods on the house, sheds and barns. The lightning hits the rod and follows the wire into the ground. So the buildings don't get hurt. In the part of Missouri where my Mother lived there were rolling hills. The house stood on top of a hill and the 60 or more acres were for the corn and sorghum. Some trees were left by the house and the wood lot too. The rest were slashed and burnt. Land plowed and planted. The only irrigation was done by God who brought the storms."
"The Redingers were Protestants of their own making. Very strict in what young folks could do. So the young people went across to Iowa to Mount Ayr [southwest Iowa] for dancing. A big no no. That could be where Nellie met John; and Blanche, Clarence. They talked about having lots of fun dancing there. And in Long Beach went to a big dance each Saturday night."
"The Norton's—Etta Jane's family—gave them all their furniture. And parents and boys went by train to Seattle, Washington (1894-95), come lately 49ers, but plenty of timber and fish."
Mom's Scotch-Irish roots on her Mother's side can be traced to John Shaw NORTON who was born in Wisconsin in 1839, and perhaps to his father, Oliver Daniel Norton, born in New Hampshire in 1811 (Rachel's recollections do not support Oliver Daniel Norton as part of the family tree). John and his wife, Harriet Hainer, raised seven children in Wisconsin. Their daughter (Mom's grandmother), Etta Jane Norton (1860-1951), was born in Wisconsin in 1860 but lived most of her life in Missouri. Her brother's (William) daughter, Rachel (Mom's cousin), recalls: "Etta Norton Redinger's father was one of six brothers who came from Ireland. They were Scotch Irish. Their name was McNorton. The brothers quarreled after arriving in America and three of them dropped the Mc from their name. Grandma's folks came here from Wisconsin. There were eight children, two died young. They were farmers. I inherited my "seeing" dreams from Grandma Redinger I guess. She saw grandpa in a dream before she ever met him and when he walked into the church she was attending she knew he was the right man for her." Etta married William Albert Redinger (1859-1929), in 1883. Their fifth child, Nellie, is Mom's mother. Etta died in Ridgeway in 1951.
Nellie Grace (Redinger) Scherer