NEW ENGLAND IN OCTOBER 2007
Frequent flier miles gave Barbara and me a golden opportunity to spend a long weekend in New England to join hosts of other leaf peepers. Our plane landed in Providence on a late Friday night. Early Saturday morning we headed for Bethel, Maine for a quaint bed and breakfast spot (Chapman Inn). Along the way we stopped at Perkins Cove in Ogunquit (just south of Kennebunkport). The lobster was great at Barnacle Billy's as we watched the lobster boats drop their traps; and hordes of tourists drop their dollars for fantastic food and silly trinkets.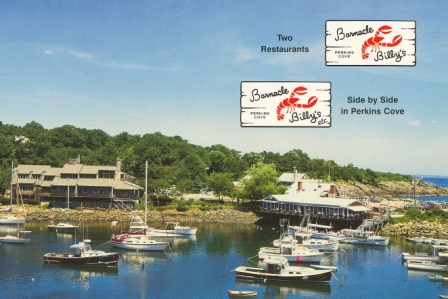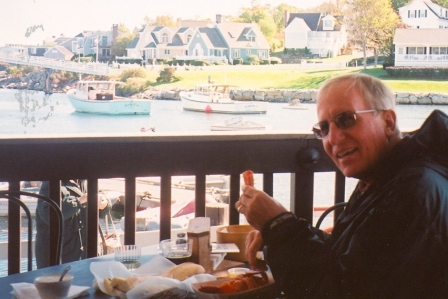 From there we drove towards Bethel in western Maine passing through the Sebago Lake area where the leaves were close to peak colors. As the sun went down we arrived in Bethel. The leaves had been beautiful but not at the peak colors that I remembered from my college days in New Jersey. After attending Saturday evening Mass at Our Lady of the Snows we prayed for good weather and better leaf color on Sunday. We were the first ones to breakfast on Sunday morning and asked Fred, our host and cook, where to find the best leaves. I told him how I remembered places in New England where the trees formed arches over the road in brilliant fall colors. Immediately, he suggested a short drive to a nearby covered bridge, then a drive down highway 113 through the White Mountain National Forest to be followed by a trip on the Kancamagus Highway in New Hampshire. See pictures below: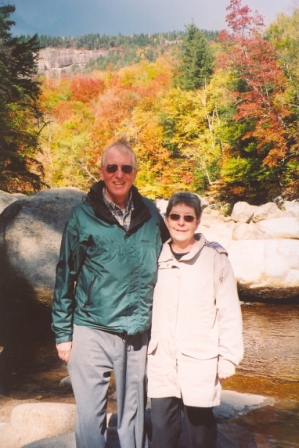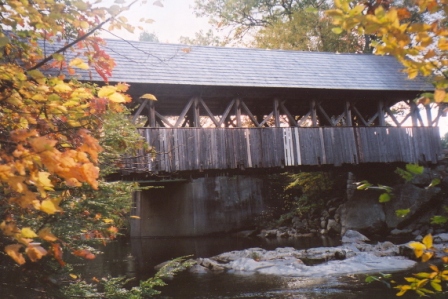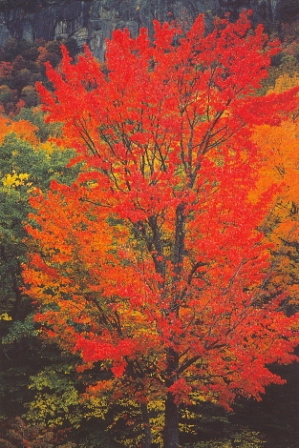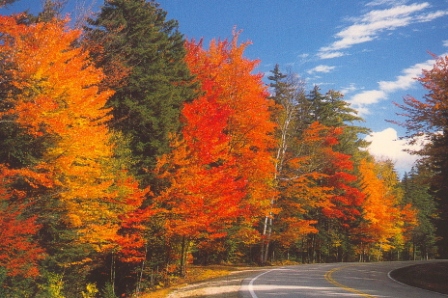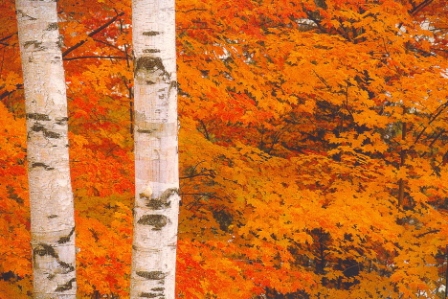 As the sunlight weakened and the colors became muted we headed south to Concord, NH, to visit a Carmelite Monastery. We were greeted by Barbara, the receptionist, who offered us some coffee and directions to see the grounds and the unique stained glass windows in the monastery's chapel.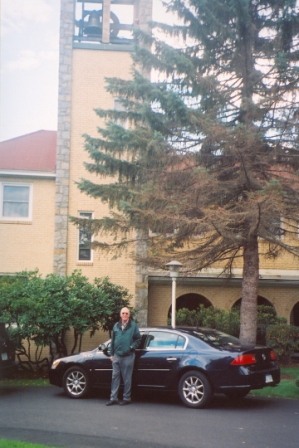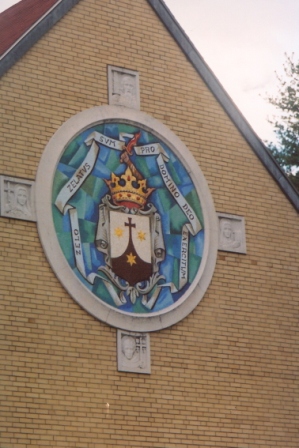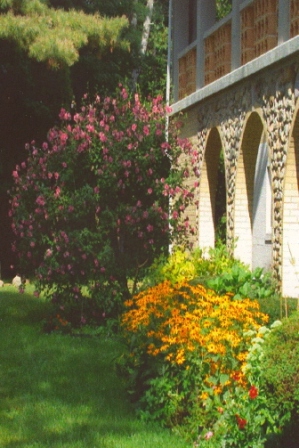 As the sun was setting we headed to Braintree just south of Boston. In the morning we celebrated the feast day of St. Teresa of Jesus at St. Francis of Assisi Church then headed for the subway, the "T" (MBTA) which would drop us off at Boston Commons. There we could follow the Freedom Trail and visit the historical sites from the time of the American Revolution. What a great way to spend our final October day in New England.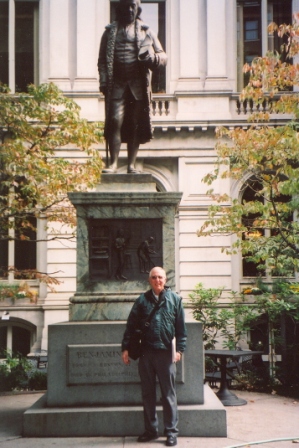 Barbara at Boston Commons fountain with State House in background. Jim at Benjamin Franklin Statue just past King's Chapel at Old City Hall. The statue rests on the site of the first public school in America, a good place for retired teachers to visit.
The Old North Church where two lanterns signaled that the British were coming. Old Ironsides, the USS Constitution, the oldest commissioned warship.