JOHN ARTHUR COLLINS
November 11, 1985
John Arthur was only with us for a short time, three hours and 17 minutes,
but his memory endures with us forever. He arrived prematurely
and we were surprised and shocked to find out that because of
a chromosome irregularity that he would not live more than a few hours.
Many years later on his 30th birthday, I encountered another grieving father.
We both remain convinced that the Good Lord brought us together
in our grief to bring us both consolation and to bring faith and healing
to others who have lost loved ones in similar circumstances.
I agreed to help Tom Peterson write the story of his son, David,
whose life was shortened because of Batten's Disease.
An excerpt from that story follows:
From: David: A Special Needs Marathon:
November 11, 2015. A grey, somber Sacramento afternoon.
My wife, Barbara, and I were cataloging books for Easter's Catholic Books and Gifts Store.
My mind kept time warping to a day exactly thirty years ago.
I was rocking our newborn son, John Arthur, outside the delivery room of a hospital in Marysville.
He was warm but not breathing. I never wanted to let him go.
Our doctor insisted on a C-section when he viewed details of the ultra sound.
Barbara and I were in shock after six natural births and taking six healthy babies home.
I vaguely remember the nurse saying something about a chromosome irregularity
and that John Arthur was born but never breathed.
His ears were unusually pointed, but he was a beautiful baby boy.
I continued to rock him until the nurse came back to take him…
I was in and out of the time warp, still rocking and feeling the warmth of our newborn son.
A bell jingled. It signaled a customer had entered the store.
Jolted, I went into auto pilot, ready to match the tall, grey man at the end of the aisle with just the right book.
After giving him a few moments' peace, I said, "Welcome to Easter's. Can I help you find a book?"
Only a few mementos of John Arthur remain. His birth certificate.
Apparently there was no opportunity for footprints.
He was tall like our other children but premature and light.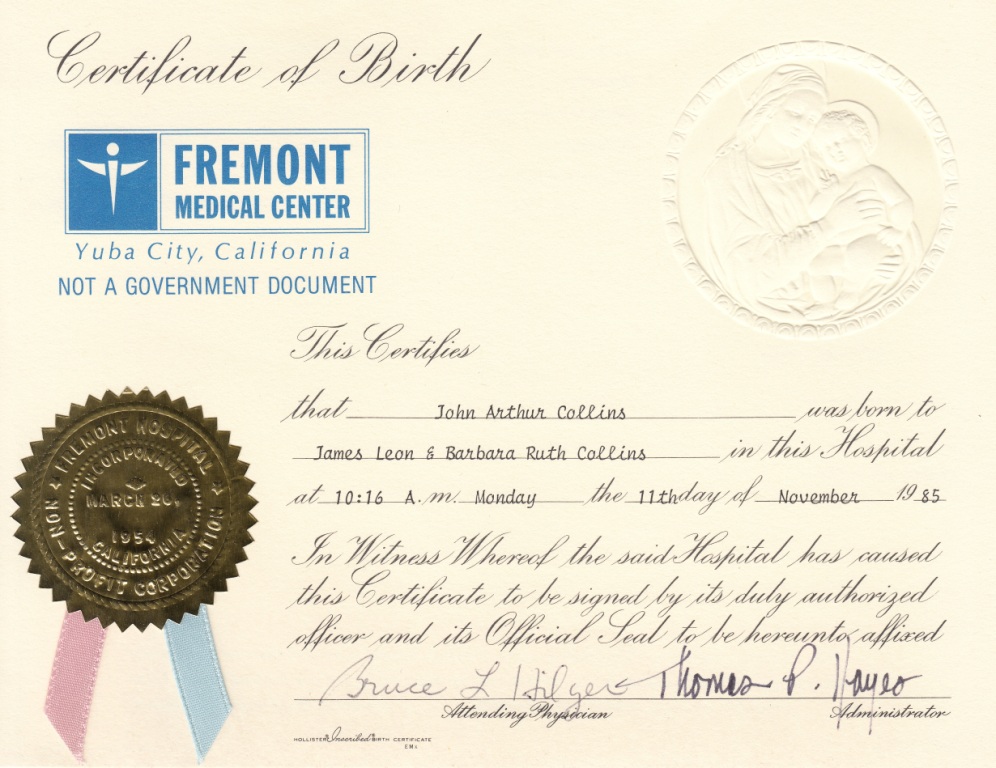 Someone snapped a Polaroid picture. This is our only picture.
Like most newborn pictures, it doesn't do justice to the baby.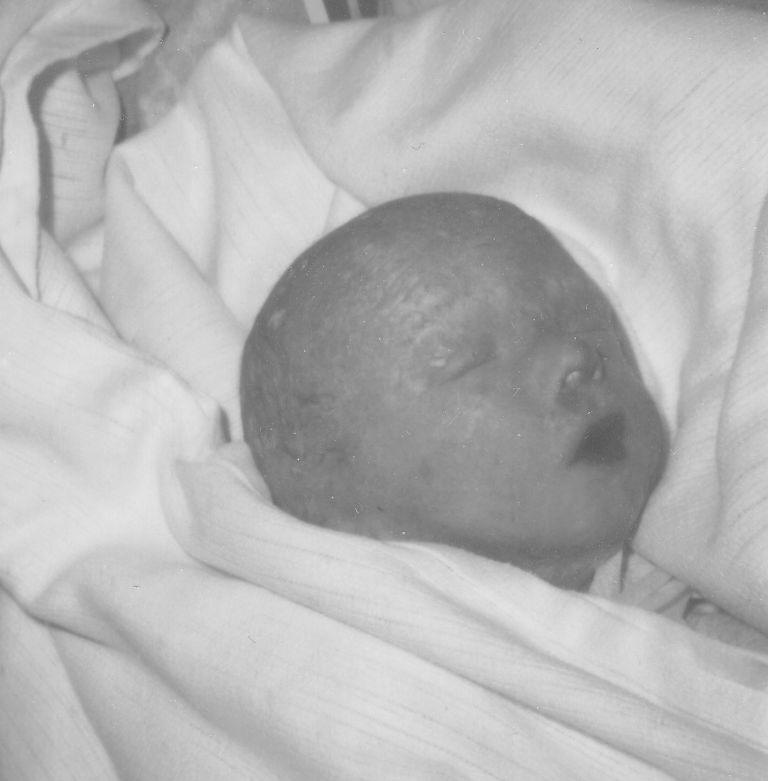 On November 19, our family gathered at St. Isidore's Church
to celebrate a Mass of the Resurrection for John Arthur.
Fr. Tom Batch celebrated the Mass.
John's brother, Jeff, served the Mass.
Grandma Mary played the organ
starting with the Kyrie from Missa de Angelis (Mass of Angels).
John's sister, Rachel, read Isaiah 44:1-8 and Psalm 8
(Your praise is chanted by the mouths of little children).
I read Romans 8:14-25:
(The Spirit himself and our spirit bear witness that
we are children of God).
Fr. Batch read the Gospel from Matthew 11:25-30:
The Father Revealed in the Son
25 At that time Jesus said, "I praise you, Father, Lord of heaven and earth, because you have hidden these things from the wise and learned, and revealed them to little children.
26 Yes, Father, for this is what you were pleased to do.
27 "All things have been committed to me by my Father. No one knows the Son except the Father, and no one knows the Father except the Son and those to whom the Son chooses to reveal him.
28 "Come to me, all you who are weary and burdened, and I will give you rest.
29 Take my yoke upon you and learn from me, for I am gentle and humble in heart, and you will find rest for your souls.
30 For my yoke is easy and my burden is light."
After the Gospel I attempted to sing In Paridisum:
In Paridisum deducant te Angeli.
Into paradise may the angels lead you.
In tuo adventu susipiant te Martyres, et perducant te in civitatem sanctam Jerusalem.
In your coming may the Martyrs welcome you,
and escort you into the holy city, Jerusalem.
Chorus Angelorum te suscipiat, et cum Lazaro quondam paupere aeternam habeas requiem.
May the choir of Angels welcome you, and with the once poor Lazarus,
May you have eternal rest.
Recessional: For All The Saints
Interment
Sierra View Memorial Park
Grave 25C, Tier H, Baby Haven
Marysville, CA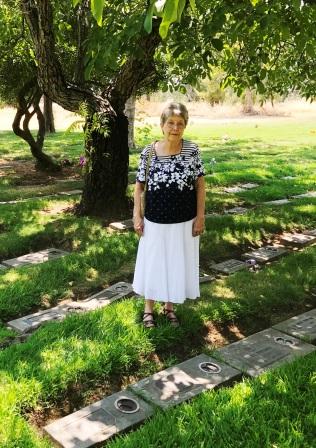 Contributions to the Yuba-Sutter Right to Life Committee
suggested by the Collins family.
Dealing with the death of John Arthur was a challenge to our faith and family.
We had been blessed with six healthy children and blessed the Lord for each of them.
It wouldn't be right to curse the Lord because he took John Arthur from us.
Like Job, we needed to learn how to deal with God taking from us
after He had always given to us abundantly.
I believe with Job 1:21, "The Lord gives, the Lord takes away.
Blessed be the name of the Lord."
I do not understand His ways,
but I accept that the Father knows best.
I believe that John is with Our Father in Heaven,
and I pray that our entire family will join him there forever.