1903-1920: Hope and Tragedy
Hiram probably met Zoe Sheets for the first time when he was living in Matlock with his mother, Trientje. Zoe had been born there in 1891, so she was about 12 when they first met. Zoe's parents, unlike Harm's were not recent immigrants. Her father, William Sheets, was born in Alden, Iowa in 1870. His parents and grandparents had also been born in the United States. The surname Sheets may be traced back to the German surname Schutz or Shutz. Zoe's mother, Martha Viola Hamilton, was born in Pecatonica, Illinois in 1871. The Hamilton family's roots can be traced back to Scotland in the early 19th century.
William and (Martha) Viola Sheets
By 1910 Hiram and Ana were living in Floyd, Iowa, with their married sister, Tena, who was now Tena Smith. Harm Collin had changed his name to Hiram Collins according to the 1910 census. An oral tradition in the family was that when the Collin family arrived in Iowa and enrolled their children in school, the Irish school mistress thought the name was Collins, so the family surname was changed. Harm probably chose the name Hiram, since it was more familiar to neighbors in Iowa at the time. Even though Hiram was now in Floyd, he had not forgotten Zoe. She had moved from Matlock to George, Iowa but Hiram had not lost contact with her. On November 21, 1910, they were married in George, Iowa, just north of Matlock. After the wedding they settled in Hawarden then moved to Alton (30 miles east of Hawarden). Hiram worked as a buttermaker at both places. In doing so, he had escaped the tenant farming life that had shortened his father's life.
A local newspaper reported: H.E. Collins and Miss Zoe M. Sheets were married at the home of the bride's parents Mr. and Mrs. W. P. Sheets in this city Monday noon, Rev. Wortman officiating. Mr. Collins is the buttermaker at Hawarden and Miss Sheets has been dressmaking in this city. The News joins their many friends in wishing them a happy and prosperous married life. They left on the evening train for their new home at Hawarden [about 50 mile southwest of George] where they will be at home to their friends. Twenty-one years ago the same minister that married the daughter married the father and mother and their 21st wedding anniversary was celebrated and honored by the marriage of their daughter Zoe to Mr. Collins.
Hiram & Zoe 1910-1920
Hiram and Zoe were blessed with three children: Arthur Bernard came first on May 21, 1912.
The first-time parents took lots of pictures of their son…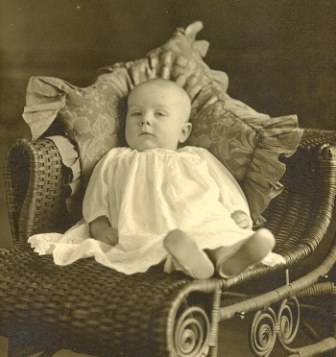 …in formal poses…and in candid shots….
…riding in his wagon… giving bunnies a ride…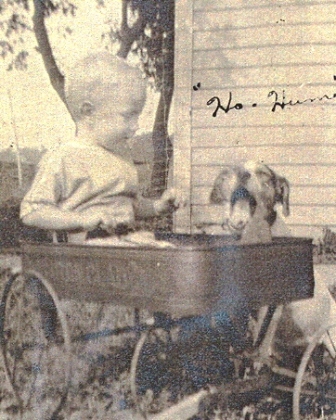 …petting his pet bunny…admiring his dog…
Then along came their first daughter, Evelyn Naomi (November 5, 1914). Now Dad would share the attention with his sister. The picture below was captioned in Evelyn's scrapbook as: Two "eldest"
They became the "eldest" when their baby brother, Victor Ivan, arrived on November 30, 1916.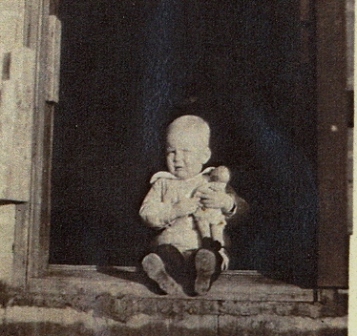 I have never forgotten Uncle Vic's birthday since I was born on the same date in 1944. To add to this coincidence, my granddaughter, Helena, was born on the same date in 2001. To celebrate the Lord's blessing, three wonderful children, Hiram and Zoe had a formal picture taken (below):
Arthur
Victor, Evelyn
A casual picture about the same date
The Collins family lived a happy life in Alton for ten years. Hiram worked as a butter maker. The picture below shows him stamping butter with a co-worker. The locals recalled the excellent ice cream he made at the creamery.
When he wasn't working, he enjoyed hunting and fishing. He sent the picture below as a post card to friends stating, "I bagged these 3/18/13 in 45 minutes" Other pictures show him as a member of a local duck club.
Shortly after Victor was born, peaceful family life was interrupted when the United States entered World War I in April of 1917. Now to be German was shameful in America. Hiram is a common German name. In the small community of Alton, everyone knew who was of German descent. Hiram and Zoe must have felt pressure from neighbors. Everyone was anxious to appear patriotic so they probably joined in the efforts to sweep German language and customs under the rug. In neighboring communities those who appeared too loyal to Germany were frequently persecuted. Sometimes they had their houses and fences painted yellow by "real Americans" in the middle of the night.
Following World War I, a much worse tragedy struck many American families. The world-wide influenza pandemic of 1918-1919 killed more people than the Great War, somewhere between 20 and 40 million people. It has been cited as the most devastating epidemic in recorded world history. Children knew the reality of the epidemic as they chanted the rhyme by Crawford as they skipped rope:
I had a little bird,
Its name was Enza.
I opened the window,
And in-flu-enza.
Zoe was determined to save her husband and three children at all costs. She cared for them day and night to help them escape death from the epidemic. Exhausted from caring for them, she died of double pneumonia on January 29, 1920.
She was buried near her parents' home at the Evergreen Cemetery in George, Iowa. Dad was seven, the only surviving child old enough to later remember his young mother.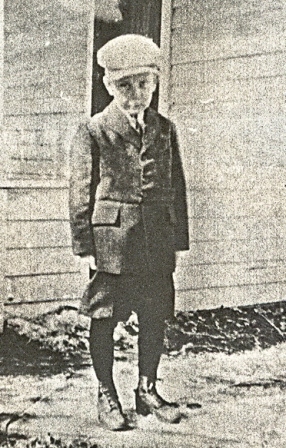 Arthur 1919; Vic and their mother, Zoe, a few years earlier
Hiram was saddened by the death of his wife and faced raising three children by himself. Zoe's parents, William and Viola Sheets were also devastated by the loss of their young daughter. Shortly after her death, venting his grief and frustration, Grandpa Sheets kicked the young, gangly, cross-eyed Arthur so hard that his tail bone was broken. Untreated, his back was troublesome for the rest of his life. Grandpa Sheets appears in better spirits later in pictures with his grandchildren after the shock and frustration had passed. In later years, he was a special Grandpa to Dad's brother, Victor, and his family who lived nearby in South Dakota. The Sheets family helped support Hiram and his children as they faced many years of challenges. They also insisted that Dad continue attending the local public school in Alton.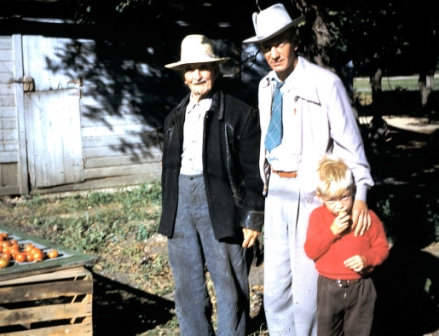 Grandpa Sheets with Uncle Vic and Cousin Dan 1952
<![if !vml]>
<![endif]>
William Sheets
Thelma, Arthur, Jerry
Victor, Evelyn (c.1918)
While spending time with Grandma and Grandpa Sheets, the children met Great Grandpa, David Sheets, born in Gettysburg, Pennsylvania, who had served as a private in company G (142 Illinois Infantry) in the Civil War. He told them stories of life on the prairie and about the Civil War.
David Sheets
Next: 1921-1936: From Happy Days to Depression