1986-1992
Happy Golden Years
<![if !vml]>
<![endif]>
Here Mom and Dad celebrate Erinís 8th grade graduation.
The Happy Golden Years had begun.
<![if !vml]>
<![endif]>
By 1987, Dad had retired from FMC. Mom and Dad now had time to enjoy all the grandchildren,
to do volunteer work at Kaiser Permanente in Santa Clara and at the Carmelite Monastery,
and to travel especially to South Dakota where Dad had grown up.
<![if !vml]>
<![endif]>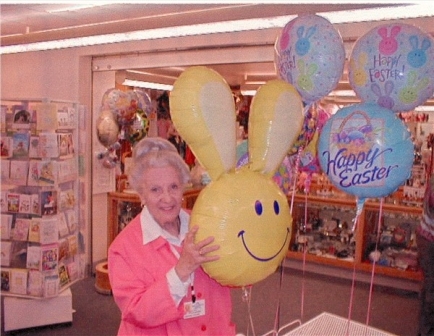 Both Mom and Dad served more than 500 hours as volunteers at Kaiser and each have a named brick
along the walkway between the Hospital and Medical office Building. See location below:
| | |
| --- | --- |
| LastName: | COLLINS |
| FirstName: | ARTHUR |
| Section: | 10 |
| Location: | E5 |

| | |
| --- | --- |
| LastName: | COLLINS |
| FirstName: | HELEN |
| Section: | 11 |
| Location: | D26 |
<![if !vml]>
<![endif]>
Mom and Dad in a rare pose on a volunteer day at the monastery.
Dad used to needle Momabout spending so many volunteer hours at the monastery.
But soon after he retired he joined her in running errands.
Most of all, he enjoyed serving Mass in the mornings.
<![if !vml]>
<![endif]>
Then there was the annual trek back to South Dakota with scenic stops along the way.
Even after Dadís surgery for prostate cancer Mom would care for his needs as they traveled.
Dadís condition worsened. But first there were celebrations for his 80th birthday and their Golden Wedding Anniversary.
<![if !vml]>
<![endif]> <![if !vml]>
<![endif]>
Once the celebrations were over, Mom worked with the hospice nurses to provide the best care for Dad.
She was with him at home until the very end and treasures the memory of his passing
when he made a gigantic sign of the cross then returned in peace to his Maker.
<![if !vml]>
<![endif]> <![if !vml]>
<![endif]>
Over 50 years of wonderful companionship had come to an end.
Dad entrusted the kids and their spouses, the grandkids, and the great grandkids to Mom.
She would carry on his legacy of love and generosity as the years continued on.