9. Gettysburg to Dumfries, Virginia
Monday, July 21
We made the two hour trip from Gettysburg to Dumfries, Virginia (just south of Washington DC)
on Sunday evening so we could hop on the Metro on Monday morning to tour the Capitol.
It was a great way to avoid the commuters on the freeway and to relax on the Metro.
In DC we boarded the Tourmobile Sightseeing bus to see the sights and walked
around the Capitol Mall for exercise and more photo ops.
After a late breakfast and our ride on the Metro,
we arrived in DC just in time for lunch at the Hard Rock Cafe:
From there we made the circuit from Ford's Theatre and the House where Lincoln died...
...to the National Gallery of Art...
...past the U.S. Capitol, the Supreme Court, the Folger Shakespeare Library and the Library of Congress...
....to the Washington Monument, Jefferson Memorial, and Lincoln Memorial, and the White House.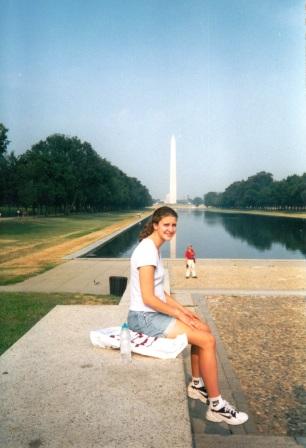 We passed through Georgetown on our way back to Virginia
where we planned day two of our DC visit.