Aunt Marilyn 2019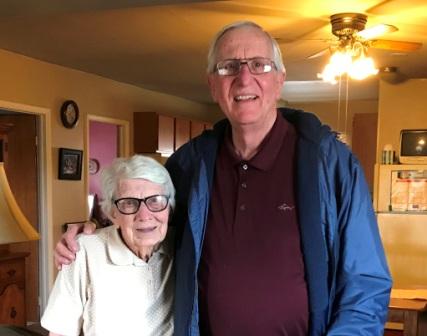 On our way back to California from the graduation ceremony in Texas we took a side trip to visit my Aunt Marilyn in Gunnison Colorado. She is the only surviving half-sister of my Dad (Arthur Collins). I had only seen pictures of her as a child and never had a chance to see her in person. Born in 1926, she was the youngest of Dad's half-sisters. She is pictured below with her father and mother (my Dad's stepmother), and a few years later with her half-sister, Evelyn, and her other sisters.
Hiram and Elizabeth with Marilyn,
Marcella, Zita, and Fidelis
The Collins Sisters
Fidelis, Evelyn, Zita
Marcella, Marilyn
Marilyn married Robert Delany in Sioux City, Iowa, in 1949. They moved to Colorado in the 60's. They had five children: Aimee, Kirk, Tyee, Dawn, and Venus (not pictured)
Tragedy struck when their two sons were killed in a hunting accident. See story below:
THE DAILY REPUBLIC, Mitchell, S. D., Wednesday, Nov. 15, 1967.
Manslaughter Charges Filed In Shooting Deaths of Two Ex-Chamberlain Brothers GUNNISON, Colo. - Involuntary manslaughter charges have been filed against. John Morrison. 42, National City, Calif., in connection with the gunshot deaths of two Doyleville, Colo., brothers Oct. 29. The boys, Tyee, 10, and Kirk Delany, 15, were formerly from Chamberlain, S. D. Bond for Morrison was set at $1,000 on each of the charges. Should Morrison be convicted of involuntary manslaughter, the maximum sentence would be one year in county jail according to the deputy district attorney. The coroner's jury, after 55 minutes deliberation, said that the killing of the two boys was non-felonious. But the jury concluded Morrison fired his 30.06 caliber weapon in a reckless and careless manner.
In testimony at the inquest Dr. Mason M. Light, local physician, said that in his opinion both boys had died instantly. Bob Delany, father of the two boys, told the jury he was riding one Honda motor bike and the two boys were riding another. Kirk was driving and Tyee was sitting on the seat behind him. The father led the way as the trio turned off Waunita Hot Springs Road onto an old logging road to Wiley Gulch. Delany said they had stopped to open a gate and were about to close it when they saw a pickup turn into the same road. He said he and his two boys waited to see if the pickup was going to continue up the road but finally decided that it was not, so closed the gate. The father, a Doyleville rancher and real estate appraiser for the Gunnison County assessor's office, said they started up the road on their red motorbikes when he heard a shot. He heard a second shot and looked back to see the other motorbike tipped over and could see Tyee running toward him. He got off his bike and ran back telling Tyee to get down. He said he dived to a point near Kirk's head as another shot sounded.
He added, "I saw a man (Morrison) coming down the road. I raised up and told him he had killed my son. I didn't think that Tyee was hurt. I ran to Tyee, who was almost lying on my bike on the road. His eyes were open but he was dead "I can't figure out how two little boys wearing red, on a red motorbike can ever be mistaken for an elk," Delany said.
Morrison told the jury he was in a pickup when he and two other men turned onto the Wiley Gulch Road and he thought he saw an elk dart across the road. He jumped out of the truck, He testified, "I saw, something flickering through the aspens that looked like the rear end of an elk. I fired three fast shots."
Funeral services for the two boys were at Gunnison Nov. 2. The boys first came to Colorado in 1963 on a summer vacation. Their father had been in the area periodically for five years and had lived near Doyleville for over a year since he had purchased an interest in the Razor Creek Ranch and had been employed in the assessor's office for a year and a half. The boys had persuaded their father to let them live with him.
When we spoke to Marilyn, she recalled tough times growing up in the Depression, losing her two sons in a terrible tragedy, seeing her first husband falling apart after losing his two sons, the deaths of her first and second husbands, the recent death of her daughter, Aimee, and the terminal illness of her daughter, Venus.
Despite all this, she seemed undaunted. Her only regret was not seeing her two sons growing into adulthood. She could only imagine what they would have been like as grown men. Even though she believed that the man who killed her sons was probably drunk at the time of the shooting, had tried to shoot her husband as a witness, and should have been convicted of murder, she was not bitter or vengeful. Instead, she focused mostly on the good times in Colorado, loving to ride her motorcycle and enjoying life in the mountains.
She dedicated many years to driving a school bus and enjoyed every moment of it, also helping neighbors and friends in her town. Given the tragedies in her life, including a near-fatal car crash in a nearby canyon, she was one of the most positive thinking persons I have ever met. We had heard complaints of other family members about the hard times in the Depression, growing up with an alcoholic father, dealing with a very strict mother, having difficult relationships with half-brothers and sisters and a step brother. Marilyn would have no part of the belly-aching. She had no regrets and simply wanted to take us out to dinner. We had to decline her invitation so that we could reach Clifton, Colorado by nightfall. As we hugged and said good-bye, we were delighted to have discovered a wonderful aunt and challenged to imitate her positive outlook on whatever life might bring.
We recently found out that Marilyn's daughter, Venus, had passed away in Australia. I'm sure Marilyn remained positive even with this tragic news.
Aunt Marilyn passed away on July 16, 2021. We were blessed to have visited with her in 2019. See her obituary at: Marilyn.